A Real, Legitimate Career
Steve Coron retires after 19 years at CHS. His impacts as a teacher, coworker and friend will be remembered long after his departure.
During his first year at Community High (CHS) Steve Coron began working as an advisor for the "Midnight Sun," CHS's student-produced yearbook. Coron's time on the yearbook highlighted his immense love for students, creativity and art. Some of Coron's most powerful and influential memories at CHS came from his experiences working with students on this publication throughout the years.
"The first year I was here, [our work on yearbook] wasn't going well," Coron said. "We missed a deadline, and I think we forgot some senior photos in the book. [We had] some missteps. I remember one of the students, her name was Julia, said to me, 'You know what, Steve? It's okay. This is Community.' I hang on to that statement. Every time something happens and something goes wrong, it's okay. This is Community. We figure it out and we move on. In a lot of ways, we forgive."
After teaching at CHS for 19 years, Coron's departure will leave a hole in the hearts of CHS students; he leaves behind a legacy of genuine friendship and easy connections with students. Throughout his time at CHS, Coron inspired students and instilled a love of creative expression. He encouraged students to dive into art and fostered an intimate understanding of culture. During his many years teaching at CHS, Coron kindled an appreciation of art into each student who stepped into his classroom. On top of being an excellent teacher, Coron has been a friend to many; a teacher whose classroom was always open and whose attitude could turn around any bad day.
Coron's interest in art developed at a young age; he could frequently be found painting and drawing around his home in Ishpeming, Michigan. Coron attended a small high school in  Michigan's Upper Peninsula (UP), where his interest in art continued to grow. During his time in school, Coron met two pivotal role models who helped him imagine and create a career in art. 
"My middle school art teacher was the one that turned me onto art as a real, legitimate [career]," Coron said. "Ms. Torgiano, my high school music teacher, was just incredible. She just had this effervescence and this passion and love for us and the arts. She was unapologetic about that — she was a force. I still go see her every time I visit the UP. When you work with people like that, you go 'geez, this is cool, I could do this too.'"
Before working at CHS, Coron spent several years working in early education. For six years, Coron worked at a University of Michigan lab school where he taught preschool and kindergarten. After his time at the lab, Coron taught at Ann Arbor elementary schools for 16 years. Coron's work with younger students left a lasting impression; he has continued connecting on a personal level with his students while maintaining an upbeat and fun atmosphere. These early education experiences gave Coron the freedom to teach in the meaningful way he desired. 
And when a job in the CHS art department opened up, Coron knew CHS would check that box as well.  
"Teaching here is just like teaching preschool," Coron said. "At preschool, we call teachers by their first names, we play, we learn, we have lunch. [The preschool] was holistic — we looked at the whole child and considered the way the child learned best. That's what we do here."
Coron has taught a variety of different classes at CHS throughout the years. Despite the students he teaches and interacts with in the art studios, he remains in awe of the creativity and imaginative nature of the entire student body.
"There are artists everywhere in the school — they're all doing art in all different ways," Coron said. "The kids here are the best. They let me be silly and goofy and teach the way I want to teach. I'm really appreciative of the community [that] we have here. CHS [isn't like any other school], just like my preschool wasn't."
As Coron prepares to retire, he reflects back on what made his time at CHS so special.
"What will I miss most? The people," Coron said. "The ones who are coming through the door, the ones that have come through the door and left. All of you. That's it. I know that's a simple answer, but that's what really makes [CHS] for me." 
Although Coron has adored his time at CHS, he is excited for the next chapter. He plans on traveling around the country with his wife, selling art and seeing the world. 
"The first week, I might just get out of bed really late and read," Coron said. "I'll just think 'oh, it's block five already. And I don't have to be there.'"
Leave a Comment
About the Writers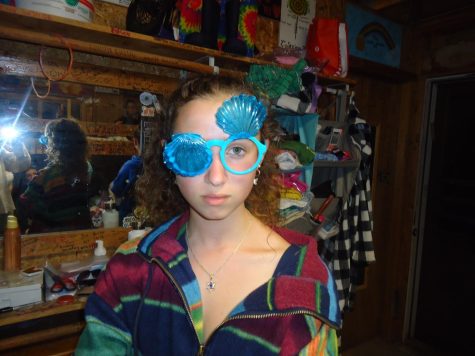 Scarlett London, Web Editor-In-Chief
Scarlett London is a senior at CHS. This is her seventh semester in journalism and her second year as Web Editor-in-Chief. When she's not editing articles or listening to music, she loves driving around with friends, watching movies, and looking at art. She loves dancing and spends time every day at the studio. She also sits on the teen editorial board for jGirls magazine. She has been involved with The Communicator since her freshman year and is excited to return as Editor-in-Chief this year!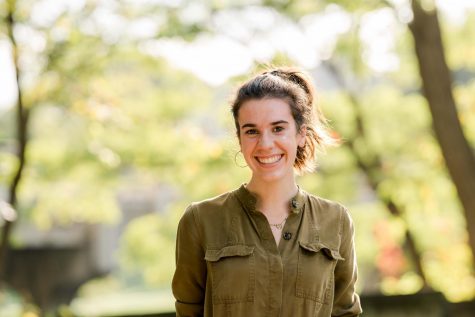 Felicity Rosa-Davies, Journalist
Felicity Rosa-Davies is a senior at Community High School. This is her first year on Communicator Staff, and has been an editor for the VOICE literary magazine for two years. When she's not in school, Felicity enjoys photography, going on late-night bike rides, and drinking peach bubble tea!