Is the Michigan Wolverines' Football Schedule too Easy?
166-17.
This is the point differential between the Michigan Wolverines and their first three opponents of the 2022-2023 football season.
At first glance, it may seem as if the Wolverines have had a great start to the season, dismantling each opponent by a margin of at least 40 points. However, when looking at the strength of their schedule, they rank 112 out of 130 BCS Division I schools, proving this start far less impressive. This marks the first season in 78 years that the Wolverines haven't played a power five school or Notre Dame (a school rival) during their out-of-conference schedule. For a team that came into the season ranked in the top 10 (now top five), that also clinched a spot in the College Football Playoff last year, it seems cowardly how weak their opponents are.
Regarding scheduling, college football teams each year play their first three to four games against out-of-conference opponents. These games can often include higher-ranked matchups, teams who don't play each other often or much smaller Division I schools. In recent years, the Wolverines have faced better-known schools like Notre Dame, Florida and Washington known for renowned football programs. That isn't the case this year as the Wolverines opened up their year with Colorado State, Hawai'i and UConn.
So far, all three opponents the Wolverines have played fall within the bottom 20% of Division I football rankings. This begs the question: Why is the Wolverines' schedule so weak for a team ranked so high?
While it isn't atypical for larger football programs like the University of Michigan to play smaller schools in their first few games, it does paint a certain image on their football program from the public eye.
"In just about every level of sport in our culture, we try to have reasonable competitors, " said Sean Windsor, sports columnist for the Detroit Free Press. "I don't think it's fun for these [smaller] teams, these young student-athletes have no chance at all, it's not competitive."
In order to schedule these games, universities will reach out to other schools, usually offering them money, so they can play them in the coming years. According to an MLive article, in order to avoid a loss early in the season, the Wolverines reportedly paid $1.5 million to elude a two-year contract with UCLA in which they would play a "home-and-home series."
"That's just kind of the way college football operates," Windsor said. "The smaller schools like the paydays and the bigger schools don't necessarily want to risk piling up a couple of losses early on."
Maybe it was a fluke that this less difficult schedule happened to fall on the year after the Wolverines had their best season in almost 20 years. Regardless, it adds even more controversy to their football program, piling up more things for the players and coach Harbaugh to worry about.
Leave a Comment
About the Contributor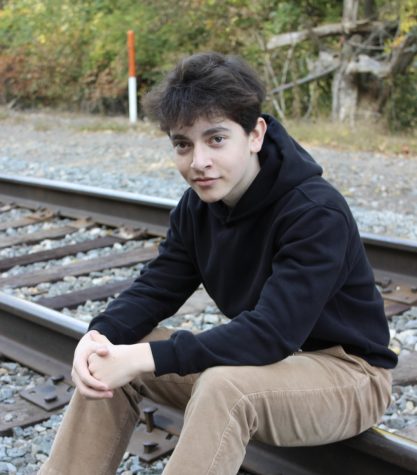 Lewis Perry, Feature Editor
Lewis Perry is a senior at Community High School in his fifth semester on staff. He is staring his first year on leadership as he takes on the role of Feature Editor for Web. When he's not listening to music, you can find him raving over new sports headlines, working out or claiming he has more time until he needs to start his homework.