An Appetite for Innovation
Two Ann Arbor restaurateurs look to revolutionize the traditional dining experience through a farm-to-table lens.
Nestled in the heart of downtown Ann Arbor, Spencer is an abstract farm-to-table restaurant that curates menus unlike any other in the city.
Ten years ago, co-owner Steve Hall met his now wife and co-owner, Abby Olitzky, while working in San Francisco. Olitzky, a chef at the time, had hopes of owning her own restaurant. The two of them teamed up to create what is now Spencer.
Hall, a Community High School (CHS) alum, decided that Ann Arbor fit their needs as a location for their project. Detroit was another option on their list. However, Hall figured the restaurant wouldn't end up serving the city of Detroit as they had planned.
"There was such a disconnection between the neighborhoods where property was available and how downtown Detroit felt," Hall said. "We wouldn't be serving the city of Detroit which was something we felt really strange about."
Choosing downtown Ann Arbor made much more sense to Hall and Olitzky. They found it welcoming while also having a much more direct connection to the immediate community. Hall's idea was for Spencer to be part of people's daily routines. Building bonds with customers and having a shared experience was a philosophy Hall and Olitzky held close to heart.
Spencer originally opened as a casual, counter-service restaurant. Hall believed a layout consisting of two long, communal tables would allow customers to converse with one another as they ate. Spencer has evolved to become more contemporary than it once was, but since the quarters within the restaurant are so small, the communal table layout stuck. The blend of casual with contemporary helped Hall achieve his goal of having a shared dining experience, even with the change that the restaurant underwent.
A key aspect that sets Spencer apart from other restaurants in Ann Arbor is how their menu rotates every two weeks. The creation of each menu begins with ingredients that are available and in-season. Olitzki, who runs the kitchen, gets inspiration for these dishes through cookbooks, magazines, friends and other random inspiration.
"[Olitzky] thinks about menus in this broad and cohesive way, which I find fascinating," Hall said.
"Each dish is great on its own, but you can also have a bite of everything on the menu together."
The menu cycle allows the kitchen to immerse itself in creativity through the exceptional ingredients the chef uses. While it not only benefits the kitchen, it also serves as a way to help bring in new and returning guests.
"The inadvertent effect is that it allows us to have more regular customers because people know that they can come back and try something new," Hall said.
Supporting local farms and businesses is at the top of Spencer's priorities. Even if there is an ingredient that cannot be purchased locally, they gravitate towards out-of-state businesses they know, or people like Olitzky's mom, who periodically helps them source ingredients. Spencer has proven over the years that they can produce meals of the utmost quality while being able to ethically and sustainably obtain their ingredients.
Hall and Olitzky take great pride in the staff they have assembled since the restaurant opened in 2015. Hiring great staff meant looking for people that could help keep up with Olitzky's rapid pace in the kitchen. Along with cooking, Spencer cross-trains their staff to work both the front and back of the house. This allows the staff to have more ownership, as Hall described, rather than showing up to work a single role.
Around four years ago, Spencer started a wine program as a complement to the restaurant. Wine was a new area to Hall prior to starting this program. He had to explore different wine-making regions and gain more confidence with the subject as a whole. The original purpose of the program was to have wines that pair well with their dishes to make more well-rounded meals, however, it quickly grew into a wine club that offered a bottle delivery service to subscribed customers. The club skyrocketed in popularity during the pandemic in 2020 as customers attended Zoom meetings and discussed the featured wines.
Following the creation of each new menu, Hall goes through the dishes and pairs them with a wine they have in store. In addition to the wine pairings customers love, it allows Hall to understand the menus on a deeper level by comparing and matching taste profiles of each dish. The philosophy of sustainably-sourced ingredients for each menu ties into the wine pairings as well.
"Our wine program focuses on natural wines, which is really the idea of wine as agriculture, wines that are made by farmers that have minimal intervention with not a lot of treatments," Hall said. "These transparent and expressive lines are what people find so engaging and synonymous with [Olitzky's menu] approach."
Perhaps the best part about Spencer is the dining experience itself. Hall and Olitzky will come out in between courses to introduce each dish. They go over the origin of the ingredients, the aim of the dish and how to enjoy it. The patrons leave feeling like experts and the experience elevates food to theater. The length Spencer goes to have such strong relationships with customers shows how much they fulfill their distinctive dining experience.
Leave a Comment
About the Contributor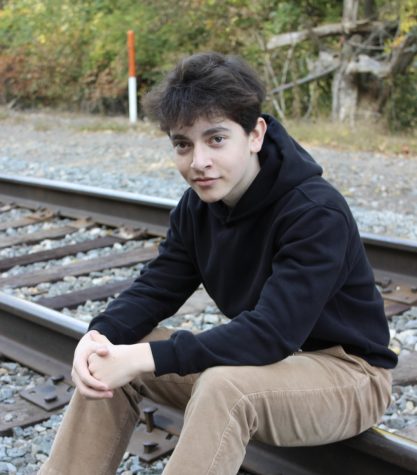 Lewis Perry, Feature Editor
Lewis Perry is a senior at Community High School in his fifth semester on staff. He is staring his first year on leadership as he takes on the role of Feature Editor for Web. When he's not listening to music, you can find him raving over new sports headlines, working out or claiming he has more time until he needs to start his homework.