"Minari" Review
An immigrant Korean family aims to redefine the American dream
"Minari" follows an aspiring farmer who takes a gamble by moving to a mobile home in remote Arkansas to establish a new career. Steven Yeun, playing the main character of Jacob Yi, strives to provide for his family while working towards the American Dream.
Director Lee Isaac Chung bases this autobiographical drama on his experience as a Korean farmer in Arkansas. Jacob deals with constant neglect from his wife, Monica, following their move to the new home. She can never choose to trust him with his new career, constantly believing the leap of faith he took to start this farm wasn't the right choice. Along with the business side of the story, the hardships faced by the family add depth to this film as they face discrimination, doubt and exposure to a new way of living.
Nominated for the Academy Award for Best Picture in 2020, cinematography is the true aspect this film excels in. The authenticity of the shots in this film portrays the 1980s perfectly. From the warm color pallet to the consistent wide-lens shots, head cinematographer Lachlan Milne hones in on making "Minari" feel like a "single-camera shoot."
Throughout the film, new characters are introduced, keeping the story fresh and persistent. More specifically, the introduction of Monica's mother, Soonja, seems to be one of the more important scenes. She is characterized as an atypical, lively grandma who doesn't bond well with the family at first.
The film's B-plot is based on the Minari plant that Monica's mother brings to the family's house as a gift. Minari is known for its versatility in cooking; the grassy, peppery flavor pairs well with almost any dish. Symbolically, the plant shines light on the adversity faced by Jacob and his family as they adapt to a new life. While it doesn't solve all of their problems by any means, it creates a special bond between Jacob's son, Alan, and Soonja. Alan never seems to bond well with her, until she chooses to go to a nearby pond and plant the Minari. His interest in farming allows Soonja to finally fit in with the family and show how similar Alan's interests are to his father.
"Minari" blends many common themes within the American pastoral drama with Korean culture to captivate a compelling immigrant experience.
Leave a Comment
About the Writer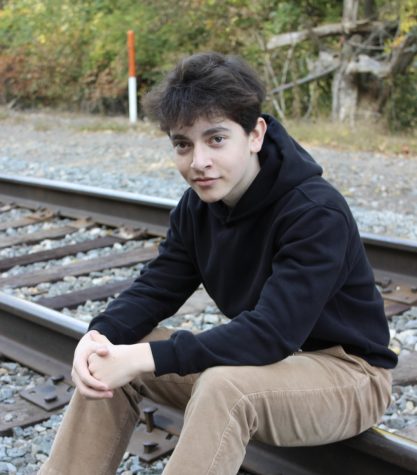 Lewis Perry, Feature Editor
Lewis Perry is a senior at Community High School in his fifth semester on staff. He is starting his first year on leadership as he takes on the role of Feature Editor for Web. When he's not listening to music, you can find him raving over new sports headlines, working out or claiming he has more time until he needs to start his homework.