"Pop Music is Black Music" – The Cultural Appropriation (and monetization) of Black Music
As long as popular culture has existed in western society, the appropriation and monetization of Black culture has been a persistent issue that seems to go unheard of, or if talked about, never cared for enough. Despite the recently increasing amount of activism towards the appropriation of Black culture, the whitewashing of Black music that's been happening for decades upon decades is an issue that goes beyond appropriation or "borrowing" from Black culture.
One of the most infamous examples of Black music being stolen and profited off of by an industry and audience favoring white artists is the emergence of rock: case in point, Elvis Presley. Despite Presley being considered the "King of Rock," Black rock n' roll artists such as Chuck Berry and Little Richard were majorly influential to his music, to the point where he would perform and release the same songs that were originally performed by Black artists.
The difference was that Presley's status, privilege, and race gave him the upper hand and the ability to popularize the genre to the public. With more and more white rock artists emerging after Presley, whether they acknowledged their influences and the source of rock music or not, the genre as a whole now had a white face on it. As a result, rock is being labeled and generalized as white culture to the point where it's now been stereotyped as "white middle-class" music.
Instances such as these show how Black culture is stolen and marketed to the general audience by a lighter-skinned image, since it's more accepted by the general audience. Whether white artists give credit to the Black artists and musicians that influenced them, the music industry sweeps their work and influence under the rug. The underrepresentation and oppression of Black and POC minority groups goes much further than social interactions or microaggressions; it's embedded in the pop culture and media everyone consumes. The appropriation of Black culture has become the norm without us even noticing.
The biggest musical artists in the world take and profit from Black culture more than one would think. Pop artists such as Ariana Grande, Justin Bieber, Adele, Jack Harlow and Post Malone are constantly taking influence from genres such as R&B, soul and hip-hop, becoming the face of these genres that originated from Black culture. Meanwhile, a Black artist like Tyler, The Creator or The Weeknd will have their music labeled as "urban" (which Tyler, The Creator labeled as a "politically correct way to say the n-word"; see Tyler, The Creator slams Grammys "urban" category…) no matter what musical direction they take.
Not only does whitewash marketing take elements of Black culture and turn it into popular culture (and, in correlation, can lead to it being categorized with white culture), but it transforms this music into a multi-billion dollar business, in which Black artists get the short of the stick.
As someone who has been exposed to and appreciates different styles and genres of music, the argument I'm making isn't to say that white people shouldn't learn or take inspiration from other cultures. The worldwide, fast-paced influence of the internet and social media has made it impossible for us as consumers of pop culture and, really, all kinds of cultures to not come across a multitude of new genres and styles that's guaranteed to mold our taste.
With the world we live in today, however, it's much more likely for a white artist to be given props for doing something more influenced by Black culture due to its trendiness. As consumers of popular media or white artists that choose to take inspiration, we can show more appreciation to Black artists and continue to acknowledge the influence Black culture has had on our world — including our favorite music.
View Comments(1)
About the Writer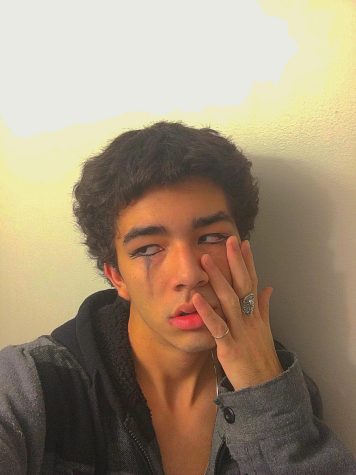 Evan Ochoa, A&E Editor
Evan "Gummy" Ochoa is a junior who's in their 4th semester of staff (A&E Editor). Gummy finds passion in dissecting pieces of art, specifically music. In their spare time, Gummy is an artist themself, producing, writing, and composing their own music under the moniker GVMMY, as well as plays in a jazz band as a drummer. Other hobbies include refereeing on weekends for little league soccer, playing Smash Bros. as Jigglypuff with friends, and recording music with other local artists.