"Yolk" Review
"Yolk" is jarring in its specificity.
Chock-full of vivid vocabulary, "Yolk" is a story of complicated family relationships, disordered eating, childhood trauma and the struggle to find a sense of belonging.
Seoul born, Texas raised, New York City native main character, Jayne, finds herself four years into design school, broke, bulimic, almost friendless and alienated from her immediate family.
Until her sister June, (also living in New York City, has a cushy finance job, is way too perfect) ambushes her in public with big news.
June's diagnoses of uterine cancer reunites the once-inseparable siblings under an indisputable truth.
The sheer concentration of pain and vulnerability portrayed in "Yolk" drove me to care for Jayne and June like I knew them personally. I couldn't take my eyes away from the story, and now that it's over, I keep wondering what the sisters' lives look like five, ten, twenty years into the future.
Another highlight was how observant Jayne was. As Jayne wandered New York City, a place I've never been, we got to read about the obscure constants Jayne looked for and found comfort in: a building in the process of being demolished in clear view of her regular subway route; a monochromatic sweatsuit-wearing, chihuahua-walking woman; the bean-size outline of the Statue Of Liberty from her outskirts apartment. I thoroughly enjoyed the individuality Jayne picked out of the city's chaos.
While I feel that books often fall back on or devolve into romance, "Yolk" didn't. Jayne's desperation to find a partner is so raw and tied up in other emotions that this aspect wasn't one-sided or wholly vapid, it was just another layer of Jayne's labyrinthine persona.
Potential readers should be warned that one prominent facet of "Yolk" is Jayne's battle with body dysmorphia and bulimia. Author Mary H.K. Choi describes the book as "emotionally expensive" for some audiences.
I highly recommend "Yolk" for its intricacy and matter-of-fact presentation and am looking forward to reading Choi's previous two novels, "Emergency Contact and "Permanent Record."
Leave a Comment
About the Writer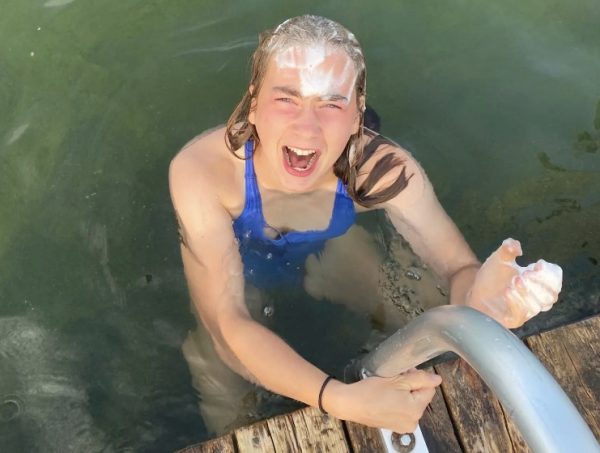 Lucia Page Sander, Social Media Editor-in-Chief
This is Lucia's fourth semester on staff and her first as a Social Media Editor-in-Chief. When she's not playing soccer for the Michigan Jaguars or competing for Lily Weightlifting, you can find her in the garden, watching tennis with her family, or jumping on her mini trampoline. Lucia loves surfing, doing the Wordle, climbing trees, and munching on cherry tomatoes. She is beyond excited to see what this year brings both inside and outside room 300.