"I Have a Crisis for You": Ukrainian Women Speak Up in New Ann Arbor Art Gallery
This year, Lane Hall Gallery's fall exhibit is showcasing visual art and poems depicting scenes of the war in Ukraine that intertwine how issues related to gender develop in war. The work of nine women artists is featured in the exhibit and its intent is to give them a platform for expression and the opportunity to share their stories.
The exhibit is titled "I have a crisis for you" which is the title of a poem written by Lybua Yakimchuk — a highly-acclaimed writer in contemporary Ukraine. The poem brings to light the issues with the popular use of the word "crisis" to describe the war in Ukraine.
Aside from their prominent work, the women were also selected for their achievements in women's and gender rights for Ukraine.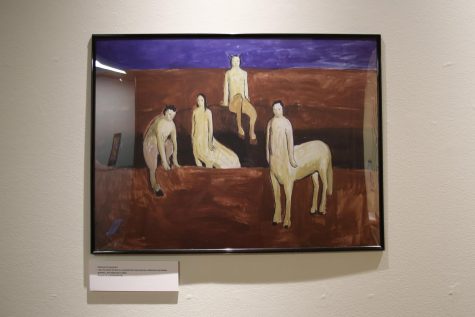 "We kind of started with the artists, knowing that they were feminists who have been working on the issue of war and working on women's rights and gender rights issues of Ukraine," said Grace Mahoney, one of the curators for the exhibit. "We reached out to these artists that we knew, and we knew we're still working, and asked them to share with us any art that they had been making. From what they shared with us we curated a selection."
Mahoney was invited to curate the exhibit by the leadership at The Institute for Research on Women and Gender (IRWIG). She specializes in Russian and Ukrainian languages and literatures and teaches first year Ukrainian language at the University of Michigan. She has a part-time position as the graduate fellow for exhibits with the institute for IRWIG where she manages the exhibits in Lane Hall.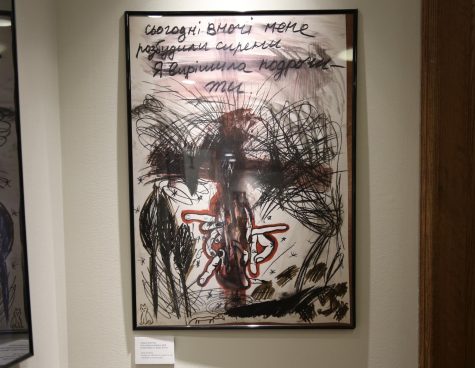 Mahoney invited her friend and colleague Dr. Jessica Zychowicz — U of M graduate, director of Fulbright Ukraine and Institute of International Education Kyiv and specialist in feminist art and activism in Ukraine — to help curate the exhibit.
"Between [Dr. Zychowicz] contacts of knowing so many feminists artists working in and around Ukraine and the artwork we were looking at that was coming out in this period since Russia invaded Ukraine, the ideas kind of came together," Mahoney said.
Mahoney and Dr. Zychowicz started this project back in March. In some cases, they tried to choose pieces that portrayed new and uncommon images from the war. They wanted to show a range of topics that are not usually seen in the news and media.
There are many different perspectives, experiences and backgrounds among the artists which can be inferred from the large variety of works.
"We have painters, people who make art, poets and photojournalists, so in terms of visual expression and verbal expression there's a quiet range," Mahoney said.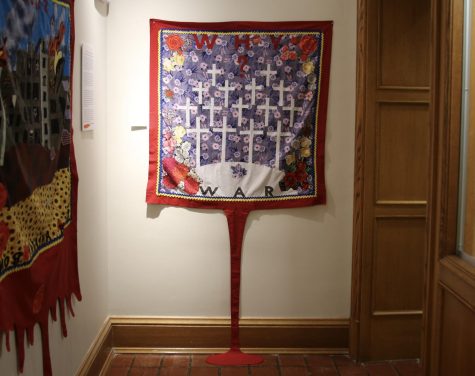 The exhibit opened on Aug. 25 and will continue until Dec. 16. Anyone can drop into Lane Hall and take a look. Mahoney hopes that the pieces will help people better understand the difficult topics of war such as displacement and famine, and build a community of support for Ukraine and the artists.
"[The war] has been going on now for over six months, and there's probably a lot of fatigue around the topic, but it's still very hot and it's still affecting one of these artists and their family very deeply," Mahoney said, "We want to kind of draw attention to that and help connect the visitors with the circumstances and the people who are involved in this war."
Leave a Comment
About the Writer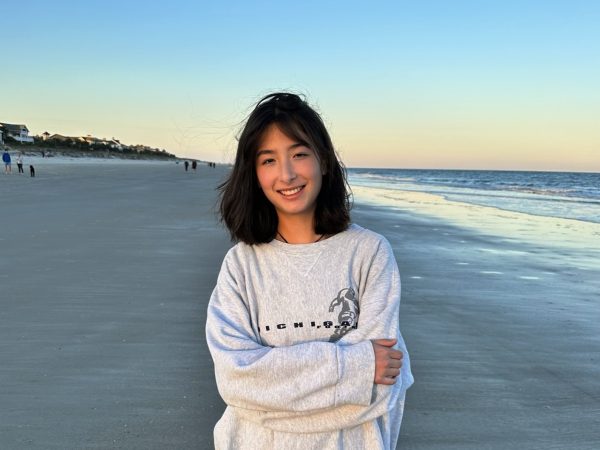 Bridgette Kelly, Feature Editor
Bridgette Kelly is a senior continuing her second year on staff. She enjoys playing tennis, eating good food and taking walks.