"Ted Lasso" Review
"Ted Lasso" is a sports-comedy drama that first aired Aug. 14, 2022. The show tells the story of former football coach, Ted Lasso (Jason Sudeikis.) Coming off a National championship appearance leading the Wichita State shockers, Ted is hired by Rebecca Welton (Hannah Waddingham) to be the head coach of the English Premier League Powerhouse AFC Richmond. Rebecca, the ex-wife of Rupert Mannion the former Manager of AFC Richmond plans to run the club into the ground in hope to get back at Rupert for leaving her for another woman.
The first thing Lasso does when he arrives is put up a sign with "Believe" written on it in big black letters. "Believe" is the theme Lasso brought from his former coaching job. The believing mentality is immediately tried by strong personalities on the team, such as captain Roy Kent and Premier League superstar Jamie Tartt.
Lasso's super upbeat and overly positive attitude gets him into some trouble along the way. The fans of AFC Richmond have a very hard time adjusting to the new American manager as well as the newly bottom of the league team. Ted is disliked among the Richmond fans; with a continuous losing streak and overly positive attitude after tough losses, the diehard fans are fed up.
While watching this show with my family, I was worried they wouldn't understand some of the references, not knowing much about the Premier League or soccer. That wasn't the case at all—"Ted Lasso " does a great job of being easy to follow if you aren't already familiar with soccer or the British Premier League. Despite this accessibility, the show still shows a different side of the players in the Premier League.
Overall I would recommend this for anyone who is looking for a binge worthy show. Each episode hooks you in. The strong charters and lively dialogue makes this a very put-together show.
"Ted Lasso" is the perfect show if you're looking for a light hearted laugh.
Leave a Comment
About the Writer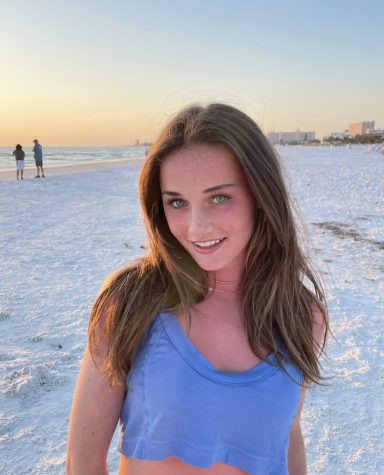 Ellie Fife, Journalist
Ellie Fife is a junior at Community High school. This Is her fourth semester as the communicator. Ellie plays soccer for the Michigan Hawks and hopes to play division one soccer. When she's not playing soccer, she enjoys going on drives with friends, traveling, and going on runs. She is super excited for this year on staff and can't wait to learn many things.