Shakshuka Recipe
Shakshuka, a dish originating from North Africa, is a flavorful and vibrant dish made of everyday household ingredients like eggs, tomatoes, herbs and spices. Its popularity spread throughout the Middle East, as the dish comes in different variations. Some recipes add cheeses like feta or sheep milk-based cheeses or meats such as chorizo, lamb or ham.
Every Saturday morning, I would hear my dad getting pans out and immediately know he was making eggs of some kind. The aromatic smell of tomato sauce and fresh garlic filled our kitchen and, without any instruction, I got eggs out of the fridge. Cooking with my dad was about more than my culinary skills improving, but also about learning the art of cooking and the importance of cultural dishes.
2 tablespoons olive oil
1 medium onion, diced
1 red bell pepper, seeded and diced
4 garlic cloves, finely chopped
2 teaspoons paprika
1 teaspoon cumin
1/4 teaspoon chili powder
1 28-ounce can of whole peeled tomatoes
6 large eggs
Salt and pepper, to taste
1 small bunch fresh cilantro, chopped
1 small bunch fresh parsley, chopped
Heat olive oil in a large sauté pan on medium heat.
Add the chopped bell pepper and onion and cook for five minutes or until the onion becomes translucent.
Add garlic and spices and cook for an additional minute.
Pour the can of tomatoes and juice into the pan and break down the tomatoes using a large spoon.
Season with salt and pepper and bring the sauce to a simmer.
Use your large spoon to make small wells in the sauce and crack the eggs into each well.
Cover the pan and cook for five to eight minutes or until the eggs are done to your liking.
Garnish with chopped cilantro and parsley, and serve with bread on the side.
Leave a Comment
About the Writer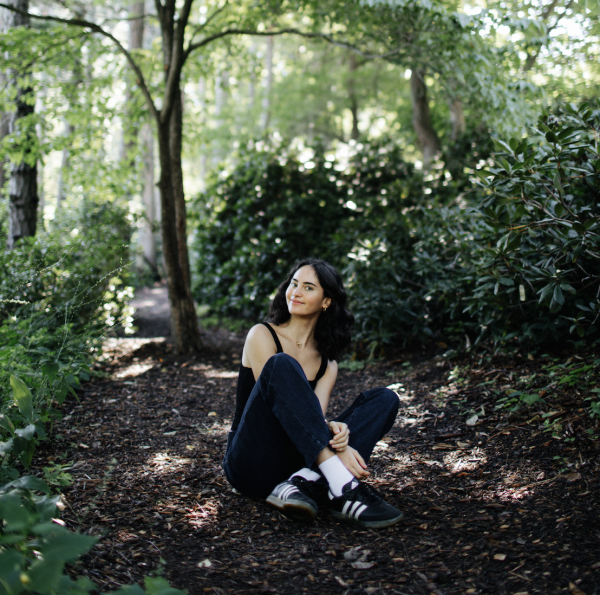 Ruth Shikanov, Print Editor-in-Chief
This is Ruth's seventh semester on staff and first year as one of the Print Editors-in-Chief. You can typically find her commuting between her classes or doing homework, but in her free time, Ruth enjoys being outside, walking her dog, Juno, reading, going on runs near Bandemer and trying new recipes. She cannot wait for all of the amazing work that will be created in Room 300!