Tailgating Troubles
Where does the funding from tailgating at Pioneer High School go, and how is it impacted by the absence of RVs?
Maize and blue flags billowed in the mid-October wind. The traditional flags were accompanied by many variations— from pride flags with block Ms, to maize and blue American and Canadian flags. The fields surrounding Pioneer High School (PHS) were lined with an assortment of cars and SUVs, many with the trunk open and canopies covering their party. Closer to Michigan Stadium, FOX Big Noon Kickoff had set up their stage to cover the Michigan vs. Penn State game.
A noticeable absence from this year was the presence of motorhomes. The large vehicles that had once been a staple of tailgating at PHS could no longer be found in the vicinity. It was decided that due to safety and liability reasons, PHS could no longer accommodate the vehicles.
"The decision to not host RVs was absolutely 100% based on health and safety,"said Jill Minnick, the Assistant Superintendent of Finance and Operations for Ann Arbor Public Schools [AAPS]. "We had a number of city administrators from the fire department and other departments that met with us and talked with us about safety hazards that they were seeing [at PHS] and we could not overcome the requirements to fully support [RVs on site] in a safe way and that was that. Whether or not there was an impact to our revenues, we just couldn't afford any loss of life."
At PHS RVs were typically allotted four normal parking spots, at a fee of $200 for each game. They could then purchase additional spots for extra tailgating space. Each car would pay $50 for one spot. For the remaining vehicles, parking prices at PHS have increased this year; the general auto online pass costs $60, a 20% increase from last year.
The tradition of tailgate parking at PHS dates back to 1950, when it was a condition set by UM under the purchase agreement of the land that PHS now sits on. This agreement allows prices to fluctuate to match other parking fees in the area, such as the UM Golf Course.
"It's important that we maintain competitive rates with our neighbors," Minnick said. "[When you] drive around on a Saturday game day, you'll see very similar rates across all the packing venues, so it's right and fair and just that we would that we would charge competitive rates because it is going directly to our classroom and we want to be sure that we are competitive with others in the area."
The price change is also due to the increase in cost for the services that are required to maintain tailgating, such as the parking management company that handles the passes, security, and repair to the grounds once the tailgaters leave.
The revenue from the parking goes directly to the AAPS general fund, which is allocated for a variety of uses varying year to year; including salaries, transportation, and food services.
According to Minnick, it is still difficult at this time to determine how the exclusion of RVs will impact the funding AAPS receives from tailgating as this is the first year parking has reached full capacity since COVID-19.
The exodus of the motorhomes has left them scattered in lots and pockets of space all around Ann Arbor. One such area is a portion of the Briarwood Mall parking lot sectioned off from the rest of the cars. There, Bob Yates, his wife Sue and their dog Hutch parked their large motorhome for the game. This was their first time using this space, rented out by Park 'n Party, an Ann Arbor-based company that rents out tailgating spots. Prior to this year, they had been parking at PHS since 2001.
When PHS announced that they would no longer be accepting motorhomes, Yates began to look for alternative spots. Originally they were going to park at the Brown Lot, at the University of Michigan (UM) Varsity Tennis Center. Overnight parking was not allowed, however, which was a problem for Yates and his wife.
"It's first come first serve," Yates said. "So we would have to get up at four o'clock in the morning on game day and then drive the motorhome down, park someplace for 15 to 20 minutes until seven o'clock, and then drive down to the Brown Lot and go in. So it's a major inconvenience."
Yates, who also goes to away games, noted how difficult it would be for someone who lived out of state to come in for the game if they couldn't stay overnight.
"It's hard to plan your trip to end up in, say Nebraska first thing Saturday morning," Yates said. "So most universities have situations where you can stay over on Friday night and then they'll shuttle you into the football game and then shuttle you back out, and it makes it really nice."
Despite the inconvenience, Yates was pleased with the Briarwood lot. It not only allows overnight parking, but he also cited the presence of additional security, something he thought Pioneer was lacking. To make up for the increase in distance between the site and the stadium, there is also a shuttle between Michigan Stadium and Briarwood. The price, however, was an increase of almost $200 from what it was at PHS.
"[It was] a crazy amount of money," Yates said. "To park a motorhome, [Park N Party does] it by the length of your motorhome. It was $510 for us."
Despite the changes, the tradition of tailgating still lives on.
Leave a Comment
About the Writer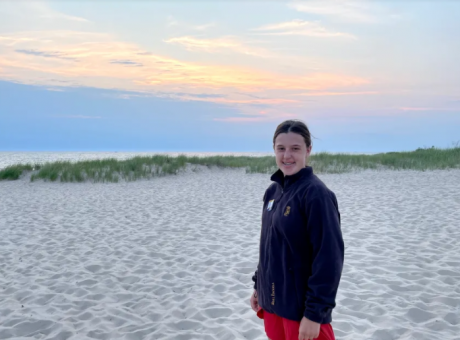 Claire Steigelman, Journalist
Claire Steigelman is currently a junior at CHS. This is her second year on the Communicator Staff. She loves to draw, read and travel. One of her favorite spots is Lake Michigan, which she has gone to every summer since she was born. Her two cats, Momo and Sei Sei love cuddling and she happily obliges. This year she has a new role on the Communicator as Multimedia Editor, and she is excited to see what she can do in that position.