An Athlete's ACL Tear
CHS senior Jill Boynton still remembers going up to block the shot and getting called for a foul. As she landed, her first thought was that the block was all ball. Her second was the excruciating pain in her left knee. She immediately knew it was bad.
"I was banging the court so hard with my fist from the pain," Boynton said. "It felt like my femur and shin bone were pushing against each other."
That moment in her memory is clear. The rest is fragmented: the trip to urgent care with her parents, an MRI the next morning and the call that confirmed what she already knew.
"It was a really [awful] feeling because it just confirmed my belief that I tore my ACL," Boynton said. "I hoped that it wasn't true, but I knew deep down that something really big did happen."
The first step in Boynton's recovery was surgery.
"[The surgery] was way more physically taxing than I assumed it would be," Boynton said. "I was on crutches for three months after."
She began physical therapy immediately after the surgery. Almost 8 hours of her week were spent at the University of Michigan's MedSport facility doing physical rehabilitation exercises.
"It was mentally so difficult to keep going when progress is the slowest thing imaginable," Boynton said. "You're going to [physical therapy] every single day five days a week and you're just slowly getting your control back. You're putting in all this work and all you can do is contract your quad. It's so frustrating."
Although Boynton felt her life coming to a standstill, her basketball team continued playing their season.
"
I played a lot of sports growing up and it felt like part of my identity was just gone.
— Jill Boynton
"It was really hard being pulled away from my team like that," Boynton said. "I played a lot of sports growing up and it felt like part of my identity was just gone. I stopped going to games and I stopped going to practice. I felt really disconnected from my team. I didn't have that sense of 'this is my teammate and I'm ready to go to the line for her,' because I wasn't there. I wasn't building those connections anymore."
The loss of connection especially struck Boynton on her team's Senior Night.
"I went to Senior Night and I saw all the seniors I had played with the past two years leaving," Boynton said. "It was hard because I saw just how close my teammates had gotten and I really missed that."
Looking back, Boynton wishes she would have tried harder to stay connected with her team. She believes going through recovery with them would have made it a lot easier for her.
As spring came, Boynton felt the loss of another sport: soccer.
"Soccer was my main sport growing up," Boynton said. "During high school my focus was concentrated more towards basketball, but not being able to play a sport that I played my whole life was particularly difficult because it was that aspect of losing my sense of identity."
Another setback in Boynton's journey came that summer when doctors found a Cyclops Lesion in her knee tissue. This resulted in Boynton getting another surgery in August. Although this surgery wasn't nearly as intense as the previous one, Boynton still felt the effects of the setback, although this time it was especially in her mental health.
As the new school year began this fall, Boynton's progress was looking up and the end seemed to be in sight. The only thing standing between Boynton and her senior season was the Return to Sports Test. The test measures the strength, stability and control of an injured athlete looking to return to their sport. Boynton took her first attempt at the test in November.
"The first time I took it was very, very difficult because I didn't know anything about the test," Boynton said. "It kind of got sprung on me and I was like 'oh, I can't do any of this stuff. I'm not going to get cleared anytime soon'. That really knocked my confidence. A lot of the stuff that they tested me on was stuff that you never even think about that your muscles are doing when you're playing any sport."
Boynton returned to physical therapy with a clear goal in mind: to pass the test. She began working on her strength and stability. She even resorted to wearing a resistance band around her house when she was told one of her main issues was that her knees were buckling inward when she jumped.
"
Watching my team go on without me was really hard because I was there. I was practicing and I was putting in all the work, but I didn't get the satisfaction of seeing the work I was putting in actually working in games.
— Jill Boynton
As Boynton continued to work towards her goal, her senior season began. She was allowed to practice with the team, but could not play in any games.
"I was particularly frustrated because it was my senior year," Boynton said. "Watching my team go on without me was really hard because I was there. I was practicing and I was putting in all the work, but I didn't get the satisfaction of seeing the work I was putting in actually working in games."
For their first game of the season Skyline played the Pinckney Pirates. Shortly before the game started the captains of the team were announced–Boynton was unanimously voted as one of the three leaders.
"It was really special," Boynton said. "Honestly, I didn't know if my teammates saw me as someone who was ready to be a leader or if they were even going to pick me because I wasn't playing at the time. It really just meant a lot for my teammates to vote for me as captain and for them to show that they're seeing me put in all this work to get back and that they really see me as someone who can be here for the team."
Later that week Boynton had a follow-up appointment with her surgeon. The surgeon was surprised by the amount of progress Boynton had made, however he was still concerned about the stability of her ACL. The surgeon sat Boynton down with her dad and told them the decision of whether she could play was up to them.
"Each month that you wait after surgery lessens your chances of a reinjury," Boynton said. "But, there's nothing for me to play for if I wait two months. This is my last year. I am really really scared about reinjuring it, but I really have nothing to lose. I would rather reinjure it playing basketball than just think about tearing it again sitting on the bench."
Boynton's first game back was on Dec. 2 at Ypsilanti High School. Boynton and her team won the game 47-39, however, the game didn't go the way Boynton hoped it would. Having not played in a year, Boynton's conditioning was not at its best and she found herself completely "overwhelmed."
"I think a lot of the game I was focusing on how I spent a year trying to get back and this was my result," Boynton said. "I was crying during halftime and I was just very disappointed in myself."
After the game, Boynton talked to her mom about her performance.
"She told me that it's not going to be a sprint the whole season," Boynton said. "There's 20 games and I have all these opportunities to show myself that I did work hard and all these skills are coming back. That definitely helped me because I was being really hard on myself and I wasn't having fun. After I kind of just let go of what my performance is and how many points I have and just played I started having a lot more fun."
Boynton has now played in three more games with the Eagles and is becoming a team leader that they rely on. She hopes to finish out her senior season strong with a District Championship – a feat that would be a first for the Skyline Girls basketball program.
Leave a Comment
About the Writer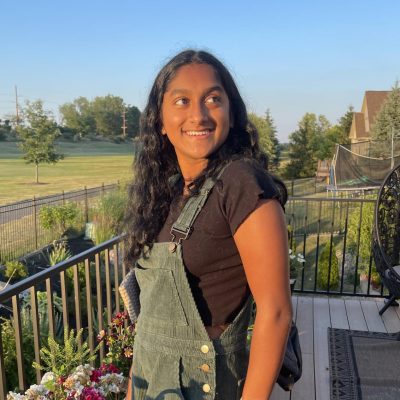 Anjali Kakarla, Web Editor-In-Chief
Anjali Kakarla is a senior who split-enrolls between Community and Skyline. This is her seventh semester on staff and her third as one of the Web-Editors-In-Chief. When she's not doing schoolwork, playing basketball and golf, or running track for Skyline, she enjoys hanging out with her friends, listening to music and baking. She loves to write and is very excited for journalism this year!