Expanding the Once Limited Realm of Coding at CHS
How Coding and PLTW programs have evolved at CHS while incorporating freedom and CHS's uniqueness.
At a party years ago, George Lancaster, current engineering and computer science teacher, the previous assistant dean of CHS came up to Lancaster, suggesting he apply for the position. Given the size of CHS, the curriculum lacked diversity; only consisting of Computer Science A, a more challenging course for those who are brand new to coding. But with a background in Mechanical Engineering and 13 years of teaching under his belt, Lancaster applied and shortly after, got the job.
It is now Lancaster's seventh year of teaching at CHS and the curriculum has changed from its small, restricted predecessor to a rich set of courses: Computer Science Principles; Computer Science A; Cybersecurity; Advanced Topics in Programming; Engineering Design; and Principles of Engineering, all of which vary in level and interest. Lancaster teaches the same classes all year long, but students can take either the first half or second half of the computer science courses either semester, making it feasible for new students to join second semester.
"People can find out if it's something they like and then, [there are] more and more involved classes if that's something they really are interested [in] and enjoy," Lancaster said.
"
"[Computer science allows us] to develop better systems for how to do things in such a digital age.""
— George Lancaster
The first significant change that has been made is that Lancaster initially had to check everybody's code himself, verifying that there were no mistakes and that the code would run smoothly. Today, when Lancaster assigns problems, there are auto graders like Visual Studio Code and CodeHS built into the object-oriented programs. Students know what they got right and wrong immediately and if needed, they can ask for help with the problem if they don't understand where they've made a mistake. This leads to the second change: there are video lessons for everything. Instead of Lancaster using class-time to lecture, he assigns videos to watch so he can assist people that don't understand the video. But perhaps the biggest change since Lancaster revamped the computer science and engineering program is more freedom. As students reach the level of Advanced Topics, students may study whatever sparks their interest. Doing game design in Unity, a cross-platform game engine used by name brand businesses like PlayStation and Xbox, is a popular option in the class.
Lancaster is a firm believer that computer science can cater to anyone's wants and needs. Some students will go off to pursue computer science as multiple companies require computer science engineers to create apps and run their programs. On the other side of the spectrum, students may want to take measures to protect their computer by taking a cybersecurity course. The possibilities are endless.
"[Computer science allows us] to develop better systems for how to do things in such a digital age," Lancaster said. "And computers don't program themselves. And computers aren't smart, they just think fast, so people have to tell them what to do."
In addition to the computer science program, the engineering program at CHS offers fun, hands-on projects such as designing creations on a computer and then 3D printing it. The program is supported by Project Lead The Way (PLTW), a non-profit organization that was started to help companies get future employees who are equipped with the skills needed to understand technology as well as problem-solve, collaborate and build strong communication skills.
"
"This year, I walked in with a lot more experience and a lot more motivation to learn.""
— Oliver Hiltz-Perron
"[PLTW] has engineering, it's got a biomedical part [and] computer science so it tries to evolve all three of those things," Lancaster said.
CHS's program was initiated by a grant from General Motors with the intent of recruiting future engineers, emphasizing the importance of diversity in STEM. They want minorities—women and LGBTQ+— to become involved in STEM and Lancaster believes now is the time for students to find out their preferences before figuring out what they want to do after high school. Lancaster thinks that teachers can be more approachable in high school compared to college. Another special aspect of the curriculum is that there are video lessons. This has shifted the classes to be more asynchronous compared to other high schools. And since the class is heavily technology based, this makes it easier for students whether they get sick or miss school.
"Because of the way I've structured the class, I think that some of the other schools might be a little more traditional in the way they do things," Lancaster said.
With the creative freedom and small-classroom setting, Lancaster strongly recommends that students venture outside of their comfort zone and into the realm of computer science and engineering. His beginner class, Introduction to Engineering and Design, is the perfect opportunity.
"If you take one semester and you don't like it, I think you'll still enjoy [it] a little bit," Lancaster said. "And same thing with the [coding, just] give it a try."
For CHS senior Oliver Hiltz-Perron, engineering has been one of his favorite subjects in high school. Along with taking several of Lancaster's classes, he is also a team leader on CHS's robotics team, Zebrotics. As an aspiring engineer, Hiltz-Perron has gone from last year walking into Lancaster's classroom anxious to, "This year, I walked in with a lot more experience and a lot more motivation to learn."
"No one's perfect, no one has the best ideas on their own. If you work with other people, you just get better projects done faster with a lot higher quality," Hiltz-Perron said. He has found that the key to success in engineering is working with others. Add ending sentence
A senior at CHS, Anna Tapley-Coll came into her first engineering class with stress and hesitance as she had never had luck with the STEM subjects at school but she has ended up finding enjoyment and fulfillment in Lancaster's class.
"I wouldn't say [it's] easy, because every class is difficult, but it's not as scary as I thought it was gonna be," Tapley-Coll said.
She has found elements that she has learned in Lancaster's class integrating themselves in every part of her day-to-day life.
"I work at a restaurant but things break a lot. So [being able to] help fix machinery and stuff like that is really really useful."
Moving forward, CHS is working towards a more accessible and diverse coding program.
Leave a Comment
About the Writers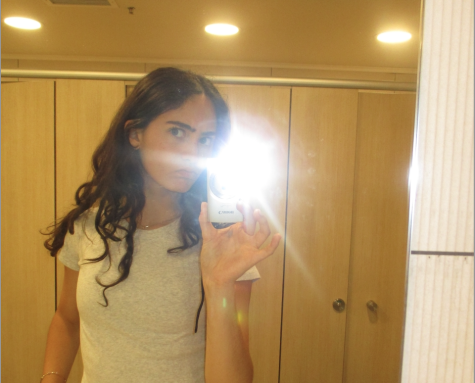 Ruth Shikanov, Feature Editor
Ruth Shikanov is a junior and this is her third year on staff, first year as a Feature Editor for Print. When not found studying downtown before dance, she is either playing piano, adding more books to her read list, rewatching New Girl or buying another bottle of GT's Kombucha. Her favorite flavor is either Gingerade or Strawberry Lemonade and her favorite book is "100 Years of Solitude". Ruth is excited for the work that will be produced in room 300 and all that this year has to offer!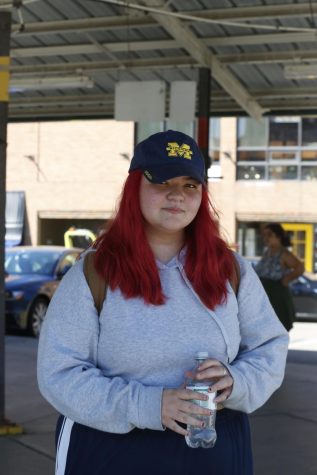 Isabella Maldonado, Journalist
Isabella is a Sophomore at Community, she is a first year Journalist for the Communicator. When she is not taking photos for the yearbook, Isabella enjoys poetry, fashion, baking, horseback riding, CET, and constantly changing her hair color. Isabella is very passionate about journalism and is excited to grow with the Communicator.