A Monopoly Monstrosity
The world is witnessing the creation of a dangerous monopoly. Boxes show up on doorsteps every day with a smile splashed across their fronts. Huge semi trucks block the highway, emblazoned with the mantra, "There's more to Prime."
Working at a local bookstore, I experience the prevalence of Amazon every day. Customers ask us to price match, showing us the lower prices on their phone screens, or tell us that they'll just order it on Amazon. We lose customer after customer to the cheapness and convenience of the online store, slowly driving us towards ruin. Every customer that orders from Amazon instead of buying locally contributes to the 71.54 million metric tons of carbon dioxide that Amazon has emitted throughout its existence. This amount is roughly equivalent to Cambodia's carbon emissions.
"
We must prevent tax breaks for the mega-rich, as they only help fuel businesses like Amazon.
As I watch our economy crumble and our planet die, with my entire life in front of me, I know we must make a change. The first step is incentivizing buying local. Amazon is able to go into debt selling books at extremely low prices because they make up the money in other ways. To prevent customers from shopping at Amazon for the low prices, credit card companies should create incentives for buying locally, such as giving rewards for spending over $100 at local businesses within a week. Local businesses should also increase their shipping ability, in order to compete with the convenience of Amazon. This can be achieved through government subsidies for local businesses to focus on online orders as well as in-person.
It is important to recognize that Amazon was begun by Jeff Bezos, a billionaire, and has a market capitalization of over 900 billion dollars. We must prevent tax breaks for the mega-rich, as they only help fuel businesses like Amazon.
Amazon is not only dangerous for local economies and the environment — it also gives little to no regard for the health and safety of its workers. Amazon has spent billions of dollars preventing the unionization of its employees, which could create more equitable work environments as well as decrease carbon emissions.
Shopping in a local bookstore is a unique experience. The employees are kind and helpful. The displays were clearly created with love. The shelf with staff suggestions on it is always full of new titles. Clicking add to cart on Amazon will never compare to a brick-and-mortar store, and we must fight to keep these stores from disappearing for good.
Leave a Comment
About the Writer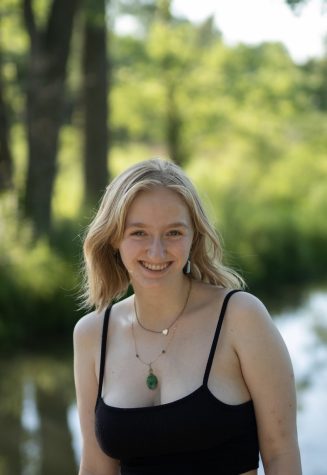 Ria Lowenschuss, Print Editor-in-Chief
Ria Lowenschuss cannot believe she is starting her fifth semester on staff, as a senior in high school! Ria loves Room 300 and everything that comes with it — especially words and chocolate chip cookies. She appreciates warm sweaters, reading good books, and bagels, and she can't wait to keep writing and telling true stories.