Title IX: History of Fighting and Hopes for the Future – Part 3: Lauren Hall and Shellee Almquist
Lauren Hall doesn't deny that progress has been made, it just isn't enough.
From her playing days as a youth, her college teams at Northwestern and Eastern Michigan, to her head coaching role at Ann Arbor Huron High School, Hall has seen mistreatment and disrespect towards her sport, field hockey, for her entire life.
"[Treatment] changed from team to team," Hall said. "But there was always some kind of problem for me and my teams to work through just to be able to play and to get some of the same privileges as some of the boy's teams."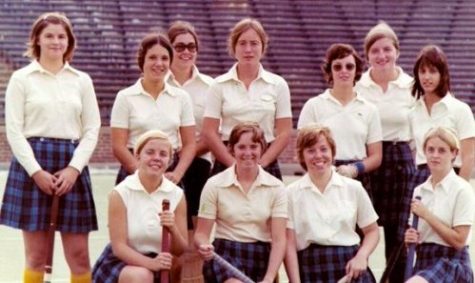 Hall grew up playing field hockey on the East Coast. She was introduced to the sport in elementary school and played all the way through high school, where she recalled some of her first memories of poor treatment.
When Hall began high school in 1971, the school she attended had just finished building a brand new athletic fieldhouse for their sports. While this new facility was fit for all types of athletics, her school refused to let any of the girls teams have access to it.
"What became clear to us, as 150 girls tried out for the field hockey team, was that our school had no intention of girls being a part of that fieldhouse and its facilities," Hall said. "I realized that there were no locker rooms in this brand new fieldhouse for us girls. Instead we were relegated to the old gymnasium which was part of the regular school building. It was pretty old and pretty out of shape, but we were happy to have even that."
This was not the only instance where Hall found herself and her teammates mistreated by their school, Hall recounted many more instances of sexism: Her school put in place a rigorous fitness test that all female athletes were required to pass in order to compete in their sport; the school's athletic booster club bought all of the boys teams leather varsity jackets, and when the girls teams requested them, they were given windbreakers.
"Our school did all kinds of things to try and make sports miserable for us," Hall said. "It was clear that we weren't encouraged to be there. So we had to make sure to keep showing up and sending the message that we wanted to be taken seriously."
"
Our school did all kinds of things to try and make sports miserable for us," Hall said. "It was clear that we weren't encouraged to be there. So we had to make sure to keep showing up and sending the message that we wanted to be taken seriously.
— Lauren Hall
Hall recalled an instance of when she petitioned on behalf of her field hockey team for a change.
"We really weren't asking for much," Hall said. "We lived in a small town just outside of Boston, and Friday night football was always a big social event. [Our school] used to let the boys sports teams in for free. So when I asked if they would accommodate us, they decided instead of letting 23 girls in for free, they stopped letting in all the boys and so everybody was pissed at the girls."
This wasn't seen as surprising for Hall and her team, as they were used to this kind of treatment being the norm.
"That's kind of what their MO was," Hall said. "Instead of actually trying to solve the problem in a constructive way, they would just take something away from the boys, leaving us girls to be seen as the bad guys."
When Hall graduated high school in 1975, she went on to attend Northwestern University. During her first and only year at Northwestern, Hall's coach, who also coached the women's basketball program, pushed to get all of the women's sports into NCAA instead of the club organization. Northwestern ended up hiring a new athletic director who fired all of the coaches of women's sports teams at the school. At the advice of her coach, Hall decided to transfer to Eastern Michigan University, where she competed for and was awarded an athletic scholarship.
"I didn't go [to Northwestern] to play field hockey," Hall said. "I went there to go to school. Field Hockey was just another opportunity but it wasn't like there was any recruiting or incentives for girls to play these sports in college. On top of that we were treated so horribly that it wouldn't have made other girls want to start playing sports in college in the first place."
During her time playing in college, Hall encountered similar treatments as when she was in high school. Whether it was being given wool turtleneck uniforms in the middle of August, having the cross country team run right through the middle of their field during games or being assigned inexperienced coaches without any knowledge of the sport, Hall had yet to see the attitude towards women in sports change very much.
Shellee Almquist faced similar experiences during her time playing field hockey at the University of Michigan. Almquist grew up outside of Detroit, and she was introduced to field hockey in high school.
"We didn't have very many choices [of sports]," Almquist said. "We had field hockey, swimming, tennis and basketball. The reason we had those is because the women PE teachers were interested in those particular sports."
Almquist graduated from high school in 1972. Shortly after, Title IX legislation was passed. After participating in club sports during her first year at Michigan, two of her classmates, Sheryl Szady and Linda Laird, used Title IX rulings to petition the University's board of regents to establish women's sports programs. U of M reluctantly agreed and created six women's sports teams beginning in fall 1973: tennis, basketball, swimming and diving, synchronized swimming, volleyball and field hockey. Almquist joined the field hockey team, as the first ever goalie in Michigan Field Hockey history.
"We barely had equipment," Almquist said. "We had no access to athletic trainers or any medical equipment that we might have needed. And they kept putting [our team] in bad places to practice and play. We played on a couple of fields where they would park cars on Saturday for [football] game days. After the rain, [the fields] were quite runny, so it wasn't fun."
Although the teams had been established, Almquist and her teammates still felt like they weren't encouraged to be a part of the athletic department.
"None of us were even afterthoughts," Almquist said. "They didn't even want us to be there, they resisted us as much as they could. Michigan was not interested in [allowing women's teams] initially that is for sure; they did it because they had to. The board in control and regents said to [athletic director] Don Canham 'You have to'. They pushed back as much as they could."
Almquist graduated from U of M in 1976, a year later, U of M began their first round of scholarship money for women's athletics.
After earning her degree from Eastern Michigan, Hall met Almquist and the two settled in Ann Arbor. Hall stayed somewhat in contact with the field hockey community but it wasn't until later that she became involved in coaching. She began coaching youth field hockey for her and Almquist's children. From there she moved into a junior varsity coaching position at Pioneer before landing as the Head Varsity Coach at Huron, where she's been since 2016, winning the state title in 2017 and 2018.
Since becoming a coach, Hall has seen how some of the mistreatment has shifted from a direct opposition of women's sports, to a more indirect lack of prioritization and support for women's teams.
"It wouldn't be accurate to say that things haven't changed and things haven't gotten better, because they have," Hall said. "We've come a long way since my days as a player obviously, but it also wouldn't be completely accurate to say that we are nowhere near equitable, and a lot of that comes from actual support for each individual sport."
Hall points to inequities such as field time and transportation as some of the most regular impacts on her team.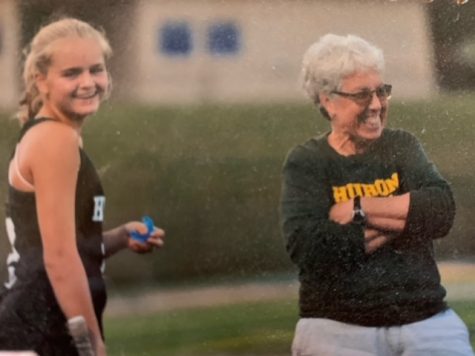 "It comes down to who the town supports in athletics," Hall said. "The football team gets buses to every game, whether they're varsity, junior varsity or freshman, but all the other teams and all the women's teams only get buses if they're games are outside Washtenaw County. There are often struggles to get equitable field time for our varsity women's programs too. My varsity and JV team have to split the field for practice every single day."
Hall believes that in order for more significant change to happen, a shift in the attitude towards girls athletics needs to take place.
"The problem is the people who run our athletics are stuck in a very old boys network," Hall said. "They only really support or advertise in any way the sports that boys play, not that girls play, because they're familiar with them."
The future of women's athletics is uncertain. Hall and Almquist both see the progress since they first stepped on the field, but they know that the battle for equity is far from over, and it will take more than just a few brave individuals for permanent change to happen.
"From all of my years playing and coaching [field hockey], I have experienced some of the biggest highs of athletics and some of the lowest lows, and I'm not talking about wins and losses," Hall said. "Change has been gradual, and will continue to be, but I hope that for the future of all women's sports, there will be changes for inclusion and respect that haven't been there before."
Leave a Comment
About the Writer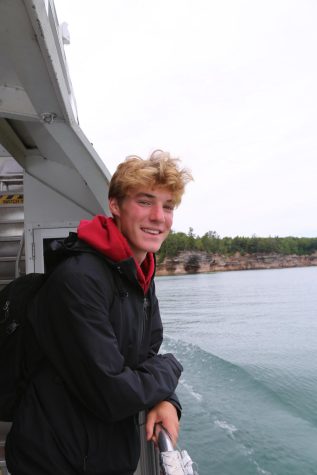 Kurt Hausman, Sports Editor
Kurt is a senior at Community and is entering his third year on staff, his first as the Sports Editor. His favorite part about journalism is writing about high school sports in the Ann Arbor community and being able to hear people's stories. When he's not writing he is playing football as a captain of the Ann Arbor Pioneer Varsity Football team, spending time outdoors with his friends, exercising, or working his part-time job at Stadium Hardware.