The Growing Impact of Oil Money on the Sports World
In late December, Lionel Messi hoisted the 2022 Qatar World Cup trophy over his head; the final feat in what was a star studded career for the Argentine soccer player. While this triumph was the conclusion to an epic sports story, it was only the opening to another: the new impact of oil-rich Gulf nations' influence on the global sports scene.
The 2022 Fédération Internationale De Football Association (FIFA) World Cup was the first to ever be hosted in a Gulf nation and the first to ever be played during the winter months, due to the host nation, Qatar, having extreme heat during the summer months. There seemed to be very little pointing towards why Qatar should have been selected –so why were they?
It wasn't that Qatar had a strong soccer program, they were ranked 50th in FIFA rankings heading into the World Cup and only qualified due to them being the host nation. It wasn't that Qatar had a stronger soccer scene compared to competing nations Australia and the U.S. It wasn't that Qatar had strong infrastructure to host the event; they had to rush to meet FIFA qualifications by constructing seven stadiums in time to host the event, along with 100 new hotels, a new metro system, new roads, an extension to Hamad airport and an entire city surrounding Lusail Stadium, where the final match was played.
As Qatar rushed to tackle all the infrastructure issues, many complimenting issues arose regarding multiple human rights issues by Qatar on their laborers. Reports from multiple media outlets suggest high numbers of deaths and unsafe conditions. A report by The Guardian in 2020 estimated that over 6,500 migrant workers had died in Qatar since the country was awarded the World Cup in 2010, with many of them involved in building the infrastructure for the tournament as well as other aspects of Qatar's construction boom.
This number is disputed by Qatar, who says that the report is "misleading" and "fundamentally relies on flawed methodology". They did not release their own full estimates for the decade span but reported that only 34 workers had died in work-related incidents in 2020 and that not all were related to the World Cup construction.
Former FIFA president, Sepp Blatter, who supported Qatar's bid at the time it was selected in 2010, has since acknowledged that giving Qatar the bid "was a mistake".
"It was a bad choice," Blatter said during an interview with Swiss newspaper group Tamedia. "I was responsible for that as president [of FIFA] at the time."
Despite the many red flags pointing to Qatar not being a suitable nation for hosting the largest sporting event in the world, how did they end up as the host nation?
The answer is too simple –money.
Many nations in the Gulf region such as Saudi Arabia and the United Arab Emirates are rich in oil and natural gas, and Qatar is no exception. Qatar, is a nation of young wealth, with recent discoveries of natural gas, expansion over the past 50 years has led to the rise in influence of this young nation. With large increases in oil exports since 1997, the nation has seen a huge increase in GDP. Today, Qatar has the world's third-largest proven natural gas reserve, and is the second-largest exporter of natural gas, accounting for 85% of the nation's export earnings.
A nation that has now begun to enter the already crowded and well established table of world powers, Qatar has pushed to make a place for themselves among the world's elite; one place beginning to see their impact, is the world of sports.
While other factors went into securing Qatar the 2022 World Cup bid, the sheer amount of cash poured into their efforts is what won them the rights to host. Qatar spent an estimated $200 million on their bid in 2010, while the next closest amount was $45 million from Australia. The amount was viewed as overly excessive by many in the soccer world and what exactly that money went towards is a very controversial topic.
Reports of bribery by Qatari officials to purchase votes from FIFA officials have been frequent over the past decade. In 2018, a summary of an official report done in 2014 by Michael Garcia, who at the time was FIFA's chief ethics investigator, reported that there were "serious and wide-ranging issues with the bidding process" by unnamed bidding nations. In 2015 the U.S. and Switzerland arrested and indicted certain FIFA officials for their roles in this bribery; Switzerland launched a criminal investigation into how those hosts were selected as well.
"These individuals and organizations engaged in bribery to decide who would televise games, where the games would be held, and who would run the organization overseeing organized soccer worldwide," Former U.S. Attorney General Loretta E. Lynch, who was close to the investigation when it began, said. "They did this over and over, year after year, tournament after tournament."
The effect of Gulf nation oil money on soccer spreads further than just Qatar's involvement in the world cup; Qatar is not alone in this money-throwing tactic. Fellow oil-rich, neighboring nation Saudi Arabia recently signed longtime soccer superstar and worldwide celebrity Cristiano Ronaldo to one of their clubs, Al-Nassr. Ronaldo will reportedly be paid $200 million per year, making him the highest paid player in all of soccer.
Gulf nations are making it a priority to invest in soccer. Many prestigious European clubs have ties to Gulf nations through recent sponsorships and ownerships.
The most popular French club Paris Saint-Germain is owned by Qatar Sports Investments, a company owned by the Qatari royal family; English Premier League club Manchester City is owned by a member of the Abu Dhabi royal family and their leaguemates Sheffield United and Newcastle United have 50% and 80% Saudi Arabian ownership respectively. All of these ownerships have been recent involvements, the earliest purchase being Manchester City in 2008.
These recent investments by Gulf nations have not come without criticisms. The UK chief executive for human rights organization Amnesty International, Sacha Deshmukh, was outspoken about the purchase of Newcastle back in 2021, pointing to glaring human rights issues with the purchasing nation Saudi Arabia.
"Ever since [the Newcastle] deal was first talked about [Amnesty] said it represented a clear attempt by the Saudi authorities to sportswash their appalling human rights record with the glamor of top-flight football." Deshmukh said.
'Sportswashing' is a term used to refer to countries using their involvement in professional sports as a way to improve their reputation and public image, by distracting from glaring issues within their country by hiding behind their ties to sports.
This 'sportswashing' extends past European soccer. The advancements Gulf nations have made in the world of sports have been increasing over the recent years, with one major advancement catching the attention of American sports fans.
The PGA Tour has long been the most prestigious and competitive league in all of golf. The American based league attracts the world's top golfers to compete in tournaments across the country; more than 75% of PGA tour events are held in the US. Many of the top players on the PGA Tour are American, and the tour is also supported by a large number of American sponsors and fans.
LIV Golf is a professional golf league launched in 2021 by Saudi Arabia to compete with the PGA Tour. LIV is backed by the Saudi Arabian Public Investment Fund, a sovereign wealth fund owned by the Saudi Arabian government, as well as many Saudi based private investors. The league has already been able to sign players from the PGA due to the enormous contracts that they are offering.
World famous PGA players such as Phil Mickelson and Dustin Johnson have both left the PGA to join LIV. Mickelson was offered $200 million to switch, over $100 million more than he has made throughout his entire 30-year career as a PGA Tour member. Johnson was offered a contract of $125 million for four years.
While Mickelson and Johnson are the headliners, many other players are making the switch. The setup of LIV is very different from the PGA, offering guaranteed money to all players as well as purse values that crush those of PGA events. While this development is still very young, it is already prompting the PGA to think about altering its ways if it wants to stay competitive with LIV.
"It's a tour for people who don't have confidence in their future, they don't have the confidence they can be winners," Hall of Fame golfer Gary Player said. "I wouldn't take a billion dollars for my nine majors (tournament wins)"
The LIV Tour and the 2022 World Cup are only two examples of what will become more apparent in the future. As nations like Qatar and Saudi Arabia continue their expansion into the world of professional sports, many sports across the globe will begin to see what the effect of new money is on their long standing leagues.
While much of the conversation around Gulf nations has been negative, some sources claim that these efforts may be for the betterment of all affected nations.
"Saudi Arabia has an image problem," Danyel Reiche, research fellow and associate professor at Georgetown University Qatar said. "The kingdom's recent investments in sports and entertainment are not about sports washing, but about developing the country, social change and opening up to the world."
Whether Gulf nations like Qatar and Saudi Arabia are just attempting to find a new way to bandage their tarnished public image, or if they are actually serious about long-term involvement in professional sports and rebuilding international relations, one thing is certain: their money talks, and it has already spoken volumes.
Leave a Comment
About the Writer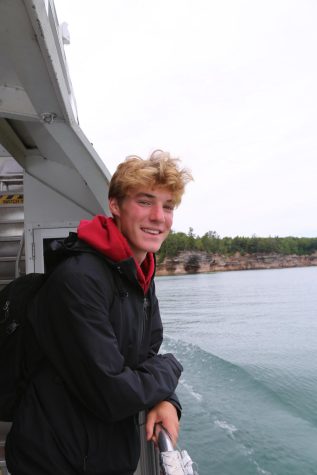 Kurt Hausman, Sports Editor
Kurt is a senior at Community and is entering his third year on staff, his first as the Sports Editor. His favorite part about journalism is writing about high school sports in the Ann Arbor community and being able to hear people's stories. When he's not writing he is playing football as a captain of the Ann Arbor Pioneer Varsity Football team, spending time outdoors with his friends, exercising, or working his part-time job at Stadium Hardware.