The Future in History
The past is history; the future is hard to think about; the present is now.
Cherished history teacher, Ryan Silvester, started his career at CHS in 2018 with the purest form of optimism. In the middle of a new U.S. presidency, Silvester saw a spark in society; an anticipated push for progress; a new hunger to make the world a better place. He wanted to be a part of that.
Silvester's mindset hasn't changed over the years. He understands his naivety in the beginning of his time teaching and now recognizes the barriers the human race faces when it comes to forward movement.
"It feels oxymoronic to say that a history class is forward-looking," said Silvester. "But so much of history helps us make the right decisions going forward… We need to make the right decisions now in order to make it to this world where we care about our climate, our environment, the earth, living here for a long period of time and in passing it on to [our] progeny."
As an educator, Silvester has the ability to impact the generation of the future: his students. He encourages them to find their passion and use it to make a difference, no matter how small, because everyone is weaving the story together.
"Some people are gonna be the Greta Thunbergs in the world and they're gonna do the heavy lifting," Silvester said."But that doesn't work if she doesn't have a following; that doesn't work if people aren't retweeting her messages, aren't joining climate protests in Ann Arbor, aren't pioneering new ways to experience the world."
Silvester understands the uniqueness of Community and hopes for the people in the building to lean into the school's quirkiness and the privilege of not feeling obligated to be locked into any subject. He believes this is the way to create independent learners and give students the opportunity to find their passions.
"[CHS] has this really unique ability to affect change on a local scale, that a lot of other buildings don't." said Silvester.
This year, Silvester takes pride in the reestablishment of CHS's roots by resurfacing the "Hidden Histories" of the school. The mission statement of this building through Silvester's eyes is "focusing on independent and experiential learning within our community".
Silvester believes there is a beautiful energy flowing through our halls; it's an energy of collaboration, dedication, friendship and education. Much of this is thanks to CHS not having what Silvester calls a "canned curriculum" like other schools. Teachers are not handed a lesson plan; they build their own content and timeline with their own intentions to pass information from generation to generation.
Forums are the same way. Forums are based on the students, not their forum leader. Silvester hopes to go back to the connectedness of themed forums, and recognize how they will change over time. There were forums based on service, there were athletic forums and forums known for certain subjects. Silvester understands the aftermath of the virtual school year and its effect on the forum environment. He finds profound value within his own forum, and hopes to create deeper connections between his group of kids.
Working at CHS doesn't feel like a job to Silvester and he loves coming to school every day. Every year, he's itching to get back to his students. Despite the much-needed rest, all he can think about is being back in the building with his students and other teachers.
Silvester seriously values his time at CHS. In his previous work, there wasn't much camaraderie among the people he worked with; at CHS it's different. He savors every moment he shares with his colleagues. From playing ping pong with Brian Williams, counselor, to being pranked by Courtney Kiley, science teacher, time after time, Silvester has found a place of harmony.
"My immediate future is here and loving being here and loving every second of every day," said Silvester.
It's difficult to think about the future when the present is so remarkable.
Leave a Comment
About the Writer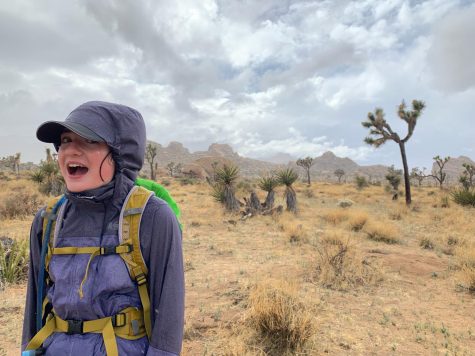 Lydia Cocciolone, Journalist
Lydia Cocciolone is taking part in her first semester of journalism as a senior at CHS. In her free time she loves going on long walks, taking pictures, cooking, and rocking climbing at Planet Rock. She runs Cross Country and Track at Skyline and loves being a part of the team. Lydia plays the flute in the Michigan Youth Symphony Band and wants to learn to play the guitar as well. Writing is also an important part of Lydia's life and she's excited to share stories with the community in Journalism this year.