Books That Change Lives
When Dè Barney won a free book from the Ann Arbor District Library, they were in a reading slump. "The Messenger" helped get them out of it.
Every summer, the Ann Arbor District Library holds their "Summer Game," a reading competition to encourage students to read throughout the summer. Students track their reading and earn prizes for their efforts, such as free books. When Dè Barney participated in the Summer Game the summer after their eighth grade year, they received one of these prizes: a book called "The Messenger" by Markus Zusak, which they promptly put on their bookshelf and didn't look at again until junior year. When they finally picked up "The Messenger," after not reading for a long time, it changed their entire perspective on life. 
"The Messenger" follows Ed Kennedy, a taxi driver who doesn't know where his life will lead him, until he accidentally foils a bank robbery and is launched into a mystery. Ed receives a playing card, the Ace of Diamonds, with three names and corresponding times written on it. Ed is thrust into these three people's lives when he realizes that they are all dealing with sadness or hardship and he is meant to help them. 
Barney has found meaning in the story of Ed Kennedy and his so-called "mediocre life." They believe the story gives perspective on how to enjoy the life you are living, instead of taking for granted what you have, and to realize your true potential by believing in yourself. More importantly, however, Barney found that "The Messenger" shows that everyone is dealing with hardship in their life, whether it is visible or not, and it is important to keep this in mind when interacting with people. 
"It made me want to talk to people more," Barney said. "To just go out and do something good for the good of it."
Reading "The Messenger" was a catalyst for Barney's own life — it helped them get back into books, after having a period of time where reading didn't feel compelling to them. Now, they read constantly. 
"['The Messenger'] was so interesting that it made me want to read again," Barney said.
Spending time reading helps Barney avoid getting sucked into their phone and the lure of social media. Instead of scrolling through Instagram at night, Barney sets aside time to fall into a book, helping them to both relax and learn from the characters in the stories.
Barney has noticed that the stories they read influence the way they see the people and situations around them. When they have already experienced something by reading about it, their reaction in real life is informed by the written word.  
"I feel like books affect a lot of my perspective on the world just because I read so often," Barney said. "When I think a book has a good message or I feel like a character has grown, I try to implement that into my own life so I can grow in a similar way."
Leave a Comment
About the Writer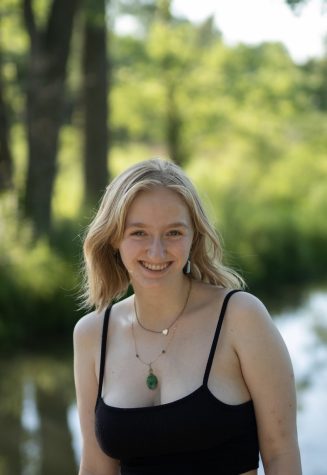 Ria Lowenschuss, Print Editor-in-Chief
Ria Lowenschuss cannot believe she is starting her fifth semester on staff, as a senior in high school! Ria loves Room 300 and everything that comes with it — especially words and chocolate chip cookies. She appreciates warm sweaters, reading good books, and bagels, and she can't wait to keep writing and telling true stories.