A New Beginning For Veganism in AAPS
When CHS librarian Jeri Schneider sat down to read the book "Diet For A New America" by John Robbins in 1987, she did not expect it to change her life. Schneider had heard about the health benefits of eating more plant-based and had gone vegetarian on and off through her young adult life. But it wasn't until she read about the suffering and intelligence of these animals, that she went completely vegan.
"I don't even think I finished the book after I read that section," Schneider said. "It was just like a mind shift that happened. It really gripped my heart and I knew I didn't want to be a part of it anymore."
Overnight, Schneider became vegan. Reading the book completely changed her perspective. Although information about the environmental impact of animal agriculture is emerging even more nowadays, Schneider believes that the information has always been there, just more hidden.
"We had cats when I was growing up," Schneider said. "But, I never wanted to eat my cat. I never thought about cats as being similar to sheep or pigs, or chickens. I just didn't make that connection when I was younger and I think our culture deliberately shields us from making that connection. The fact that you know, we love cats, we love dogs, we love our bunny rabbits as pets. But when it comes to what we eat, we don't think about animals in the same way."
"
I think our culture deliberately shields us from making that connection. The fact that you know, we love cats, we love dogs, we love our bunny rabbits as pets. But when it comes to what we eat, we don't think about animals in the same way."
— Jeri Schneider
Schneider did not find switching to an all vegan diet to be too difficult. She mainly had to substitute out cheese and eggs from her already primarily vegetarian diet. When she first became vegan, Schneider tried out the only vegan cheese she could find. She found it to be "like a hockey puck." It also lacked the typical characteristics of cheese. When Schneider compares the availability of vegan alternatives from the '80s to now she is astounded by the quality and number of substitutes that have appeared.
"Even pizza restaurants now are offering vegan cheese and plant-based meats as options," Schneider said. "Especially in Ann Arbor, it's a lot easier to make vegan food choices than it is if you live somewhere else because the options have just become ubiquitous in grocery stores and all over the place."
Looking back, the only regret Schneider expresses about going vegan is that she wishes she had done it earlier. Despite cutting out non-vegan foods overnight, she has never been so much as tempted to go back to her old diet.
"I've had people ask me 'well, don't you ever just want to eat a hamburger?'" Schneider said. "I'm like, 'why would I do that?' If I was [being vegan] for environmental health reasons only, it would be easier to kind of say, 'oh, yeah, I'm going to eat some meat every once in a while'. But when I think about the animals, it's just an easy choice."
Schneider cannot see herself going back to her old lifestyle.
"Once you learn about inequities and suffering in the world, you can't unlearn it," Schneider said. "I want to know what's going on in the world. I want to be someone who's trying to make a positive difference. Ideally, we'd all be fully aware and we would all take actions to end that suffering. Unfortunately, there's always going to be suffering in the world. It's a part of life. But if I can do my part to help reduce that suffering, I'm gonna do what I can."
"
"Once you learn about inequities and suffering in the world, you can't unlearn it. I want to know what's going on in the world. I want to be someone who's trying to make a positive difference."
— Jeri Schneider
Similarly to Schneider, CHS Senior Ryan Thomas-Palmer was also vegetarian before a form of media changed her perception and she went vegan. In Thomas-Palmer's case it was the 2017 documentary called "What The Health".
"I don't remember a lot of it, but it was all very horror-ish," Thomas-Palmer said. "There was a lot of information about what it does to the communities around factories that work with meat and stuff like that. There were also a bunch of examples of people who went vegan and it fixed their medical issues."
Thomas-Palmer has found the diet to be challenging when she isn't able to prepare food in her kitchen. Due to the nature of her entire family being vegan, all of the groceries in her house are vegan and her family cooks all of their meals to be vegan. However, when she goes to visit her sister at college, there aren't a ton of vegan food options for her to choose from. Although she doesn't break the diet when she is at home, she has had to break the diet when she visits her sister.
Although the diet has worked for Thomas-Palmer, she understands that it might not work for everyone.
"I'm not a person to push other people to be vegan," Thomas-Palmer said. "I think it would be amazing if people would start learning more about it, and trying it out for themselves because I think that that would really help just the entire world but I'm more focused on just trying to keep it up for myself."
Mike DeVries, assistant director of food service for Ann Arbor Public Schools (AAPS) hopes to help students like Thomas-Palmer find vegan and vegetarian options when they come to school. He was hired on the Chartwells team in the fall after spending his previous years working at the University of Michigan.
"We're designing the menus, for all grades, to make sure there's a vegetarian component available," DeVries said. "[The food option] is usually like a mirror to the main entree each day. So for instance, if we're serving a hamburger, we'd serve a vegetarian burger as an alternative."
DeVries is implementing these food options across AAPS schools. Chartwells provides sunbutter sandwiches in elementary schools, as well as salad bars and vegetarian sandwiches in middle schools and high schools. His goal is to reach as many students in the district as possible. He meets with a group of students from Huron High School (HHS) who are a part of the Sustainability and Vegan (SAV) club . The group partnered with DeVries to sample the new impossible burger's brought to HHS that were served during lunch.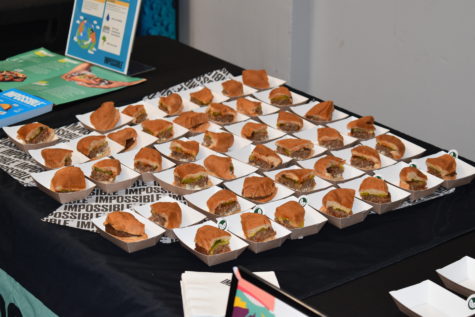 "Some vegetarian menu items are being replaced with vegan menu items," DeVries said. "After surveying the group of students who tried the impossible burgers at Huron High School, we got an 80% positive response rate, which is enough for me to implement those burgers onto the menu of all AAPS high schools."
In addition to the vegan and vegetarian options that DeVries is implementing, he has found that these options align with the allergy program that he runs as well. Eliminating the dairy from vegan items, along with the fish and shellfish, is what the program is currently focusing on.
"We probably make 100 or so individualized meals a week and send them off to different [AAPS] schools so that students who have severe allergies can eat without worrying about cross contact," DeVries said. "Some of the recipes we have developed [for the kids with severe allergies] give me ideas on what I can add to the menu for all of the students who eat vegan."
DeVries hopes to also implement symbols and labels on food items that are vegan or vegetarian to help students recognize which items they can and can't eat. Adding new food items and improving the meals for students that are vegan and vegetarian is one way that he hopes to improve the well being of students with dietary restrictions.
After receiving such positive feedback from the pilot program at HHS, DeVries hopes to do a similar event at CHS to get feedback on whether CHS students would also like to see more vegan menu items introduced soon.
Leave a Comment
About the Writers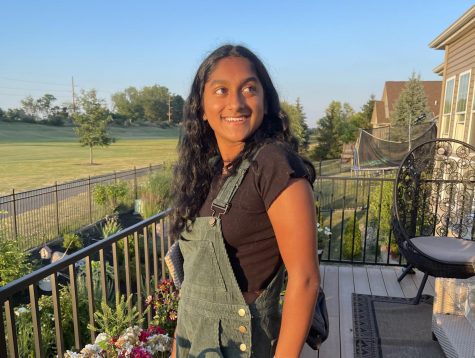 Anjali Kakarla, Web Editor-in-Chief
Anjali Kakarla is a junior who split-enrolls between Community and Skyline. This is her fifth semester on staff and her first as Web-Editor-In-Chief. When she's not doing schoolwork, playing basketball and golf, or running track for Skyline, she loves hanging out with her friends, listening to music and baking. She loves to write and is very excited for journalism this year!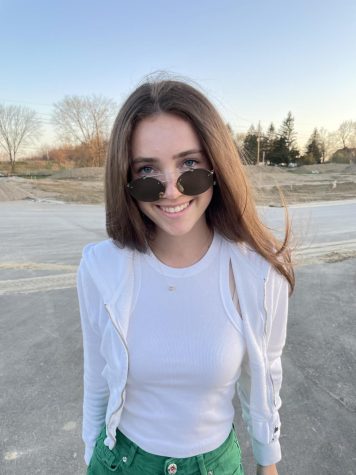 Ailish Kilbride, Feature/Business Editor
While trying to pack as many things as she possibly can in her schedule, Ailish Kilbride is entering her 5th semester on staff and her 2nd semester in leadership. Ailish is a junior at Community High School. Taking long runs, walking her dog Lulu, playing field hockey at all hours of the day, reading Colleen Hoover books and hanging out with her friends and family are all at the top of her list for favorite things. She can't wait to be apart of all of the amazing work that the Communicator is going to do this year.