Cluttered Space, Cluttered Mind
Community's back lawn was beloved by teachers and students alike. A spot for relaxing and sports being put on throughout the day, it was a lively spot for constant gatherings; but once construction rolled in during 2020 taking up all but the basketball court for storage, it caused a shift at Community.
Driving into Community and starting your day with an eye sore of rusting metal and shipping containers causes for a not so pleasant morning. CHS counselor Brian Williams always loved the environment students would give off when relaxing on the back lawn before, during or after school.
"When you come to school in the fall and people are on the lawn waiting for us it's nice," Williams said. "Having the lawn allows for good vibes and I live off good vibes."
Construction and disorganization doesn't just affect the aesthetic or mood but it also affects the mind.
"Physical clutter causes mental clutter," said CHS Dean Marci Tuzinsky. "Being under construction for so long has impacted our environment from feeling like a really beautiful safe space to this clutter that no one likes."
The starting plan for construction was to have it done by the end of the 2022 school year but when Covid-19 had it take a pause in 2020 it took an extra year.
"When construction started in 2020 it only took a few months when they had to stop," Tuzinsky said. "It took about another year before they could come back safely and so the construction took another year to finish, making it longer than it was supposed to be."
Community's staff loved the back lawn for activities and although the construction took away the back lawn for a period of time, this construction was well worth it. In 2019 when the Ann Arbor school district was granted a one billion dollar capital bond for all-around school improvement, CHS started construction for new air conditioning units, lighting systems, window blinds, ventilation system and much more that will drastically improve the school for many years to come.
With no more drilling and loud banging, construction is slowly wrapping up for the most part and all that's left is cleaning up the storage on the lawn. The goal is to have everything packed and cleaned up for when we come back from spring break but we still need to wait for the grass to re-grow before we can use the lawn again.
"Depending on the weather and the frost will determine a lot of the timing," said Tuzinsky. "Especially with the seeding and other things. But all of [the construction] stuff should be gone when we come back from spring break."
Coming back to school in the 2023-24 school year, the school's three-year construction program will be finished and everything the construction took up will be back to where it was in 2019.
Leave a Comment
About the Writer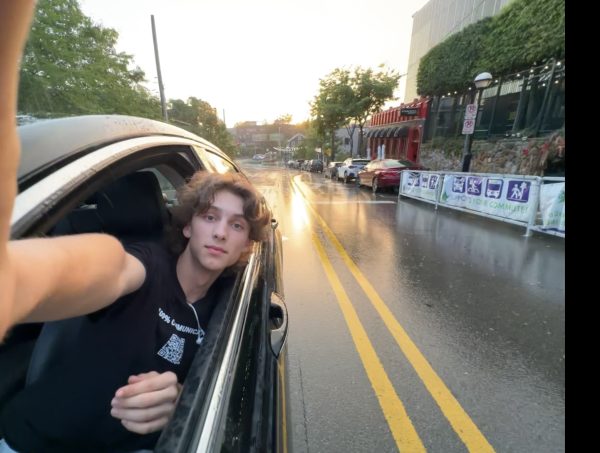 Danny Ging, Photography Editor
Danny is a senior at CHS and this is his second year on staff, first as photography editor. His favorite part about journalism is capturing life around Ann Arbor to tell a story. When he's not editing photos, he can be found skateboarding around town or hammocking and slacklining in parks around Ann Arbor. He enjoys photography as both a hobby and a passion with most recently picking up film photography and film development.