Instrument Profile: Desmond Lorenz, Bass
Desmond Lorenz is a sophomore at CHS and a member of the Jazz program. He plays standup bass as well as electric bass.
Lorenz enjoys having a more supportive role in the band. 
"​​The bass in jazz music holds the band together," Lorenz said. "It keeps the rhythm with the drums." 
Starting music lessons at the young age of three, Lorenz has studied violin, piano, flute, guitar, and now bass, which was Lorenz's preferred instrument in Jazz because it seemed fun and interesting to learn. He has been playing for over two years.
Lorenz believes that the opportunity for students to have a structured band environment helps them quickly grow as musicians as well as learn how to play with others. Lorenz noticed how much better at his instrument he has gotten since joining Jazz freshman year. One of the reasons he was interested in attending CHS was for the Jazz program, and he gets to learn while also having fun collaborating with his peers.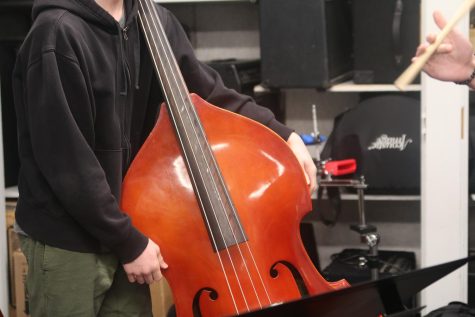 Lorenz is a member of both Jazz 4 and Jazz Lab. 
"A combo student in jazz is the highest class currently, and it develops you as a musician after you've learned most of the basics," Lorenz said. "Combo has given me the opportunity to go play a gig, which is a program through the class."
For students entering and wanting to advance in jazz, Lorenz recommends having a structured practice session every day and sticking to it, as well as taking individual lessons outside of class to focus on your specific instrument.
Leave a Comment
About the Writer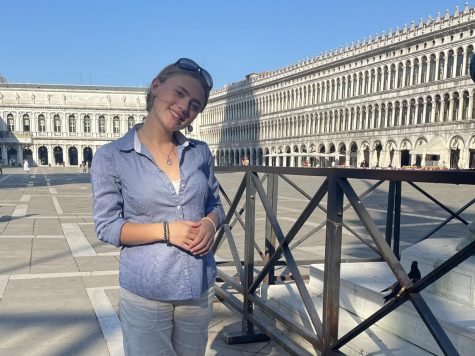 Leila Durrie, Journalist
Leila Durrie is a sophomore at Community and this is her first semester on staff at The Communicator. When she's not focusing on school or cuddling with her dog, you can find her on stage doing musical theatre, working on a video project, singing, or listening to music. Leila loves traveling and she is always up for an adventure.