"Ace of Spades" Review
"Ace of Spades" was not the playful mystery I expected when I offhandedly grabbed it from the library for some spring break reading. The novel follows two students of an illustrious private high school: Devon and Chiamaka. The pair are dissimilar – Devon is a quiet musician, not well-known or filthy rich, while science-loving Chiamaka – like the rest of her classmates – is designer-outfitted and consumed with clawing to the top of Niveus Private Academy's social scene. At the beginning of senior year, the two become victims of an elaborate rumor-spreading operation with an unknown perpertrator and motive. As the situation escalates and carefully-planned, high-flying futures hang in limbo, Devon and Chiamaka are brought together on a mission to end the onslaught.
This story felt like a rollercoaster; author Faridah Àbíké-Íyímídé held us teetering at the climax before plunging readers into a devastating conclusion. "Ace of Spades" illustrates the nauseating consequences of white supremacy and depicts an all-too-real perpetuation of racism, classism and homophobia. The book evolves from a hyperbolic tale of teenager-dom to a story with much larger connotations.
While "Ace of Spades" kept me engaged throughout, its lack of an established setting detracted from my ability to visualize the story. In the author's note, Àbíké-Íyímídé explained that by not mentioning a specific town or region she hoped to emphasize how bigotry permeates our societies globally. I appreciate that sentiment but feel that that choice made the book less tangible overall.
Despite the fact that "Ace of Spades" was not the easy read I anticipated, it was a well-written and impactful story that I would recommend to high-school-age readers. Additionally, it should be noted that "Ace of Spades" was Àbíké-Íyímídé's first-ever published novel. The young author has two young-adult fiction works set to be released in 2024.
Leave a Comment
About the Writer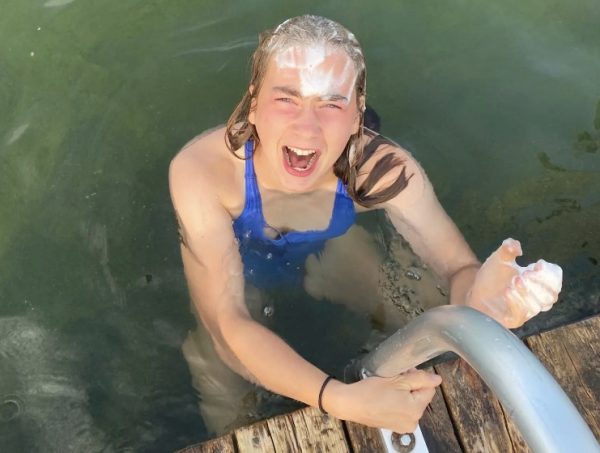 Lucia Page Sander, Social Media Editor-in-Chief
This is Lucia's fourth semester on staff and her first as a Social Media Editor-in-Chief. When she's not playing soccer for the Michigan Jaguars or competing for Lily Weightlifting, you can find her in the garden, watching tennis with her family, or jumping on her mini trampoline. Lucia loves surfing, doing the Wordle, climbing trees, and munching on cherry tomatoes. She is beyond excited to see what this year brings both inside and outside room 300.