Climbers of Community
Rock climbing is more of an unheard of sport. Unlike football and basketball that consume the spotlight in the United States and the world, climbing stays in the dark. But not for much longer; the sport is beginning to sneak out of the shadows as it gains popularity.
Climbing made its Olympic debut in 2021, further introducing the world to this unique sport. Climbing has been around for hundreds of years and has only grown since its early days, attracting more attention and more participants.
Some of the sport's early history lies here in Ann Arbor. For 10 years, Planet Rock Climbing Gym was the largest climbing gym in the country when it opened in 1999 in Ann Arbor. The first Planet Rock opened in Pontiac, Michigan in 1994. These gyms were some of the leading faces of the climbing industry in the Midwest. In 2014, the Pontiac gym closed and reopened in Madison Heights, MI. The National Climbing competition was held in Pontiac three times and another three times in Ann Arbor. With the growth of the sport, competitions are now hosted in larger gyms like the Madison Heights Planet Rock.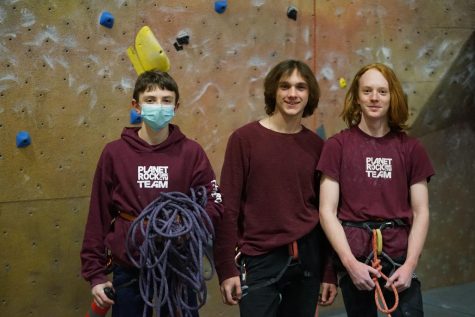 Community freshmen, Alex Smith, Noah Garfield and Gus Finn, are just a few of the growing number of rock climbers at Community. The three of them are all freshmen in the Silvester Forum and climb on the Planet Rock Climbing Team together. Every Tuesday, Thursday and Sunday, Smith, Garfield and Finn train at Planet Rock with the rest of the team; they compete in competitions throughout the region.
Competing in climbing consists of three main categories: bouldering, sport climbing and speed climbing. Bouldering and sport are both measured by how far up the route climbers can get. Getting a "top" —reaching the top of the route— awards the most points. Bouldering involves walls about 15 feet tall with a cushioned mat to catch falls. Sport climbing usually reaches between 30 and 50 feet using a rope and a belayer for the climber. Speed climbing involves climbers racing to the top of a fifteen-meter (49 feet) wall. The routes are identical in every competition this way, climbers can master the pattern and achieve impressive times.
Finn, Smith and Garfield focus on sport climbing and bouldering. Smith prefers bouldering over sport. Finn agrees but feels like he competes better on ropes. Garfield loves to climb outside — on ropes or bouldering.
Climbing outside usually requires traveling into more mountainous parts of the country—even other countries — due to the lack of elevation in the Midwest. Climbing is popular all over the world, as there is natural elevation in many places. The most popular outdoor climbing spot in Michigan is "Grand Ledge" where there is a 20 to 30 foot tall cliff with about 100 routes. This is where many Michigan climbers take their first outdoor trip before moving on to a bigger challenge. Smith and Garfield have climbed at Grand Ledge and are working on expanding their horizons, traveling out of the state for better rock.
"[Climbing outside is] a lot different,"Smith said. "It's more factors, rocks can fall, [the rock] can be wet, there can be animals. It's just more fun."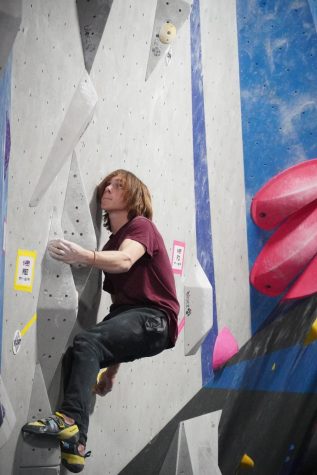 One of the most popular spots in the U.S. lies within the Daniel Boone National Forest in Kentucky. The Red River Gorge —"The Red"— is a hot spot for climbers all over the country. It's a beautiful array of sandstone crags surrounded by forest and rivers. There's an extensive variety of routes with a wide range of climbing styles and difficulties. Smith and Garfield have been to The Red multiple times.
Finn has not been climbing outdoors as much as he would like to, but it's on his to-do list. Smith climbs once or twice a year outside in places like Grand Ledge and The Red. Garfield travels more frequently —usually with his mom— seeking quality climbing. His aunt lives in Washington state where he makes numerous visits a year and there are many great places to climb; Garfield's favorite crag is called Fun Rock in Mazama. Rumney, New Hampshire and Red Rock Canyon, surrounding Las Vegas, are some of his other favorite places to climb.
Both Smith's and Garfield's climbing journey began with TV. Smith's childhood neighborhood friend and his dad saw climbing featured on TV and decided it was worth a try. They took Smith with them to Planet Rock; Smith has kept going back ever since.
Garfield was an American Ninja Warrior (ANW) fan and watched the show with his mom. For about a year, they were really into it. Once they discovered that many of the ninja warriors were climbers, they decided to check out climbing. Garfield started climbing briefly when he was five years-old, but it didn't last. It was only after his ANW phase in 2018 that he got back into the sport.
Now, for the second semester of the 2022-23 school year, Garfield and his mom took initiative and decided to turn this passion into a class. Through the Community Resource (CR) Department at Community, they were able to create a new CR about route setting and climbing-specific fitness. Smith and Finn were on board.
"I'm interested in learning about route setting and what goes into it," Garfield said. "Whenever I'm just looking at [the walls], even a spray wall, I'm like, 'how do you come up with a route, especially that many in a day?'"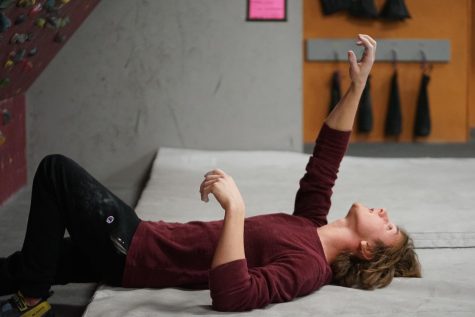 Route setting is more than just screwing plastic climbing holds into the wall. Route setters must design routes of various difficulties for climbers of all heights, strengths and skills and they have to make it look pretty. Route setters are careful to arrange the color and layout of their routes to complement each other and look beautiful on the wall. Planet Rock route setters, Cris Garcia and David Weaver, agreed to teach these three their art.
Garcia explains there's a "let's see if you can actually do it" phase for the first couple of months of route setting because it's important to be able to work well with the rest of the crew and handle the workload and demands of the job. Routes need to be accessible for everyone, fun and eye-catching. Garcia knows the community members, how hard they can climb, what they struggle with and what they're good at.
"To be in service of that community is a good feeling," Garcia said. "Being able to contribute in some small way is really meaningful to me."
Route setters begin the day by stripping the wall —removing all the climbing holds— and taking the holds to the back of the gym where they use a power washer to clean the holds of chalk. They clear the mats of bolts and holds and begin to reset the wall. Setters use a drill and bolts to attach the holds and sometimes screws to secure them. The amount of time it takes to set a route depends on its difficulty and the creative flow that day.
"Every day is a little different," Garcia said.
Accessibility is important for route setters to keep in mind. Route setters do their best to make a range of difficulties for climbers of all heights, strengths and abilities. The routes should flow and the movement should usually feel natural as climbers move up the wall.
Functionality is not the only thing routsetting is about — the aesthetics of the routes matter too.
"We try to emphasize the aesthetic with the functionality of it, and strive for an idea that they're not separate, and that you could put them together," Garcia said.
"
We try to emphasize the aesthetic with the functionality of it, and strive for an idea that they're not separate, and that you could put them together."
— Cris Garcia
When people walk into Planet Rock, the first thing they see is towering walls with intense sprays of shapes and colors littering their surfaces. To climbers like Finn, Smith and Garfield, it's attractive — it's an opportunity to explore this new, beautiful world that is 50 feet off the ground. Designing the interior of these big playgrounds is an important job.
"You want to get people to want to climb routes," Smith said. "If you [set] a super cool route that doesn't look good, nobody's gonna climb it."
As climbing and competing grows, the style of route setting is changing. In gyms around the world, routes become more and more directed towards competition climbing which involves a lot more jumping, larger holds and an overall different approach than it used to. At Planet Rock, setters focus more on the style of climbing that would be seen outside.
"[Route setting] is something that's kind of difficult to learn," Garcia said. "It's something you learn directly that starts with climbing outside yourself. And you're not necessarily replicating [outdoor routes], but drawing from that pool of inspiration."
Garcia started the class by having Finn, Garfield and Smith observe the team of route setters. He gave them a rundown of the job and explained some basics like wall manipulation with volumes; aesthetics; the hardware itself, like bolts, screws and drills; and the community they're setting for. Garcia emphasized the importance of "knowing your audience" and tailoring the routes you create.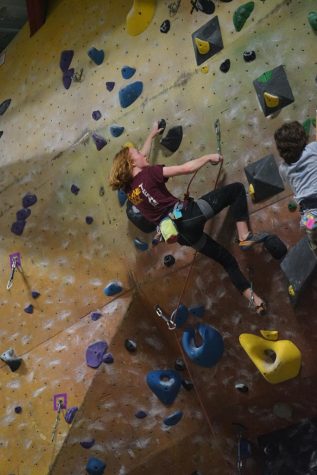 "If I was setting for a group of V16 climbers, I'm gonna set way different than for the community of climbers that lives in a college town where a lot of people are just trying it out," Garcia said.
Garfield, Smith and Finn are learning a lot in a short period of time. In a field that takes years of knowledge and practice, they're getting the inside scoop. Garcia has also assigned two books they're reading together. "Training for Climbing" by Eric Hörst is focused on climbing specific training. Their other book, Timothy Galloway's "Inner Tennis: Playing the Game" is about mental training. Garcia believes it applies to more than just sports, but life in general.
To begin the actual setting process, the three of them add foot holds and down climbing holds. Down climbing holds are added in empty space on bouldering walls to help climbers climb down, instead of jumping or falling from the top of the wall. They also "tape" for the team of setters. They use colorful duct tape to color-code routes and make the direction of the holds clear. They are starting to grasp the "backstage" work the job entails like organization and hold cleaning. After they are taken off the wall, holds are taken to the back room where they are power washed and air-dried.
After routes are set, they are instructed to watch gym members climb them and to tweak the routes after seeing the flow and movement or lack thereof. This is a great way to truly pay attention and learn about the art of climbing, because really all climbing is, is movement on the wall.
"[Climbing] is fun — it's different and it's not super popular, but you utilize your body in a more interesting way than traditional sports," Finn said. "It's physically engaging in a thoughtful way."
Garfield, Finn and Smith are taking advantage of the CR Department and getting credit for learning a unique skill they will likely use throughout their lives. They're beginning to understand the beauty and skill of route setting and how it truly is the backbone of the sport. And not only is climbing a sport, but it's creativity, strength, flow, strategy and community.
Leave a Comment
About the Contributor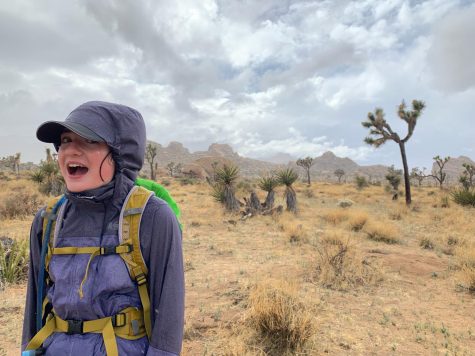 Lydia Cocciolone, Journalist
Lydia Cocciolone is taking part in her first semester of journalism as a senior at CHS. In her free time she loves going on long walks, taking pictures, cooking, and rocking climbing at Planet Rock. She runs Cross Country and Track at Skyline and loves being a part of the team. Lydia plays the flute in the Michigan Youth Symphony Band and wants to learn to play the guitar as well. Writing is also an important part of Lydia's life and she's excited to share stories with the community in Journalism this year.