For CHS senior Ali O'Brien, every shot starts with the same regimen. First, she steps away from the ball, faces the opposite direction and takes a deep breath. She then takes a few practice swings and finally lines herself up to the ball. Then, she lets it fly.
As a four-year veteran and varsity captain this season, O'Brien is looking to improve her mental game as she knows it is an integral part of golf. Her first step in attaining this goal is sticking to her mantra: "new hole, new me". 
"After every shot and every hole, I tell myself 'new hole, new me'," O'Brien said. "I've realized that I don't have to be perfect and it's okay to mess up, it's something we all deal with and have to work on."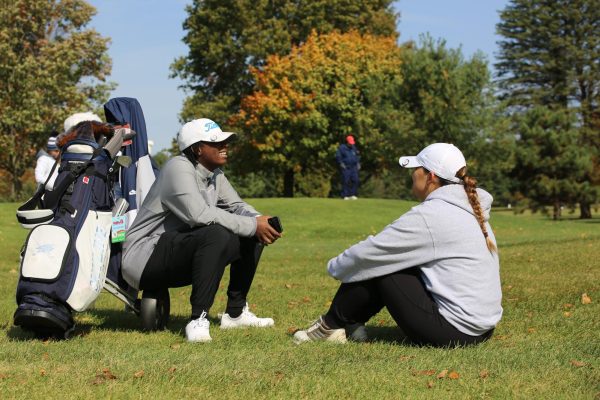 A huge part of O'Brien's struggle mentally has been the numerous injuries she has faced in her high school career. Lower back pain has made it challenging for her to bend down low in her short game and her shoulder injuries have made it painfully difficult for her to swing properly. Despite these setbacks, O'Brien has made it a point to focus on daily recovery which includes stretching, icing and using her back brace. 
As she nears the second half of her last season on the Skyline Women's Varsity Golf Team, O'Brien is focusing on having fun and growing with each round she plays. She believes that having fun is a crucial part of growing as both a golf player and a person. O'Brien has taken the time to reflect on what it means to be a senior this season.
"It's been such an amazing journey," O'Brien said. "With this being my last season, I'm a little sad because of course I want to come back next year and play. But I'm also so happy to see the progress I've made from being a scared freshman who didn't know how to golf to being a senior who has so much fun playing golf. I've also loved seeing how I've improved both stroke wise and mental wise."
With this being her last golf season in high school, O'Brien has started to think about her future in the sport of golf.
"I don't think I'll play at the college level, but I will definitely consider playing on a club team in college," O'Brien said. "I want to always keep this sport close to my heart because it has had such an effect on me in so many ways."
O'Brien will continue taking in the beauty of the golf course for the rest of her senior season as she challenges herself to become a better golfer everytime she plays.