After over a year of virtual school due to the COVID-19 pandemic, CHS students returned to the building without knowing many of their classmates. For freshmen and sophomores, it was their first time in-person at CHS and masks made it harder to remember faces.
Communicator journalists sought to create bonds by creating the goal of interviewing every student in the building. Here are some of the conversations.
Aramis Greene-Kalesk, 9th grader
Moose Gultekin, 10th grader, dances in the middle of Nickels Arcade. She has been dancing since she was young, and has grown to love it.  "My parents suggested it to me when I was like two, and at first I kind of hated it. My first day I spent it crying and clinging to the teacher. " Gultekin said. "But after that first day, I just really liked having something that I could express myself with, but also just like to move and be active. I fell in love with it."
Co-Student Tech Direct for Community Ensemble Theater and 11th grader, Abby Frank, is looking forward to opening night of "She Kills Monsters."
She was student tech director in CET's last production as well.
"It is amazing to see everything come together, and very exciting. I am looking forward to seeing how everything turns out." Frank said.
Mathias Takacs, 9th grader, is playing The Great Mage Steve in Community Ensemble Theatre's (CET) production of "She Kills Monsters." He joined the theatre program at CHS because of his enjoyment for acting in general. "It's really fun to tell a story [through a show] and have everybody be a part of it," Tackacs said. "[I like] being a part of that and the Community as well."  
Lucy Cassell-Kelley, 11th grader, competes in her floor exercise at gymnastics regionals in May 2021. Gymnastics has been a part of Cassell-Kelley's life since she was five years old, and she recently started coaching younger gymnasts as well, an activity that adds to her busy schedule. "I'm the only student main coach," Cassell-Kelley said. "There are other students who are assistant coaches, who coach less and don't have their own classes, but I have my own classes, and we don't have a lot of subs right now, so if you have a family emergency or something, every coach is already working so it's hard to find subs."
Mia Goldstein, 12th grader
Anton Baptista, 11th grader
Felicity Rosa-Davies shows off a jar of her homemade granola. Rosa-Davies used to bake frequently during quarantine, and, as a break from school work and college applications, she recently started getting back into this hobby. "I found a [granola] recipe on Buzzfeed Tasty that takes like half an hour, and I've memorized it now because I've made it so many times," Rosa-Davies said. "I usually have it in the morning with some bananas and strawberries or other kinds of fruit, and that's been really nice and a good way to make something healthy taste even better."
Chris Anderson, 9th grader
Leah White, 11th grader, stands in front of Skyline High School after a recovery run. This is White's first year on the Skyline Women's Cross Country team. "I started running because it was one of the few sports offered to me in 5th grade," White said. "But as I continue to do it I have [come] to appreciate it more. It helps me clear my mind, I really like nature and it's just good exercise. I've really enjoyed cross country season because we get to run at such pretty places."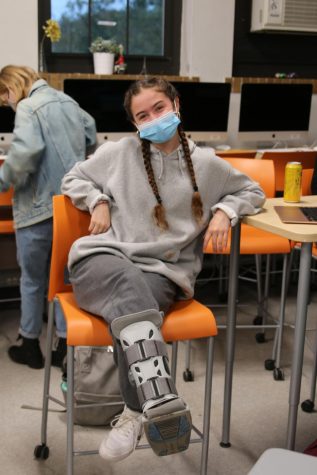 After a long visit to the UM Orthopedic wing for an x-ray, it was revealed to Scarlett London, 11th grader, that what she thought was a sprained ankle was actually a fracture that would take her off the stage for at least a month. In the weeks prior to this discovery, London had gone to an urgent care, where no signs of an injury were found, and continued to dance in her six to seven hours rehearsals every Saturday and Sunday. "As I waited for my x-ray, part of me started to hope that it was fractured," London said. "These long rehearsals had been killing me, and I could use that time to catch up on school work and hang out with friends. When the doctor told me it was fractured and that I would have to be in a boot for a month, that feeling vanished. Dance has become who I am and without it, I'm not sure how to spend my time. I have only been out of dance for a week now and I already feel its absence."
Sebastian Wyngaard, 12th grader
Actor and 12th grader, John Reed, is preparing for "She Kills Monsters."
He has been a member of Community Ensemble Theater for the past four years.
"I have gotten to know the people who were here before, and the people that are now here after me. And it has been lovely to have a rotating cast of friends." Reed said.
Nic Idzikowski, 10th grader, is portraying the role of Kaliope in Community Ensemble Theatre's (CET) fall production of "She Kills Monsters". They started doing theatre in fourth grade, and were happy to have been cast as Kaliope because they can relate to the character. "I like how personal [CET] is," Idzikowski said. "It's a lot more chill than other theatre environments that I've been in. I love that everyone's opinions are involved and that everyone gets a fair say."
Natalie Kessler, 11th grader
Morgan McClease, 10th grader
Zane Swerdlow, 9th grader
Elijah Lynn, 12th grader, typically works the weekend night shifts at Little Caesars, where he works the register and takes orders along with working at landing where he boxes and cuts the pizza. "My favorite part of the job is being the cashier," Lynn said. "I like to be able to talk and to communicate with customers. You're able to tell a lot about people just based on how they act at the register.
Felix Starosta, 11th grader,  keeps his skills in check as he practices keep-ups with a soccer ball. He and the Pioneer Boys Varsity soccer team recently became district champions after a stellar season. "I think I have been able to grow a lot [this season] with my mindset and effort levels," Starosta said. "Watching the seniors play their last season here really affects you and how you play."
Mark Ziebell, 12th grader, holds the book he is currently reading, 'The Queen of Sorrow', by Sarah Beth Durst. Ziebell has recently discovered a book genre that is new to him: fantasy. "I read one fantasy book, and that opened a whole new world to me, because that was not something I would have read before," Ziebell said.
After school, Izzy Sluymers-Tuccinardi, 10th grader, goes to the barn to visit her horse Esmeralda. Sluymers-Tuccinardi decided to name her after the horse's birthstone, which is Emerald.
"[My horse] makes me feel at home and I forget about all the problems in life," Sluymers-Tuccinardi said.
Elijah Klein, 12th grader
Emmy Wernimont, 10th grader, shoots a basketball. Wernimont has been playing basketball since third grade and played for Pioneer High School last year. "I have always had lots of fun and really enjoyed playing basketball," Wernimont said. "I also have always loved [being on] a team, both in Rec and Ed and at Pioneer."
Molly Hamalainen, 10th grader, is in the Hamstra Forum.
She looked forward to being in forum since she heard about CHS.
"I really like how it is so easy to have friends [in forum], because everyone is super welcoming." Hamalainen said.
Aidan Ridley, 10th grader, enjoys a drink from Sweetwater's—that he was able to buy between classes. Before coming to Community, Ridley was homeschooled, and he enjoys the freedom and lack of restrictions that the school provides. "[I go to Sweetwater's] quite a bit," Ridley said. "A lot more than I should."
Zion McLilley, 10th grader, sings to himself in preparation for his "Young Icons" showcase. McLilley met with a group of other young singers, some of whom had been contestants on "The Voice" and "Apollo", and decided to do a collective performance. "It was like vocal therapy," McLilley said.