After over a year of virtual school due to the COVID-19 pandemic, CHS students returned to the building without knowing many of their classmates. For freshmen and sophomores, it was their first time in-person at CHS and masks made it harder to remember faces.
Communicator journalists sought to create bonds by creating the goal of interviewing every student in the building. Here are some of the conversations.
Aramis Greene-Kalesk, 9th grader
Elle McCreadie's sister shows off her birthday cake. McCreadie opted to make a chocolate-and-vanilla swirl cake for her younger sister's twelfth birthday. "I'm one of the main [chefs] in my house," McCreadie said. "My mom and I do a lot of cooking for dinner, and my sisters and I are very into baking."
Moose Gultekin, 10th grader, dances in the middle of Nickels Arcade. She has been dancing since she was young, and has grown to love it.  "My parents suggested it to me when I was like two, and at first I kind of hated it. My first day I spent it crying and clinging to the teacher. " Gultekin said. "But after that first day, I just really liked having something that I could express myself with, but also just like to move and be active. I fell in love with it."
Charlotte Rotenberg, CHS freshmen, poses with a freshly baked cake in one of her favorite places—her kitchen. Her mom taught her to cook when she was a toddler, and her love of making food has grown ever since. "I turn weird pieces of — chunks of — powder into cookies, and it goes from goo to not goo."
Charlie Beeson is working to become the state champion next year for mountain bike racing. Beeson has been racing mountain bikes for four years, but only started getting competitive this year. "I've gotten to the point where I want to be the next state champion, so it's definitely a super competitive sport for me," Beeson said. "I'm pressuring myself to do what it takes, but we'll see what happens."
Co-Student Tech Direct for Community Ensemble Theater and 11th grader, Abby Frank, is looking forward to opening night of "She Kills Monsters."
She was student tech director in CET's last production as well.
"It is amazing to see everything come together, and very exciting. I am looking forward to seeing how everything turns out." Frank said.
Mathias Takacs, 9th grader, is playing The Great Mage Steve in Community Ensemble Theatre's (CET) production of "She Kills Monsters." He joined the theatre program at CHS because of his enjoyment for acting in general. "It's really fun to tell a story [through a show] and have everybody be a part of it," Tackacs said. "[I like] being a part of that and the Community as well."  
Lucy Cassell-Kelley, 11th grader, competes in her floor exercise at gymnastics regionals in May 2021. Gymnastics has been a part of Cassell-Kelley's life since she was five years old, and she recently started coaching younger gymnasts as well, an activity that adds to her busy schedule. "I'm the only student main coach," Cassell-Kelley said. "There are other students who are assistant coaches, who coach less and don't have their own classes, but I have my own classes, and we don't have a lot of subs right now, so if you have a family emergency or something, every coach is already working so it's hard to find subs."
Mia Goldstein, 12th grader
Anton Baptista, 11th grader
Felicity Rosa-Davies shows off a jar of her homemade granola. Rosa-Davies used to bake frequently during quarantine, and, as a break from school work and college applications, she recently started getting back into this hobby. "I found a [granola] recipe on Buzzfeed Tasty that takes like half an hour, and I've memorized it now because I've made it so many times," Rosa-Davies said. "I usually have it in the morning with some bananas and strawberries or other kinds of fruit, and that's been really nice and a good way to make something healthy taste even better."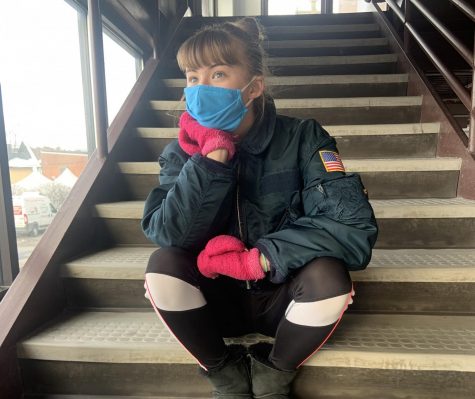 Kaylie Peters, 9th grader, has always dreamed of being in the Air Force like her grandfather and great-grandfather. In order to accomplish this, she joined the Civil Air Patrol, a non-profit organization that helps train young pilots from ages twelve to eighteen. "When I was young, I always loved being up high, I was never afraid of heights," Peters said. "For some [being up high] is a fear, for me it's an assurance. At least there's the ground."
Although this year has been difficult, Audrey Weiss, 11th grader, is attempting to find joy through dance. Weiss takes five dance classes every week, which encourages her to artistically express herself. "I like getting to move my body and do cool things like being active," Weiss said.
Hechler forum member and 12th grader Meghan London is thrilled to have won the forum's first bulletin bingo. She received a fresh baguette from Zingerman's Bakehouse as her prize. "I really like how much fun we have in forum," London said. "We're always playing games and having really fun conversations about randomness that's going on in our lives. I also really like how connected the forum feels especially after COVID where we were apart for so long."
Lena Pellerin, 9th grader
Mick Hanson, 11th grader, plays piano in CHS jazz. He's played piano for nine years and also plays violin at Pioneer and guitar as a hobby. "Jazz is one of my favorite [styles of music], but I also like funk, hip hop," Hanson said. "I really like playing with other people and coming up with ideas and jamming."
Lily Eggleston, CHS freshman, loves getting involved in producing the CHS yearbook because she enjoys putting in lots of time and effort. Yearbook class has helped Eggleston gain more courage while interviewing peers. "I'm more used to talking to strangers now," Eggleston said. "[Interviews] have given me an excuse to talk to people I wouldn't normally talk to."
Chris Anderson, 9th grader
Josie Reed sits in the third floor hallway working on her common app, considering whether or not she'll be able to get things done in time for the Nov. 1 early application deadline. Over the school year, she has spent a lot of time studying in the hallway with her friends in between classes; It isn't always the most productive environment, so occasionally she moves to her car to get work done in a quieter space. "I should probably feel more stressed than I am," Reed said. "I'm really behind on [the common app]."
Leah White, 11th grader, stands in front of Skyline High School after a recovery run. This is White's first year on the Skyline Women's Cross Country team. "I started running because it was one of the few sports offered to me in 5th grade," White said. "But as I continue to do it I have [come] to appreciate it more. It helps me clear my mind, I really like nature and it's just good exercise. I've really enjoyed cross country season because we get to run at such pretty places."
People view Michael Gronewold as an extrovert, however, he doesn't feel this way. Gronewold has always thought of himself as an introvert. "The people that have said I'm introverted say I have a lot of energy all the time," Gronewold said. "But I feel like I don't have a lot."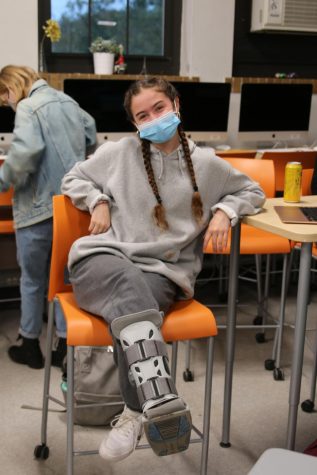 After a long visit to the UM Orthopedic wing for an x-ray, it was revealed to Scarlett London, 11th grader, that what she thought was a sprained ankle was actually a fracture that would take her off the stage for at least a month. In the weeks prior to this discovery, London had gone to an urgent care, where no signs of an injury were found, and continued to dance in her six to seven hours rehearsals every Saturday and Sunday. "As I waited for my x-ray, part of me started to hope that it was fractured," London said. "These long rehearsals had been killing me, and I could use that time to catch up on school work and hang out with friends. When the doctor told me it was fractured and that I would have to be in a boot for a month, that feeling vanished. Dance has become who I am and without it, I'm not sure how to spend my time. I have only been out of dance for a week now and I already feel its absence."
Sebastian Wyngaard, 12th grader
Actor and 12th grader, John Reed, is preparing for "She Kills Monsters."
He has been a member of Community Ensemble Theater for the past four years.
"I have gotten to know the people who were here before, and the people that are now here after me. And it has been lovely to have a rotating cast of friends." Reed said.
Nic Idzikowski, 10th grader, is portraying the role of Kaliope in Community Ensemble Theatre's (CET) fall production of "She Kills Monsters". They started doing theatre in fourth grade, and were happy to have been cast as Kaliope because they can relate to the character. "I like how personal [CET] is," Idzikowski said. "It's a lot more chill than other theatre environments that I've been in. I love that everyone's opinions are involved and that everyone gets a fair say."
Natalie Kessler, 11th grader
Morgan McClease, 10th grader
Zane Swerdlow, 9th grader
Elijah Lynn, 12th grader, typically works the weekend night shifts at Little Caesars, where he works the register and takes orders along with working at landing where he boxes and cuts the pizza. "My favorite part of the job is being the cashier," Lynn said. "I like to be able to talk and to communicate with customers. You're able to tell a lot about people just based on how they act at the register.
Elijah Lawler, 9th grader, gets dropped off at Community at 7:50 a.m. and gets ready for another day of school. Lawyer has a difficult time transitioning from 7th to 9th grade, but is glad he decided to come to Community. "My mom is the one who encouraged me to come to Community; I wasn't too interested in it at first," said Lawler. "I really enjoy the open-campus and the smaller setting is growing on me."
Eleventh grader Eve Kaplan's favorite gift, from her loved ones or herself, is concert tickets. She has always loved experiencing new things with her friends, especially live music. "Being in a space with other people who have similar music tastes as you [has] a really cool energy of people who all like the same thing," Kaplan said.
Though their interests change all the time, Fia Kacvinsky, 10th grader, is currently enamored with culinary arts. She started baking in August out of summer boredom and it quickly became a hobby of hers. "It's fun to make stuff for family, especially during the holidays," Kacvinsky said. "It's time consuming, which is good for me."
Edison Hannahs, 10th grader, is looking forward to his hockey game later tonight, it's first season playing for Skyline High School. Hannahs has been playing hockey since he was little, he always enjoyed the competitive aspect of the game and looked forward to the challenge every time he stepped onto the rink. "It's such a fun sport, I can be with my friends and play a sport that I enjoy a lot," Hannahs said. 
L Briggers-Brookhouse, 11th grader, recharges from school by playing Dungeons and Dragons. They recently joined a new science fiction campaign and they really enjoy playing with their peers. "I really like collaboration and working as a group, and I also like fun stories," Briggers-Brookhouse said. "A lot of d&d is working together to create a really cool story."
Owen Jeffries, 10th grader. enjoys watching sports in his free time. He's always liked the unpredictability of it, and says that once you get attached to a sport or team, following them becomes like a religion. "I'm so big into sports that I want to get a job in sports somehow," Jefferies said. "I don't know what I want to do but in some way [I want] to get involved with sports. I will do [anything] that doesn't involve me being an athlete."
Kyrie Garwood just finished her dive season at Pioneer High School.  As a first-year diver, she learned different types of dives, but did not compete at any meets.  "We practice with everyone else. There's nine girls on the team. So it's practice pretty much every day, like Monday through Friday, if we don't have a meet, and we practice for an hour and 15 minutes after school."  Garwood said. "We try and get better just as they're getting better."
Felix Starosta, 11th grader,  keeps his skills in check as he practices keep-ups with a soccer ball. He and the Pioneer Boys Varsity soccer team recently became district champions after a stellar season. "I think I have been able to grow a lot [this season] with my mindset and effort levels," Starosta said. "Watching the seniors play their last season here really affects you and how you play."
Lila Ryan pipes out chocolate macarons late at night in her kitchen. Thursday, Oct. 21 was FOS III's Mole Day celebration and each student was tasked with creating something mole-themed — Ryan decided to make "mole-carons," since baking has always been her passion. "I love baking," Ryan said. "My grandma used to bake with me when I was really little. It's just always been something that grounds me in my life."
Mark Ziebell, 12th grader, holds the book he is currently reading, 'The Queen of Sorrow', by Sarah Beth Durst. Ziebell has recently discovered a book genre that is new to him: fantasy. "I read one fantasy book, and that opened a whole new world to me, because that was not something I would have read before," Ziebell said.
After school, Izzy Sluymers-Tuccinardi, 10th grader, goes to the barn to visit her horse Esmeralda. Sluymers-Tuccinardi decided to name her after the horse's birthstone, which is Emerald.
"[My horse] makes me feel at home and I forget about all the problems in life," Sluymers-Tuccinardi said.
Elijah Klein, 12th grader
Emmy Wernimont, 10th grader, shoots a basketball. Wernimont has been playing basketball since third grade and played for Pioneer High School last year. "I have always had lots of fun and really enjoyed playing basketball," Wernimont said. "I also have always loved [being on] a team, both in Rec and Ed and at Pioneer."
Molly Hamalainen, 10th grader, is in the Hamstra Forum.
She looked forward to being in forum since she heard about CHS.
"I really like how it is so easy to have friends [in forum], because everyone is super welcoming." Hamalainen said.
Aidan Ridley, 10th grader, enjoys a drink from Sweetwater's—that he was able to buy between classes. Before coming to Community, Ridley was homeschooled, and he enjoys the freedom and lack of restrictions that the school provides. "[I go to Sweetwater's] quite a bit," Ridley said. "A lot more than I should."
Zion McLilley, 10th grader, sings to himself in preparation for his "Young Icons" showcase. McLilley met with a group of other young singers, some of whom had been contestants on "The Voice" and "Apollo", and decided to do a collective performance. "It was like vocal therapy," McLilley said. 
Henry Connor, 11th grader, discusses "WALL-E" with the attendees of Film Club who watched the movie last weekend. Connor helped start Film Club over the fall, where students come to analyze and talk about different movies they agreed to watch over the weekend. "I love hearing everyone's different perspectives and thoughts on the movie we watched," said Connor. "When we collaborate our ideas, I always learn something new or see the film from a point of view that I hadn't thought about before."
Jacob Kosnik, 10th grader
Lior Cooper, 12th grader, is feeling stressed out by her school workload this year. The amount of effort that Cooper has put into her schoolwork is different for each class, but causes roughly the same amount of anxiety for her. "In my U of M class, there's a lot more to do because it's worth more and I can't do retakes the same way I can with Community (High School) classes," Cooper said.
On the last day of November, Ogi Vassilev, 10th grader, began training for the 2021-2022 swimming season. He now gets up early in the morning to practice before school, and then goes right to the pool after class is over. "I like the competition because there's all these different schools that you get to compete against and you make new friends," Vassilev said.