A Soleful Performance at Battle of the Bands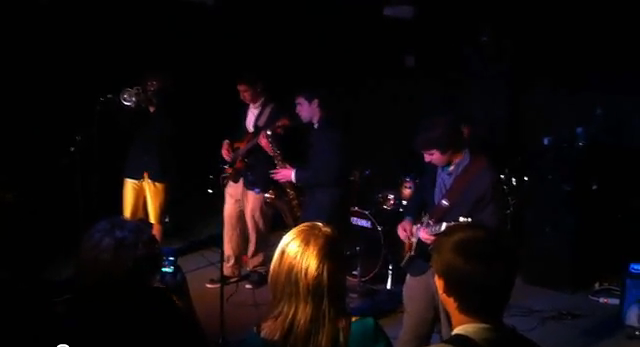 Garrett Wood
October 28, 2010
On a Friday night in late September, six of the of the top 11 bands returned to the Neutral Zone to compete in the final round of the annual battle of the bands.  In the final was Sole Transit, GameBoi , Kro-Magnon, O.D.D., Headcount, and My Friend The Villain. All competing for a grand prize of an album release and merchandise set up from Youth Owned Records including a full recording contract with Youth Owned Records (free recording time, manufacturing, promotion, a full merchandise set up, and artist developement), 2 packs of free strings for each guitar/bass in the group, 2 set of drumsticks, and a gift certificate for Guitar Center, and a short tour booked and promoted by the B-side promoters.

The six remaining bands had performed five days previous and had been selected to continue to the next round. Now on the last leg of the competition Sole Transit, a band based entirely composed of Community High students Kyle Morrison, Leif Gearhart-Hall, Erez Levin, Jordan Siden, and Dan Sagher, tried to center themselves for the final night of performance. "We were sort of nervous coming in because we weren't sure what the competition was like, but we went out and gave it our best and had a lot of fun," said Kyle Morrison, a senior at Community and saxaphonist and co-songwriter of Sole Transit.
Sole Transit was scheduled to play last on Friday. "Going last has its ups and downs.  It has the potential for peak attendance, but the crowd could be restless by that point and not very enthusiastic about the music" said Kyle. Despite the challenge, Sole Transit charged on the stage with vigor and confidently strolled off after playing two songs. Then came the anxious wait for word from the judges.
" I was really happy and felt that everything we worked on before went through the way we planned it," said Leif Gearhart-Hall, a senior at CHS, trumpeter, and co-song-writer.
The bands were graded by five judges, ranging from highschoolers to a University of Michigan  music school graduate.  The judges scored the bands on criteria including: musicianship, originality, stage presence, technicalities, and audience reaction.  After each performance, the judges gave feedback privately. " At first it was really tense because you didn't know what they would say," said Kyle. Improvement as the competition went on was imperative to winning.
After the crowd regained composure, the judges called all the bands back to the stage. " I was pretty excited, I was a little bit confident but I was pretty sure Kro-Magnon would win," said Erez Levin, a sophomore at CHS and drummer. The judges started by announcing third place "Kro-Magnon", then second "Game Boi" and lastly first. "After Kro-Magnon and Game Boi got second and third place, I knew it had to be us but I couldn't believe It. At that point we either won or had totally flopped" said Kyle.
The judges finally announced that Sole Transit would take home the prize.  The crowd began in a loud cheer, applauding the winners as they ascended the stage to shake hands with the judges and other bands.
"We had put in a lot of practice hours, it was a good competition and to get that result, I just could not have been happier. I literally couldn't keep myself from smiling. It felt so good!" said Kyle.
Hear Sole Transit practice.