The Market Next Door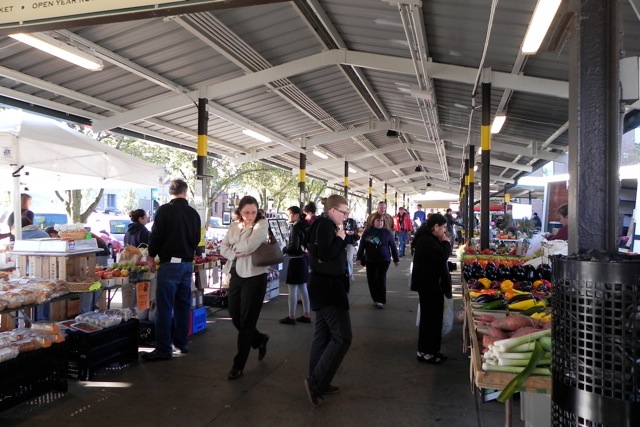 Murphy Austin
October 26, 2010
The Ann Arbor Farmers Market has been an icon of this city for 91 years.  Recently, it has provided Ann Arborites with an experience rarified by giant grocery stores and industrialized food: shoppers can buy food straight from the source. Interest in the Farmers Market has grown as the local food movement expanded, providing a promising outlook on the future of the market.
Molly Notarianni did her best to explain to me why people shop at the Farmers Market in this economy. Notarianni is the director of the market – she distributes stalls, organizes volunteers, and oversees renovations and improvements to the market area. She said that the market is still thriving because "…the essence of the Farmers Market is just that you're buying something from a person who's really knowledgeable about that and who grew or made that themselves." She also cited fresher goods and greater varieties of produce as benefits of the market.
The vendors I talked to certainly agreed with Notarianni on these points. While managing an organic yogurt and ice cream stand, Egle Olivia Miller said she enjoyed selling at the Farmers Market because "This is the best interaction you can get with your customers: we educate them about why our product is better, or why our product is different,… and we also get them to try our product. It's just the best way."
Notarianni also argued that shopping at the market can be cost effective. Though she admitted that pricing varies from product to product, she said that "It can sometimes be cheaper if you're buying what's in season, in the peak of its season. If you're buying tomatoes that someone grew in a greenhouse in March, that's kind of a special product and it might be priced as a premium, but we've also got a ton of opportunities to buy huge amounts of tomatoes in August that are really cheap." In addition, shoppers choose the Farmers Market over other grocery stores because they want to support their local economy and encourage sustainable food production, she said.
But Notarianni is not content to rest on the Farmers Market's laurels. She has many ideas to further develop the market. Among them: adding another market day to relieve some pressure from peak-season Saturdays, and freeing up space for purposes besides commerce, like live music or a shaded place to sit and eat. This has proven difficult for the 91-year-old market because, as Richard Andres of Tantré Farm put it, "There's definitely some entrenched segments here that are afraid of change."
Despite the market's politics and its lethargic rate of change, many remain optimistic about its role in Ann Arbor. David Klingenberger, a former Community student who started selling fermented vegetables (sauerkraut, kimchi, and pickles) this year, passionately defended the Farmers Market: "I feel like it's the heart, the soul of Ann Arbor's community. It's where we can all gather and get fresh, wholesome, locally-grown produce. I don't know of anywhere else that I would rather go shopping."