The "Grow-it-yourself" People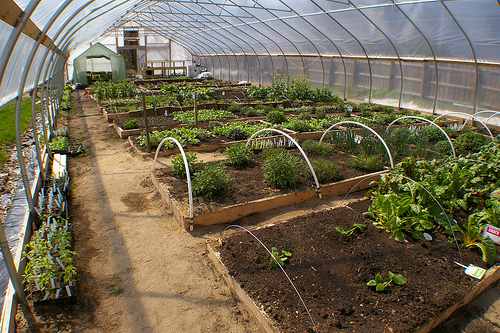 Murphy Austin
October 30, 2010
Across the United States, there are countless organizations striving towards countless goals relating to local, healthy food. Some help small farmers grow more produce, some spread the word about local food, and still others organize farmer's markets and create new ways for shoppers to buy locally. But Growing Hope, a non-profit organization based in Ypsilanti, has a different focus. Its organizers strive to make locally grown food more accessible to all, including the poor. By installing gardens and managing the Downtown Ypsilanti Farmer's Market, they hope to include everyone in the local food movement.
The organization itself was created in 2003, and has been growing rapidly ever since. In addition to managing the Farmer's Market, Growing Hope has helped to start upwards of 40 community gardens in and around Ypsilanti. It also provides youth and school programs to educate children about healthy eating, and hosts community potlucks every month.
Only three years after its creation, Growing Hope began the Downtown Ypsilanti Farmer's Market. According to Jeremy Sobczac, an AmeriCorps member who coordinates volunteers at Growing Hope, the market is important because "it's one of the only places to buy fresh food in Ypsilanti." It also provides a number of programs that help low-income families shop at the market – it was the third farmer's market in the state to accept food stamps, and offers "Double Up Food Bucks," through which the market provides food stamp users with matching dollars for their purchases, for up to $20. This progressive approach seems to be working: total sales at the market increased by 370% from 2006 to 2009.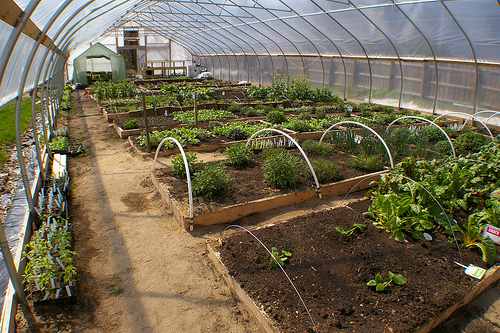 Growing Hope's raised bed installs, which started in 2009, provide families with fresh food by installing square garden beds at individual homes, and showing families how to use them. Growing Hope helped 80 families start their own gardens last year. The goal of these installations, according to Sobczac, is to help low-income families become more self-sufficient, and hopefully take some strain off of their food bill. "We're  just getting food access out there," he said.
It is easy to forget that Ypsilanti, as Ann Arbor's less affluent neighbor, does not enjoy the luxuries that many in Ann Arbor do, local food being one of them. According to Growing Hope's annual report, roughly 25% of Ypsilanti residents are food insecure and live well below the poverty line as of 2009. But organizations like Growing Hope are trying to make local, healthy food less of a luxury. "One of the initial barriers to organic food is that it's expensive, and people viewed it as something for the elites," Sobczac explained. "We're trying to make it so it's not just for the upper class, for wealthy people – we want to make it available to everyone." And in a country where unhealthy, processed food is usually much cheaper than healthy alternatives, the poor are often left with little choice. "It's almost like people have to choose between food and health," said Sobczac. Those behind Growing Hope believe that no one should have to make that choice.