one student, two schools: Split Enrolling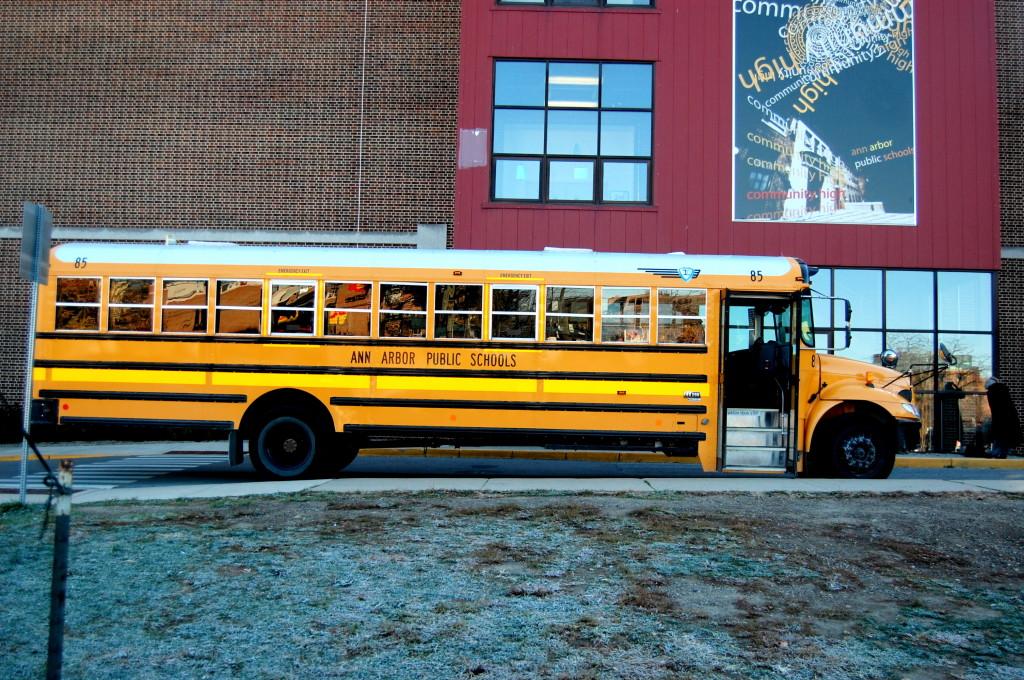 One of the major features of the Ann Arbor Public Schools is split enrollment. Although this is one of the things that is often used to advertise Community High School to prospective students, many students utilize this for music or world language classes only.
Split enrollment is designed to allow students to take classes at the big schools that they cannot take at CHS. "Of course, music and world language classes are a big draw for split enrollment. But there are also the AP/AC classes, and career and technical education classes," said Boshoven. "A lot of students at Community are involved in those classes, so [split enrolling] gives students more options for the classes they take."
Another major reason students split enroll is for athletics. Aidan Tank, who split enrolls to Huron for 5th and 6th hour and plays soccer and golf, said "I play a sport, and it's just an easy transfer from class to my sports. The shuttle buses at the end of the day are kind of a hassle."
CHS Junior Alec Bennett has yet another reason for split enrolling. "I wanted to see what it was like going to Huron, and I have a lot of friends at Huron, and it was nice to be in classes with them," he said. "Also, I live right next to Huron, so it's easier to go home after school."
But some students do split enroll purely for the academic challenge. "I really, really like those particular subjects, and I wanted something extra intensive, which Community doesn't offer," said Nikila Lakshmanan, who takes AP Biology and AP Government at Huron.
However, With these extra classes comes a much larger workload. Lakshmanan said, "Although I don't think the material taught at Huron is any harder, I think the way they present it puts more pressure on the student," Lakshmanan said. "Also, I think that its just how the class is structured, how the tests are presented, the different emphasis on certain things, like how points are awarded, that makes you more stressed out."
Bennett, who takes British Literature and Team Sports, adds on to this, saying "There's a lot more work in my Huron classes. Last year, when I took World Lit, I would be expected to read around 20-30 pages every two nights. At Huron, I'm expected to read around 3 chapters a night, which is maybe up to 50 pages sometimes, and maybe even more."
But Bennett also sees things at Community that are harder than Huron. "I haven't written as many essays [in British Literature] as I did for World Lit, so that kind of balances out."
But not everyone agrees that the classes they split enroll to are hard. "My classes are pretty easy. I think that my hardest class is probably math, which is at Community," said CHS junior, Tommaso Helwig, who also takes British Literature and Team Sports.
Not everyone agrees that split enrolling is a good idea. Dylan Summers, a Pioneer sophomore who split enrolls at Community, said, "I think split enrolling from Community is dumb. If you really want to split enroll, you should go to the other schools, and split enroll to here. That way people who really want to go to Community full time can get in."
But there is one thing that all four students agree on. As Bennet said, "I definitely think split enrolling is worth it. I get to see the atmosphere of a bigger school, and it's also a lot of fun."