Hot Chocolate Fudge Cakes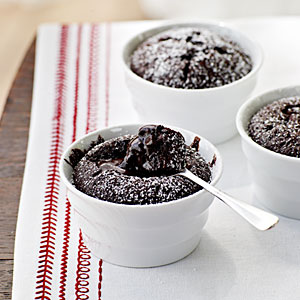 Julia Raymond
January 13, 2011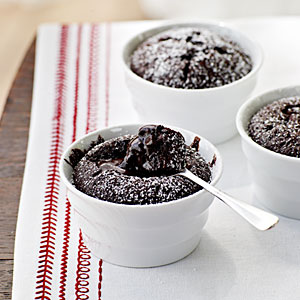 Ingredients:
3.4 ounces all-purpose flour (about ¼ cup)
⅔ cup unsweetened cocoa
5 teaspoons instant espresso powder
1½ teaspoons baking powder
¼ teaspoon salt
¼ cup unsalted butter, softened
⅔ cup granulated sugar
⅔ cup packed brown sugar
1 cup egg substitute (or 4 eggs)
1 ½ teaspoons vanilla extract
1 (2.6-ounce) bar dark (71% cocoa) chocolate, finely chopped
2 tablespoons powdered sugar
Directions:
1. Weigh or lightly spoon flour into dry measuring cups; level with knife. Whisk together flour, cocoa, espresso powder, baking powder, and salt.
2. Place butter in a large bowl; beat with a mixer at medium speed 1 minute. Add granulated and brown sugars, beating until well blended (about 5 minutes).
3. Add egg substitute (or eggs) and vanilla, beating until well blended. Fold flour mixture into sugar mixture; fold in chocolate.
4. Divide batter evenly among 10 (4-ounce) ramekins; arrange ramekins on a jelly-roll pan.
5. Cover and refrigerate 4 hours or up to 2 days.
5. Preheat oven to 350º.
7. Let ramekins stand at room temperature 10 minutes. Uncover and bake at 350º for 16 minutes* or until cakes are puffy and slightly crusty on top.
8. Sprinkle evenly with powdered sugar; serve immediately. Yield: 10 servings (serving size: 1 cake).
*For a more cake-like result, cook for 21 minutes.
Recipe from Cooking Light. Photo via MyRecipes.com.