CHS Graduate Part of Emmy Winning Team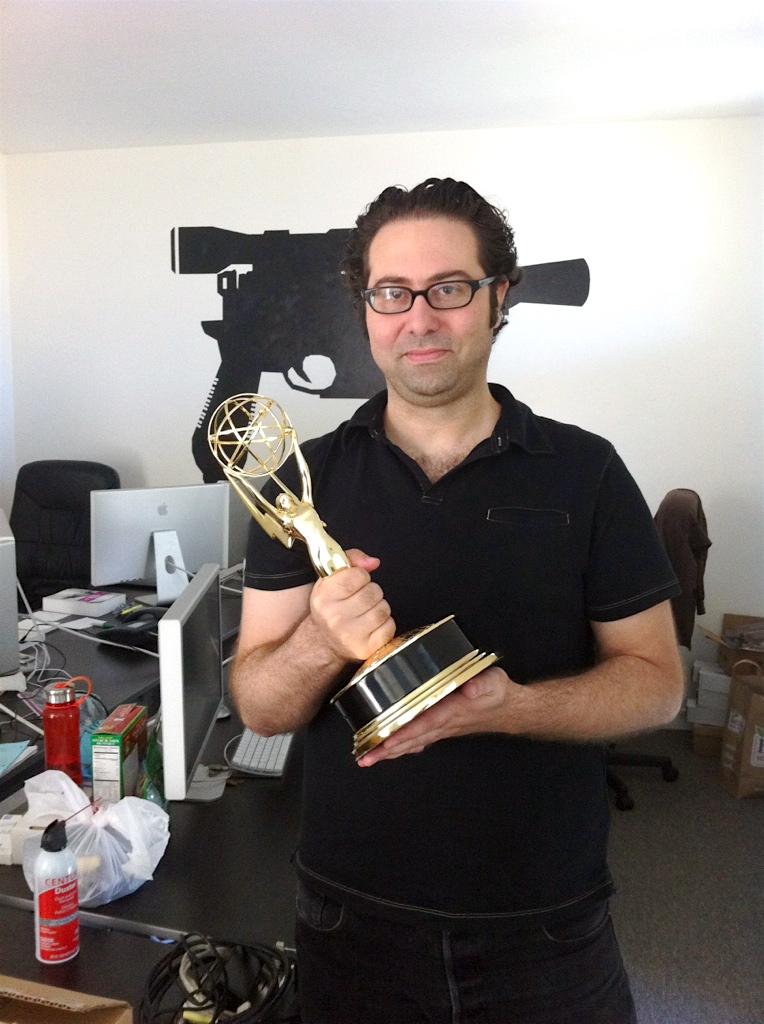 Ella Bourland and Helen Januszewski
March 17, 2011
Recently, HBO mini series "The Pacific" received eight Emmy awards, including an Emmy for Outstanding Special Visual Effects. One of the people who helped win the award was Morgan McDermott, a Community High School graduate who is currently living in Los Angeles, California, as co-owner and 3D supervisor for Scoundrel Visual Effects.
McDermott did not always know what he wanted to do with his life. "…I knew I wanted to do something creative. In high school I bounced around a lot between different mediums like doing photography…graphic design stuff, or
doing painting stuff, but I really didn't know. It wasn't until much later, when I got a computer, that I realized that I could do everything with this computer, so I should just do that," he said. He then began working as a graphic designer in San Francisco. "[That was when] I first started playing around with 3D stuff on my own, like in the mid-90s, [and] I really really liked it. So I just started teaching myself stuff over the next..eight years," McDermott said.
McDermott played an important role in developing the visual effects for "The Pacific." The Emmy was awarded to McDermott's partner for episode five, but McDermott also helped in earning it.s "The major sequence I did was in episode eight, 'Iwo Jima.' I created lots of 3D…war ships off the coast, and…the troop carrier ships bringing the troops into shore. [I] did a lot of matte painting for different islands…and I had to do this giant painting of…mountains and put it behind all the [actors] when the mountains weren't there," McDermott said. He also altered certain shots to make them fit the time period. In most films McDermott is involved in 3D modeling and texturing, along with 3D and 2 ½D matte paintings.
Right now, McDermott is working on a movie called "Premium Rush." In the past, he has been a part of several other movies. These include " 'Nativity Story,' 'Old Dogs,' 'Wild Hogs,' 'Burlesque,' 'Piranha 3D,' [and] 'Red.' But really
Pacific was…the thing that I was really excited to work on…and really proud of what I did on it. You know sometimes you work on something that you're excited to work on and other times it's just, it's not very much fun. But Pacific was really fun," he said.
Currently, McDermott works for Scoundrel Visual Effects, in LA. However, he did not start out there. "I had a friend who was working at this place [called] Digital Dream, and…when I moved to LA, he had me come in and meet the owner, and they hired me. I worked there for like four or five years," said McDermott. Soon, McDermott and three of his colleagues became the "senior people at the end, [who were] leading everything" at the office. "[But] when we finished working on "Pacific" last year, the owner said that he was going to close the company, but that he wanted us to able to carry on if we wanted to. So basically we bought the company from him, four of us…we just started our own company from what Digital Dream had been," he said.
Before winning an Emmy and starting a company, McDermott attended Community High School, and enjoyed his time here. "I had the freedom at Community to develop a confidence in myself that I don't think I would've gotten somewhere else…and I feel really lucky to have gone there," said McDermott. McDermott had very defined goals when he left Community. When he graduated, he said to himself, "If I'm not famous by the time I'm 22, I'm a giant failure." Although he was not famous at age 22, this only inspired him to work harder. "After getting over getting down on myself about that, I just went went hard at life and worked hard in what I was interested in."