Public Education Advocates rally at Forsythe Middle School; Budget Cuts Inspire Action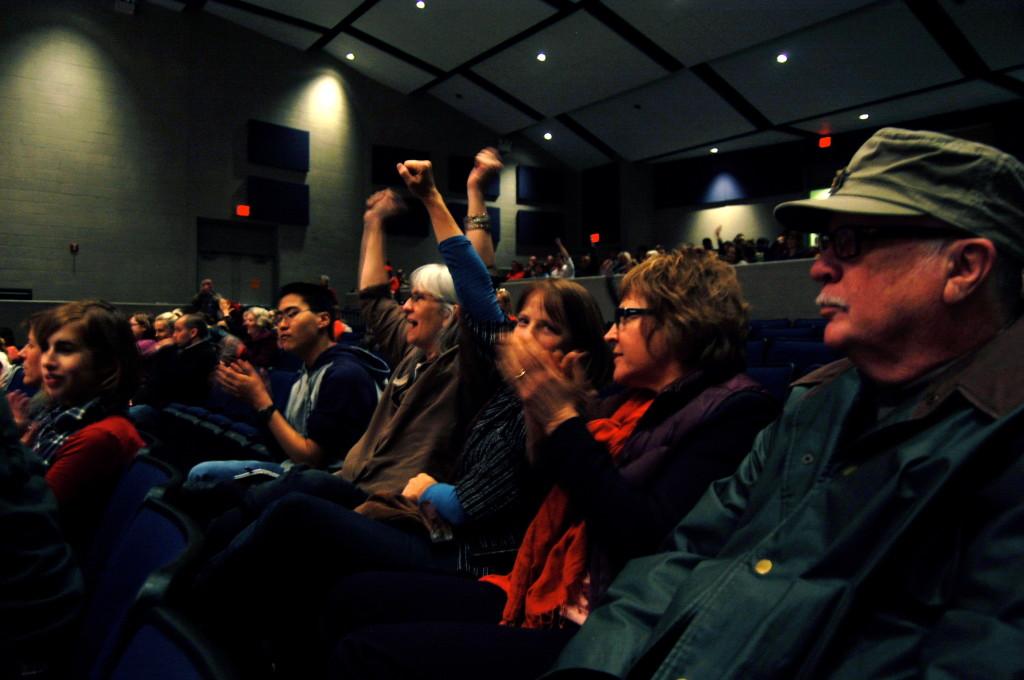 Kerry Fingerle, Photos Jordan Siden
March 16, 2011
"Do we feel like public education is under attack?" Michigan's State Senator Rebekah Warren asked Forsythe Middle School's filled auditorium on Tuesday, March 15. The audience replied with a hearty and united "yes!" Teachers, concerned parents and citizens, various union members and a handful of students gathered to support public education. This was brought on by Governor Rick Snyder's recently proposed budget cuts for 2011.
The President of the Ann Arbor Education Association, Brit Satchwell, led the rally. "We can really doom you and gloom you today. That's why I'm not speaking today, because I can really depress you. So I want to start with a silver
lining…Along the way, whether we win or whether we lose and then have to fight and get it back, we have become family. Look around this room."
That sentiment could not have been more apparent. As Satchwell asked for donations, the very people who are being slapped with astronomical budget cuts reached for their purses and wallets.
The nine-member panel of speakers included people like Ann Arbor firefighter Craig Ferris, Burns Park parent Steve Norton, and Ann Arbor Education Association Executive Director, Paul Morrison. Each speaker was allotted five minutes to speak, though most exceeded the limit. The audience didn't mind though, particularly when State Senator Warren spoke.
"Everyday I look at my committee agenda for all the different five committees I sit on, and I think 'Oh my gosh, there are fires on every front, trying to figure out where to start first or what to try to put out…and across the board we see $715 per pupil cuts to K-12 education; Ann Arbor Public Schools would see $7 million additional cuts to their budget this year." Satchwell was right. After all of the numbers and statistics had been thrown around, doom and gloom was inevitable.
Community High School was well represented with teachers and students alike. Science teacher Courtney Kiley felt the rally served its purpose. "We went to the rally to figure out what we can be doing, and what we should be doing. We wanted to feel comraderie."
Other teachers in attendance included Cindy Haidu-Banks, Pam Kirchen, Ellen Stone, Susette Jaquette and Liz Stern. Past Community High teacher Tom Dodd was also present and mentioned several times by the speakers.
"It's important for people to stop being complacent and realize that their rights and financial stability are under attack." said Community science teacher Liz Stern. "We need to do something. The time is now."
Complete List of Speakers:
Ann Arbor Public Schools Board of Education Trustees: Glenn Nelson and Christine Stead
Ann Arbor Firefighter: Craig Ferris
Ann Arbor City Council Members: Mike Anglin and Steve Kunselman
Ann Arbor Public Schools Teachers: Johanna Nader and Trevor Staples
Ann Arbor Executive Director: Paul Morrison
Michigan State Senator: Rebekah Warren (18th Senate District)
Michigan State Representative: Jeff Irwin (53rd House District)
Ann Arbor Public Schools Parent: Steve Norton
Vice President of the Graduate Employees Organization at U of M: Chelsea Del Rio