Rosewarne forum wins annual BSU talent show
"Move forward!" "Squish together!" yelled CHS teachers as students and staff filed into the Craft Theater for the annual Black Student Union (BSU) talent show on November 1, 2011."The purpose of the BSU talent show is to get the forums together…we wanna try and do something that kind of brings everyone together in kind of cohesive we have some togetherness," said BSU advisor Janelle Johnson. Not only does the talent show provide a fun time for the school to bond, it also raised money for breast cancer awareness. The BSU asked each forum to donate $10 to the cause.The show had a total of nine forums participating. The acts ranged from raps to dances to eating a classy meal on the stage. The winner of the show was the Rosewarne forum who sang "The Lion Sleeps Tonight" by The Tokens. The Mosher forum came in second place with their rendition of  "I Like My Forum" based on Sir-Mix-A-Lot's "Baby Got Back". The judges were LaTonya Mayfield, Nat Powell and Sarah Roldan-Dodson.
While the forums must practice their talents, the BSU has a lot of preparation they must due prior and during the show to make it go smoothly. "We got to do the mics, we gotta get the mics, we gotta make sure we get the music, make sure we know who'sexactly performing, do the order of performance and we want it to run as smoothly as possible, so we will have one forum that will be up, but then we're going to have one that's going to be on deck and then we're going to perform," said Johnson.
All the hard work that the BSU put in really paid off. "I enjoyed the talent show a lot more this year, because forums put a lot of effort into it and involved either all of or the majority of their forum in their skits," said CHS Junior Julia Karr. CHS students were smiling and laughing throughout the whole show. Next year's BSU will certainly have a lot to live up to.
About the Writer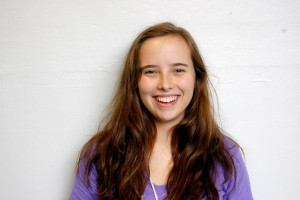 Kate Summers, Co Editor-in-Chief
Kate Summers has loved being a part of The Communicator for the past two years. She has interviewed a wide range of people from Bishop Gene Robinson, about his advice to teenagers, to CHS science teacher Courtney Kiley about her style. When not working on The Communicator she can be found stage managing shows at Pioneer Theatre Guild, baking and doing yoga. She was honored to receive second place for Multi-Media News Story of the Year from the National Student Press Association.