Matt Broder, U of M Baseball Player, comes to CHAT to Share His Experiences as a College Athlete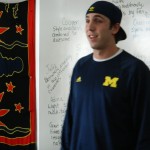 Sari Greifer and Ella Bourland
December 14, 2011
Although Community High School doesn't have sports teams, there are still many CHS athletes. For these students, Robbie Stapleton, CHS teacher, runs a club called Community High Athletic Tribe (CHAT). Every other week CHS athletes gather in Stapleton's room and listen to a guest speaker. This past week, Matt Broder, a senior from the University of Michigan baseball team came to share his experiences as a Michigan athlete.
Commiting to Michigan was a dreams come true for Broder. Usually, the recruiting process takes one to two years, but when Broder
was recruited, it took a total of two weeks. Broder explained that he had to really put himself out there if he wanted to be recruited. "Recruiting into college, it's sorta a crazy process. If coaches aren't coming to you … you gotta start emailing coaches, [going] to to camps and showcases, and just get your name out there," he said. Broder ended up going to a Michigan baseball camp, not expecting to end up at Michigan. He wanted to talk to college coaches, to see and to know what they expect out of their players and know what their practices are like.
Going to the camp ended up being the right decision for Broder. "I guess they liked me, and they invited me to come back for a little try out, and I ended up committing to Michigan," Broder said. Broder committed to Michigan the summer after his junior year of high school. "It was a huge dream come true because my dad went to Michigan. I'd grown up coming to Ann Arbor for football games, and loving that Michigan spirit."
Broder is one of the twenty five pitchers on a thirty five man team. "There's not a lot of playing time to spread around, one pitcher plays at a time, and there's nine other players who get to split 9/14 for the rest of the positions. So it's a battle."
The pressure that came along with this role originally took a tole on Broder. "I struggled with [the pressure] freshmen and sophomore year. I wasn't playing much, … everyone is bigger, faster and stronger [than in high school] and I was at the bottom of the barrel. So you've just got to stay focused and stay with it. You just got to not get down on yourself when things get back. Because you are going to struggle, like in any sport, especially being young. So you just gotta stick with it and hope that it will turn out the right way if your working hard," said Broder.
The key is seperating yourself from the twenty one other pitchers. Broder was able to achieve this because he is left-handed. By the end of his junior year, he climbed his way up to the number two pitcher on the team.
Broder pitches a fast ball, a slider and a change up. His change up is his best pitch. From freshman year to senior year, Broder's fast ball has made a huge a jump. Freshman year, it was a 80-81 mph. This past summer, he threw a 91 mph pitch.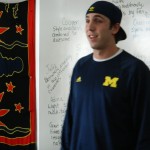 Playing a division one sport requires a lot of an athlete's time. "We practice a lot. In the Fall, we practice everyday from 2 to 6 o'clock. So we have to squeeze all our classes in in the morning, from 8am to 1pm, and then be ready to have practice for four hours after class," Broder said. For an average freshman college student, jumping from the high school work load to the college level work load is a huge step and can be very challenging. On top of that, Matt, along with his teammates, have four hour practices every day. Matt has found a way of doing everything he needs to, and doing it well.
To stay mentally strong while juggling so many things, Broder has discovered that when you have so many things on your plate, you have to find a way to stay focused on the task at hand and not be preoccupied with your other obligations. "When you're at baseball practice, you can't think about failing that test you just had in biology. You have to stay [focused]. There's just so much going on … even in high school. You just got to find a way to stay focused on that one thing that you are doing at that time. And make sure that's the most important thing." While Matt realizes that this may not be the best approach for everybody, this strategy has really worked for him and his busy life.
The U of M baseball coach for nine seasons, Rich Maloney, has been an excellent coach for Broder and his team mates. Rich Maloney is the 2007 and 2008 Big Ten and ABCA Mideast Regional Coach of the year and has lead the Wolverines to three Big Ten titles, two Big Ten Tournament titles and the 2007 NCAA Regional title. Aside for Maloney's success, Maloney was one of the reasons he was drawn to Michigan. "He's like the nicest guy. He's got an open door policy where we can come up and talk to him about baseball, about school, anything you want. He's really approachable, really friendly and he listens really well so it makes it easy to approach him about that stuff," explained Broder. He has been very impressed with Maloney's ability to do this while still thinking about the actual baseball. "They're really on top of things, in terms of making it a good experience for us, and making sure were on top of things academically, " said Broder. "That's been a huge help."
For many baseball players, making it to the Major Leagues is a common dream and Broder is not an exception. "I would love to [play Major League Baseball]. I feel like once you make it to college that's definitely a goal … that's definitely a dream of mine."
For high school athletes, Broder's story and experiences of playing for a division one baseball team are intriguing and inspiring. CHAT continues to have guest speakers, often Michigan athletes who come to CHAT and share their stories. Broder's story is just one of many incredible college athlete life experiences that have yet to be shared at CHAT this year.
Click to see Matt Broder's U of M player Bio
http://www.mgoblue.com/sports/m-basebl/mtt/broder_matt00.html