Stadium Bridge Construction Affects AAPS Students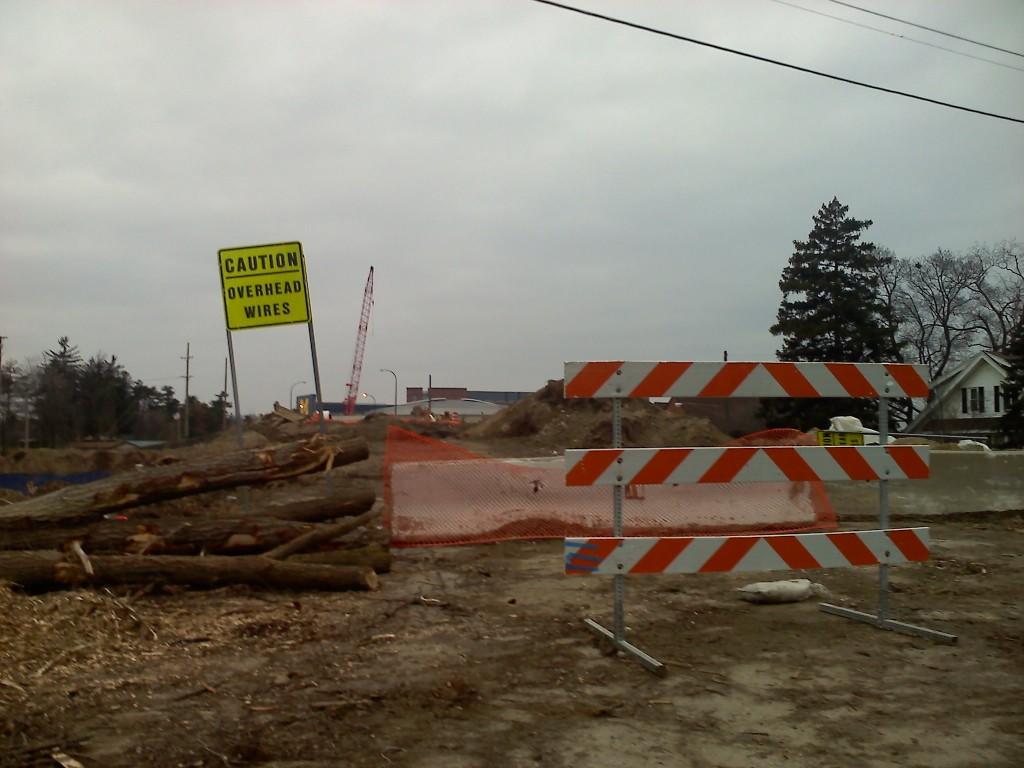 Melanie Langa and Shadi Ahmadmehrabi
January 9, 2012
Every morning, Dylan Summers, a junior at Community High School and Pioneer High School, has to take a car and a bus ride to get to school. Since construction began on the Stadium Bridge on November 28th, he has had to change his routine to accommodate the Stadium Bridge construction. The city bus no longer stops close to his home so Summers has to be driven to a school bus stop a mile away from his house. "Now my mom has to drive me all the way to Industrial… to the bus stop because it's an extra to Pioneer, I don't know how much, probably 15 miles with the detours. To there it's less than a mile and she prefers one mile over 15, so I just wait there until the school bus comes," he said.
During construction of the bridge, Stadium Boulevard will be closed from South Industrial to South Main Street. Stadium Blvd. closing has created traffic on nearby routes. Detours have been set up to bypass the affected area. The Stadium Bridge Project has been in the planning stages for several years. The city has been working on securing federal funding since 2008 in order to  begin construction on the project, which is the city's highest road construction priority. The bridge, originally built in 1928, deteriorated as it aged. To keep the bridge open, repairs were necessary. If improvements were not made, the bridge could have eventually collapsed. This a major project that is scheduled to be completed in a year.
Because Stadium Blvd. is a major thoroughfare, the construction has affected traffic patterns throughout the city. Many students have had to change their routines to accommodate for more traffic and detours.
"Me and my dad have to take a different way home everyday and it takes a lot longer to get to my house now and it is annoying because it is really traffic jammy now," said Franny Melampy, a sophomore at Community High. "We used to take Stadium, but now we have to make a weird loop through downtown."
When it became evident that the Stadium Bridge needed repairs because of weakening structural support, the city reduced traffic on the bridge. Until immediately before the start of construction on the new bridge, Stadium Blvd was reduced to one lane each direction from its original two. This way, the bridge would only carry as much weight as it could hold, and would not be at risk of collapsing.
"The badly damaged beams definitely needed to be removed and we did that. Part of that work was also, part of the analysis, was lowering the weight limit on the bridge to ensure that the remaining beams would remain in good condition for as long as we could. There was never really a point in time where I was seriously concerned that the bridge would collapse," said Michael Nearing, the senior project manager. "However, in order to ensure everyone's safety we took the precautionary steps of removing the five beams and we had already had reduced weight limits on the bridge at that time. We took the extra step to lower the weight limits again in order to put ourselves in the best position of making sure that we wouldn't have problems with beam failure or anything like that."
For the duration of the project, the city has set up several detours to bypass Stadium. For eastbound or westbound routes, traffic is diverted onto South Industrial, Eisenhower and Main. Northbound and southbound vehicles have to take Stimson rather than State. The detours have caused traffic both on the appointed detour routes and surrounding areas.
"[What] we're finding is that we're getting some cut-through traffic off of State St. into one of the neighborhoods over here but other than that, I think the detour routes are functioning as we expected and they are doing their job," said Nearing.
Because the bridge is very near Pioneer High School, the detours make it difficult for students to get to school. "The fact that Pioneer is there is important, and also if you look at the land uses around the project, with the University and Pioneer High and the public schools… there are really not a lot of options there. There is really no good place. About the only decent detour route or about the only acceptable detour route is Main St. down to Eisenhower Pkwy," said Nearing.
The extra traffic has caused problems for students. "My friend who normally comes to school down Main Street, with all the detours she's late to school because of the detour and she takes a normal way to school. So even though she never took the Stadium bridge, she is still affected by it closing.  The traffic is redirected so it causes a problem," said CHS senior Sabrina Kunselman, who drives to Pioneer everyday for track practice. "I have to leave like 10 minutes early to get anywhere," said her sister Sophia Kunselman.
School bus routes have also been affected by the detours. "[The school bus] goes down Industrial then it goes to Eisenhower then it goes to Main, where before it would just go all the way down Stadium to Pioneer," said Summers.
Although it may be inconvenient for many AAPS students and Ann Arbor citizens now, the project is necessary in ensuring the Stadium Bridge remain viable. The project would have begun even earlier if enough funding had been secured. "In this day and age, federal money is difficult to come by and… I knew that, or had strong suspicions that, this immanent collapse scenario wasn't likely… We were balancing the fact that we were trying to obtain federal money and not have had to use all of our own resources which would have had a great impact to the city's street resurfacing and street reconstruction projects," said Nearing. "From everything I have seen right now, we're on schedule and we are working towards that so we are in good shape," he said.
For more information on the Stadium Bridge Project go to http://www.a2gov.org/government/publicservices/project_management/Pages/EastStadiumBridges.aspx
For updates and traffic information follow Ann Arbor Bridges on facebook and twitter (@AnnArborBridges).