Downtown Local Businesses Stay Afloat Despite Hard Times and the Threat of Corporations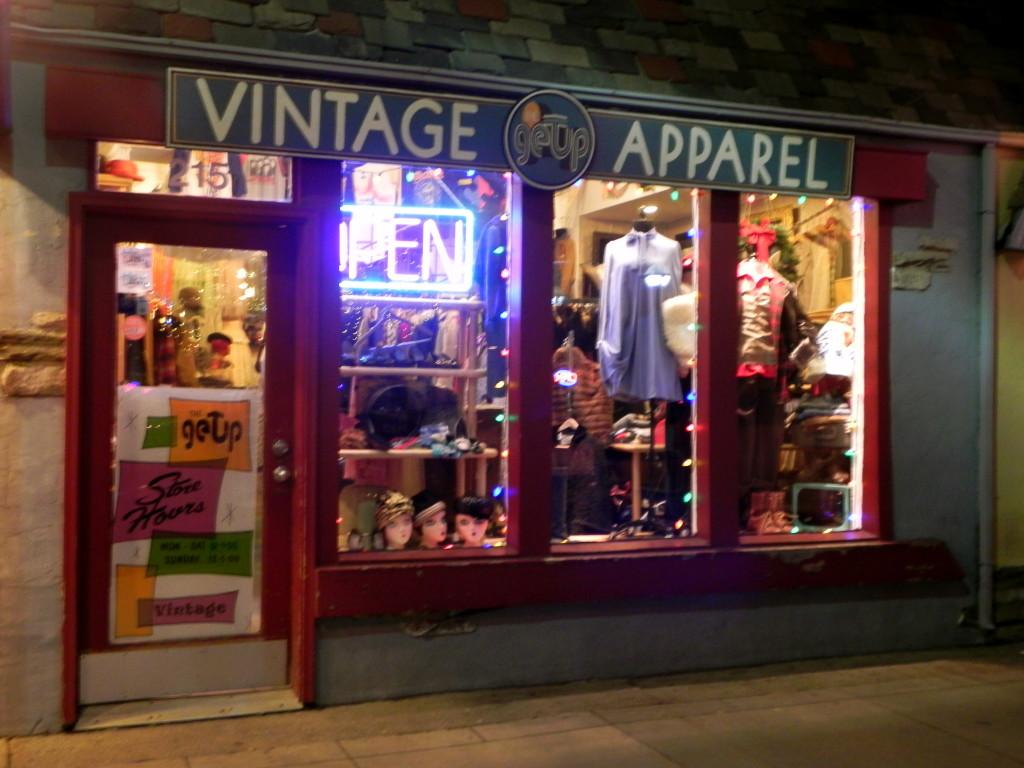 Helen Januszewski and Ella Bourland
January 25, 2012
The influence of large corporations and hard economic times have brought changes to the face of Ann Arbor's downtown recently. Shaman Drum, an independent book store formerly located on State Street, closed on June 30, 2009, after a long struggle with finances, according to Mary Morgan of The Ann Arbor Chronicle. It was replaced with Five Guys, a burger chain. A CVS drugstore and a 7/11 also appeared on State St. and stand in sharp contrast to the other small, unique stores surrounding them.
Kelly McLeod, co-owner of  vintage boutique The Getup on State Street, has observed the fluctuations in businesses around her throughout the years. "I don't want to bash CVS, 'cause I go there, I buy my make-up from there, … but the idea of a little downtown is to bring people in to see something that's unusual, what isn't at the mall, what isn't in every single city," she said. "There's a lot of really great little shops that used to sprinkle downtown State Street, especially in the 90's, the early 2000s, and since we've been here in 2004, we see a lot of change, and we feel a lot of pressure. With the rent going up, and there's always the threat of McDonald's [coming] in at any time."
Urban Outfitters is another corporation in the midst of downtown Ann Arbor, but can be overlooked because it sells styles similar to those found in smaller shops. McLeod said, "I do see a lot of people referring to Urban Outfitters as a vintage store. They'll say, 'you know, we could get this skirt over at Urban.' Well it's mass produced, it's not quite the same thing. … And if we legitimately get a dress in from the 20s, 30s, or 40s, it's gonna be a higher price because that's a little piece of history." Still McLeod does not have a problem with the store and its proximity to her own. "I'm cool with it! And actually, it is nice having them right there because it does bring a lot of people into the downtown area and that helps my business," she said.
The focused merchandise of local businesses has proved an asset to keeping them afloat in this economic downfall. "I already have the vintage lovers that love fashion history and want a little something from a different era," said McLeod. Curtis Sullivan, co-owner of Vault of Midnight comics on Main Street, has a similar situation. "If we didn't know about everything we sold, we couldn't sell, we'd be totally out of business. Especially with the kind of stuff we sell, where it's more niche, so we do a lot of explaining … it's taking people from zero."
Even with a more competitive atmosphere present in downtown Ann Arbor, local businesses maintain a good relationship with one another. "In Michigan there's a lot of vintage stores … but what's fortunate is, in this community, everyone's really friendly. It's not competitive in an ugly way. It's competitive in an 'Oh my gosh what did you guys find? This is what I found' [way]. We all only have one of everything, so … it's a healthy competitive," said McLeod. As Sullivan put it, "We don't like to step on toes, we're very conscious of what other people are selling in the area too, and just don't want to do that. We want to do what somebody's not doing," he said.
Confronted with the threat of losing their business to the omnipresent corporations, local businesses work to support one another and the community. McLeod advises, "Not to get greedy. I think that we need to realize that the dollar doesn't stretch as far as it did ten years ago. And so, it's our responsibility to also adjust our prices, and make things more affordable," she said. "Be present in your store, to get to know your customers. Cause that's the only real difference between a small mom and pop and a big chain is, you know people's names when they come to the door. Know your regulars, appreciate your regulars … listen to them. Change your business. Find out their names. That is what's kept us in business."