President Obama Speaks to U of M Students on Higher Education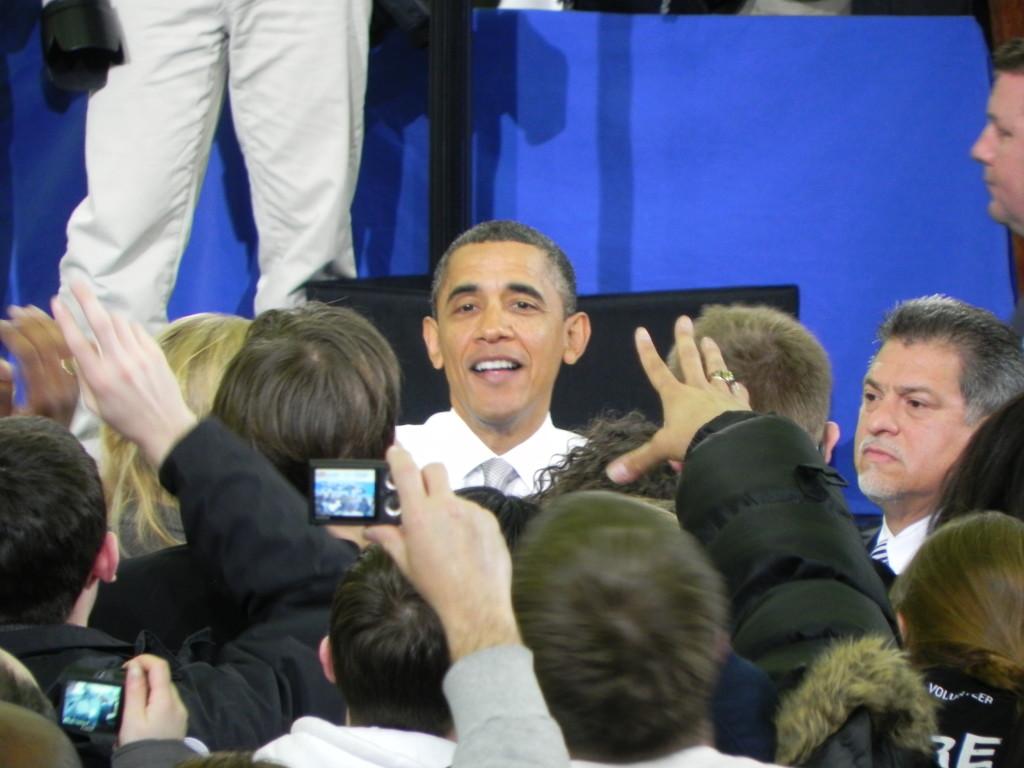 Melanie Langa, Annabel Weiner, Vittoria Meloni, and Danny Langa
January 27, 2012
President Obama spoke to a crowd of University of Michigan students Friday morning at Al Glick Field House in Ann Arbor. His remarks focused on higher education affordability, and mirrored themes emphasized in the State of the Union Address earlier this week.
"The reason I'm here today, in addition to meeting Denard Robinson, is to talk with all of you about what most of you do here everyday, and that is to think about how you can gain the skills and the training you need to succeed in this 21st century economy."
His tone was warm and conversational, thanking the audience for attending, and cracking jokes about Michigan football and college life. It was clear that the room was filled with the President's ardent supporters. Applause interrupted his speech regularly. However, despite the jovial atmosphere, the focus of the event was on the serious issues involving paying for college, paying off student loans, and searching for a job after graduation. President Obama outlined policies he hopes will both keep the cost of higher education down and help students cover those costs with increased funding for loans.
The issue of student loans is personal to President Obama. "Michelle and I can still remember how long it took us to pay back our student loans," he said. Neither Michelle nor Barack Obama came from wealth. They built their way up because the United States is committed to giving education to anyone who is willing to work for it. "The only reason that we were able to achieve what we were able to achieve was because we got a great education," said President Obama.
To view our Twitter story from Obama's speech click here.
The President proposed several specific policies to assist students and colleges and universities. The first of these was keeping interest rates on student loans low. President Obama called on Congress to act before these rates are set to increase in July. He also advocated for extension of the current tuition tax credits and an increase in the number of work-study jobs available for students.

In addition, the President emphasized his hope that the federal government would have help from both state government and schools themselves in their work to help students.. "Colleges and universities need to do their part to keep costs down as well…I'm telling Congress we should steer federal campus-based aid to those colleges that keep tuition affordable, provide good value, serve their students well," he said.
Finally, President proposed a "report-card" system so that students applying to college can learn information about colleges and universities and make informed decisions about where to attend.
To watch part of President Obama's speech click here.
To view a full transcript of President Obama's Speech click here.
Throughout the event President Obama highlighted his administrations previous accomplishments on the issue and tied in higher education with other themes central to his platform. He spoke about manufacturing, energy security and tax reform. His focus on the auto and energy industry was especially poignant because both of these industries employ many people in the state of Michigan.
"The bottom line is that an economy built to last demands we keep doing everything we can to bring down the cost of college. That goes along with strengthening American manufacturing. It means we keep on investing in American energy. It means we double down on the clean energy that's creating jobs across this state and guaranteeing your generation a better future," he said.
The event required a massive local planning and security effort. Tickets were handed out in advance and all audience members were required to pass through security before entering. In addition, the area of state street adjacent to Al Glick field house was shut down before, during and after the event. "There is a lot of coordination between the five or six different police agencies and then there are just a lot of little decisions that need to be made…The security issues are all the same [as when the President came previously] and you have to be really fluid and able to cope with that," said Mayor of Ann Arbor John Hieftje.
Several members of Michigan's congressional delegation were in attendance, including U.S. Senators Carl Levin and Debbie Stabenow as well as State Representative Rebekah Warren.
The expressed their support for Obama's policies, citing the successful impact his policies have had on Michigan previously. "The great thing about this President is that even when times were tough in Michigan, he never turned his back on us. He wasn't one of those folks in Washington who said 'Let the auto industry go bell-up.' or 'Let Michigan go bankrupt.' He has invested in Michigan over and over again," said Warren.
"The President has really focused on Michigan for all of his Presidency in the sense of understanding that we need to make things in America, that manufacturing and the auto industry are critical," said Senator Stabenow.
Due to the small size of the Al Glick Field House, only 3,000 tickets were available. Students were willing to sacrifice sleep and warmth to get a ticket. University of Michigan students waited all of Wednesday night in below freezing temperatures to collect a free ticket. On Thursday night, people waited in line outside of the Al Glick Field House in order to get a good view for the Friday morning speech where some people sat on bleachers, while most huddled around the stage trying to get the best view they could. "We got here last night at 10:30 pm and slept here and we were the second people in line which was cool," said University of Michigan alumna Stephanie Parrish, who also stood in line starting at 6 am on Thursday morning to get a ticket.
President of the University of Michigan, Mary Sue Coleman, drafted an open letter to President Obama in December on the topic of college affordability. Many see his appearance in Ann Arbor as a response to that letter, but others cite the unique qualities of both the University of Michigan and the city of Ann Arbor as factors. "We're here for a reason. I wasn't by accident. UM is such a fantastic school, very very diverse student body, graduates go on to do very very well so it is a chance for us to spotlight success," said U.S. Secretary of Education Arne Duncan.
"Ann Arbor is a pretty well known place nation wide, University of Michgan is a big campus. I think it's important that he's here and I can see why he's here given the the size of our campus and how relevant it is. Michigan really has a pretty high tuition rates compared to other states. I think it's a good place for him to be coming and talking about this," said Mayor Hieftje
Because the University of Michigan has a large undergraduate population, its graduates leave with a significant amount of debt. Therefore, the issue of affordability and student loans was particularly important to those attending President Obama's speech.
"I have a lot of money, 25,000 dollars, in loans right now and I'm a sophomore, so obviously what he's proposing would help me out immensely," said University of Michigan student Jaclyn Sylvain. She and her friend, fellow wolverine Chelsea Davis, are particularly hopeful about a provision that the President mentioned that would limit student loan payments to on 10% of a student's monthly income. "If that was possible that would be just awesome," said Sylvain.
University of Michigan student Meredith Horowski was pleased with the message the President put forward in his speech. "It's awesome to see his investment in college students and universities and just higher education in general, and the importance of this education in our future," she said.
While President Obama touched on many different issues in what some may label a campaign speech, he seemed to agree with Horowski that access to higher education is a vitally important issue. "This country has always made a commitment to put a good education within the reach of all who are willing to work for it… and the degree you earn from Michigan will be the best tool you have to achieve that basic American promise…And how we keep that promise alive," he said, "is the defining issue of our time."
Photos by Danny Langa
About the Contributor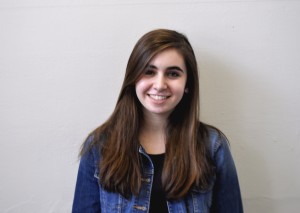 Annabel Weiner, Co Editor-in-Chief
Annabel Weiner has been thrilled to be a part of the Communicator family for four years. She writes articles on topics ranging from the international to...