826Michigan Holds Annual Spelling Bee for Cheaters
On Wed. March 21, 826Michigan, a non-profit tutoring center located in downtown Ann Arbor, held its 2nd Annual Spelling Bee for Honest Cheaters, Dirty Rotten Spellers, and Mustachioed Heroes. The Spelling Bee took place at Woodruff's Bar in Ypsilanti, and is just one of the many fundraisers hosted by 826 every year. Spellers raise money for the event by asking their family, friends and coworkers for donations. The money they raise goes to 826 to help pay for its free creative writing workshops and tutoring programs. But before spellers turn over their hard-earned funds, they have a chance to put their money to use during the Bee, when they can buy hints or pay to skip a turn. Popular cheats included "Try Again," "Ask the Audience" and "Look Up a Word."
"Most of our participants use their social networks pretty heavily," said Amy Wilson, Communications Coordinator for 826Michigan. "So that means they're on Facebook, they're on Twitter, and they're doing the sort of old-fashioned way of social networking, which is asking their friends and family [for a donation] in person or over the phone." As a speller in last year's Bee, Wilson knows what goes into fundraising for the event. "People are so surprisingly generous," she said. "Most people are happy to be asked, to be given a chance to support something they think is worth supporting. So the asking for money usually pays off. The being on stage — not so much."
Robert Schuster and Katrina Santos, who participated in this year's Spelling Bee under the team name "Margaret Atword and Percy Spelley," can agree with Wilson's statement. Both of them were eliminated in the second round of the Spelling Bee, Schuster by the word "ootheca," and Santos by the word "tichorrhine." While Schuster and Santos did not quite meet their fundraising goal, they raised 82% of the amount they were hoping for, and both of them had a lot of fun at the event. When asked why they chose to participate, Schuster and Santos agreed that they were doing it because they wanted to support 826.
In terms of organization, Wilson said that setting up the Bee was a pretty simple process. "Last year… there was a lot more setup involved because we basically had to design the structure of the Bee from top to bottom. So we had to think about things like how many rounds are there, how many teams are there, are we doing points, are we doing straight elimination, all of those things, and that was what took the bulk of the time… Now that we're basically just repeating that this year, the setup is pretty minimal. We had to do a lot of recruiting for spellers… [and] we send weekly emails to the spellers, so there's work involved there. But… other than that, we're sort of just hoping that lightning will strike twice and we'll have a successful event."
All of the staff members at 826 enjoy the Spelling Bee, because it gives them an excuse to goof off a bit. Amanda Uhle, Executive Director at 826, said, "My favorite thing about this event is the way adults come together and behave like kids for an evening. There's something really great about the adults who support us — our volunteer tutors and our donors — taking part in something usually reserved for elementary school students. It helps all of us remember that the fundraising has a very important outcome: supporting school-aged students with the free writing and tutoring programs offered by 826Michigan."
About the Contributor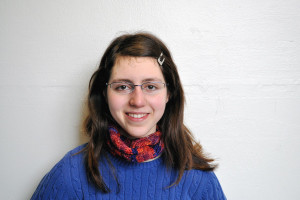 Susan LaMoreaux, Writer
Susan LaMoreaux is a duel-enrolled CHS senior, and takes many of her classes outside the building. She participated in Communicator during her junior year, and is thrilled to be back! When not doing schoolwork, Susan enjoys art, writing, cooking and baking, and walking her dog. She hopes to someday make quilts and write a graphic novel.