Roberto Clemente Boasts Successes but Narrowly Avoids Consolidation
Generations of former students created poster-board signs, wore custom t-shirts and told personal stories at every public meeting and budget forum since they first heard the rumors. Their struggle helped to save the program. It seems the Roberto Clemente family will remain in place for at least another year.
The school board decided at their Committee of the Whole meeting on Wednesday, May 16 to remove consolidation of the Clemente program from the list of possible budget reductions for the 2012-2013 school year. However, the board is still considering a proposal to consolidate Clemente's separate summer school with the district-wide program.
The district administration had proposed moving Clemente from its current location on Textile Road in Ypsilanti Township in order to save an estimated $400,000 from building operations as well as principal and secretary salaries.
They also put forth their recommendations to reduce the projected $17.8 million deficit for the 2012-2013 school year, which the school board will vote on in June. The Committee of the Whole discussions are not final decisions, and could conceivably be reversed, but it is likely the final plan will reflect these preliminary agreements.
While it seems the Clemente program will remain at its current site for at least the next academic year, that doesn't mean it won't be an item of discussion in the future. Because of the decrease in state funding for public schools, the AAPS has been required to slash spending in order to keep a balanced budget.
"The state has not given us the kind of funding we need to maintain all of our programs at the same level this year, so if we're going to [have] approximately $17 million less to work with, we have to come up with that $17 million somewhere. So basically, everything is put on the table to take a look at, and this will continue for two more years," said Superintendent Dr. Patricia Green.
After already being forced to reduce its budget by $55 million in the last five years, the district is facing the increasingly difficult task of making cuts that will have the least impact on the quality of education and the classroom experience of AAPS students. "We know every one of these are painful… I don't disagree with the pain, because it hurts and it hurts badly… I've been encouraging people to make sure they get in touch with the governor and their state legislature about making their voice known at that level, because that's where the problem is coming from," said Green.
Clemente students and staff worry about possibility of consolidation. They believe moving the program or dividing it among the comprehensive high schools, Huron, Pioneer and Skyline, would undermine its efficacy.
"If you look at the history of alternative programs, moving them is tantamount to disassembling them. We've worked very hard at building relationships… and if you disperse us across the district, that is broken," said Terry Carpenter, a teacher at Clemente, referring to the possibility of moving 30 of Clemente's 90 students into each of the three comprehensive high schools.
The Program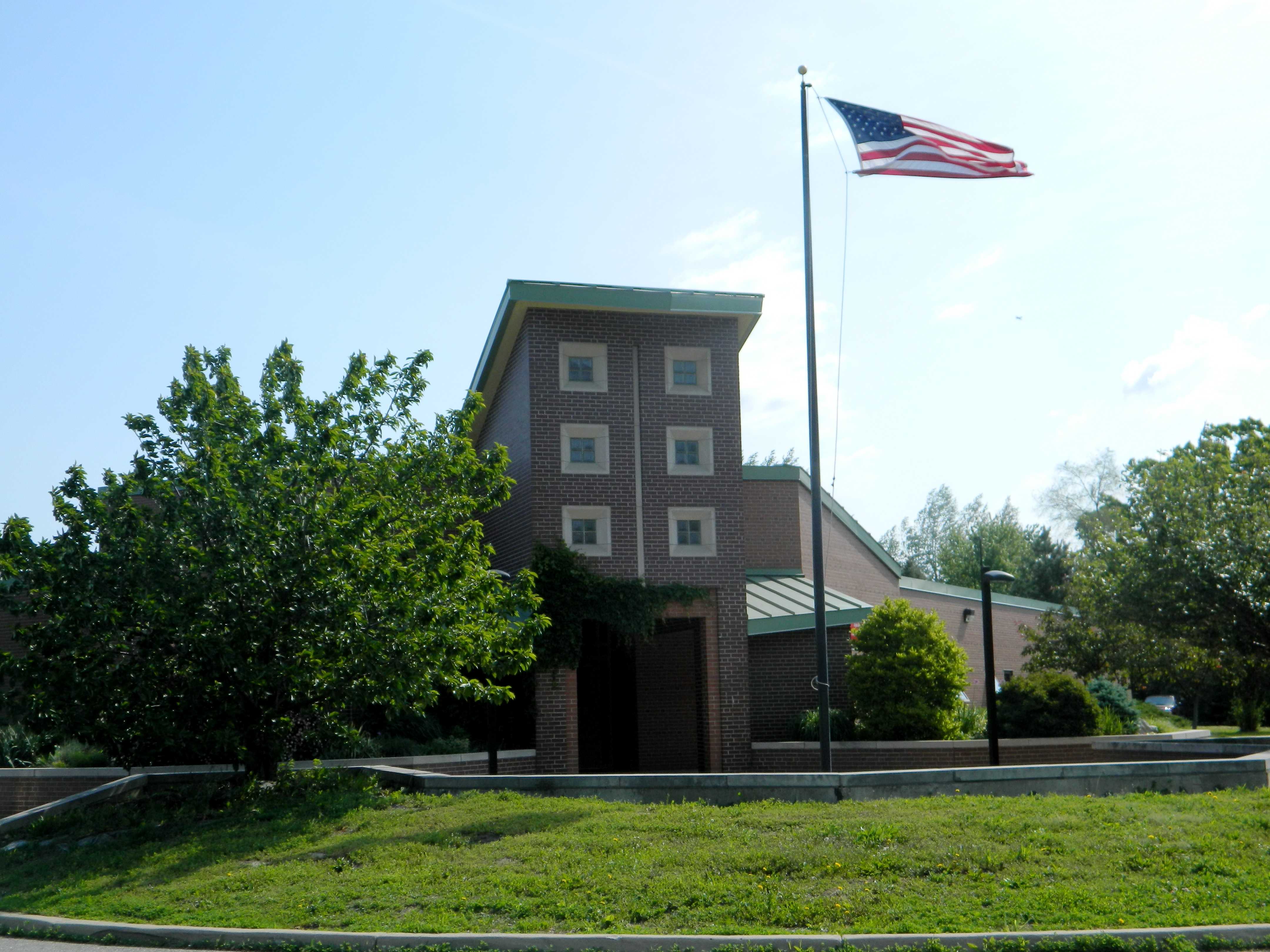 The Clemente program is aimed at students struggling with academics, attitude or discipline at one of the district's comprehensive middle or high schools. Even after students are referred and admitted they do not receive diplomas from Clemente. The goal is to teach students the skills and study habits to be able to return at least part-time to their original school. They then graduate from Huron, Pioneer or Skyline.
Students may either ask to be considered for the program or be referred by a current school to Roberto Clemente. Upon request for admission, Dr. Ben Edmondson, Clemente's principal reviews their transcripts, along with their reason for referral. He then invites the student and his/her parent to be interviewed. There he explains the program, takes the pair on a tour of the school, and invites three other students to take his place and answer any other questions the prospective student may have.
"My goal is to get you back to your school and be able to function and be a different person than you were when you left… Everything is still waiting for you that was there before… The question is can you handle it now? So when you get a better GPA you start feeling better about yourself, you generally find a new set of friends that's working for you, my goal is to send you back and be prepared to be able to face whatever is out there for you," said Edmondson.
Listen to London Renfroe, a 10th grader at Clemente, talk about her experience.
Because many students have failed multiple classes when they arrive at Clemente, they must retake and pass the subjects necessary for graduation. Edmondson works to create an individualized program of study in order for students to earn these credits and get back on schedule for graduation. Specialized credit recovery programs are just one example of the personal attention each student is afforded.
"We're all about relationships here… There's accountability in attendance, attitude… relationship building, nurturing. You know when your students are broken. I have to fix them. We have to fix them. It's not me, it's we, the philosophy," said Edmondson.
Small class sizes encourage close bonds between teachers and students. This is an essential component of what creates the support system that is "the Roberto Clemente Family."
"The support system here, other schools they don't have that. The closeness, everybody knows everybody. The teachers, they know you personally, so they can help you with your personal issues…If you get sent out they're going to talk to you and figure out if you had a bad day or something, just try and help you out, think of other ways to handle it. Also, they just keep it real with you. They're not going to sugarcoat things and I think a lot of kids here need that," said Macenzie Caddell, a 10th grader at Clemente.
Clemente pupils describe teachers as trusted confidants, personal advocates and passionate educators. Their relationships extend beyond the classroom.
Listen to Caddell talk more about her time at Clemente.
"Barbara, [the community liaison and lead teacher], she is just my person where if I'm upset or something she'll help me. She helps me get out of trouble so many times and if I need anything, like a ride or anything, she's always there for you. She's my go-to person and no matter what she's always there and that's just the bond that I like having with teachers. And that is the type of bond you can have here," said London Renfroe, a 10th grader at Clemente.
Often, Clemente staff find themselves stepping in and fulfilling the responsibilities of absent parents: taking students on college visits, buying them clothing for special occasions and even finding them a home.
Scholastic achievement is rewarded at Clemente by a medal system. When a student receives a GPA of 2.7 or higher, he/she is awarded a red medal in addition to the privilege of dressing casually on Fridays, as opposed to wearing their school uniform of black pants or knee-length skirt, an all black or white buttoned or polo shirt and dress shoes. In addition to the red medal, a white medal is awarded for a GPA of 3.0 or higher and the black medal, the Principal's Award, is awarded for a GPA of 3.7 or higher.
"Dr. E asks you once you receive a medal to wear it and if you don't want to wear it then give it back basically. You have to be proud that you're getting good grades," said Tevin Cole, an 11th grader at Clemente.
Listen to Cole talk more about his school experience.
The curriculum at Clemente is the same as that of the comprehensive high schools, but the pacing is much slower. Due to trimesters and summer school, Clemente is able to cover the same amount of material in a school year. New transfers, students with less than a 2.7 GPA for the year, and students with poor attendance or attitude are required to go to Clemente's summer school program.
A component unique to Clemente is the rap session held every Wednesday, where various community speakers are invited to come and discuss multiple issues with students. Examples of the past include Michigan's Assistant Attorney General, the mayor of Ann Arbor, nurses, doctors and barbers.
"I bring multiple people in front of them, so they can see that they can be successful, specifically African Americans. We have the highest percentage of African Americans out of any school across this district, 70%…I  just want kids to know that you can be successful no matter what you do, but if your attitude sucks, you're not going anywhere. Work ethic, positive attitude, a positive skill set, and if you get all of those three things in school you're going to be successful in anything you do," said Edmondson.
Another special characteristic is Roberto Clemente's location, which is far from distractions.
"Students stay in their place and this holds you accountable. At other schools you can just walk out, take the bus and go home; it's that easy. You can just take the city bus and go downtown and hang around, but here you can't do that because the bus stop is all the way at Meijer," said Cole.
Clemente's philosophy works. Its emphasis on the three A's–academics,attendance and attitude–combined with its location and staff have changed students' academic paths.
"At other schools if they're feeling down they want to put you down in a sense… Here you're up, you're not down, so really my attitude has changed drastically because at other schools I wouldn't want to come to school everyday… Here it is not that. I want to go to school. Oh yes, I can't wait to go to school. There's a test today. I can't wait. I'm gonna ace it. So that's what I'm thinking in my mind every morning I'm waking up. I'm thinking with a positive attitude. Some people may hope for the worst. Instead I hope for the best. They prepare for the worst, but I prepare for the best," said Cole.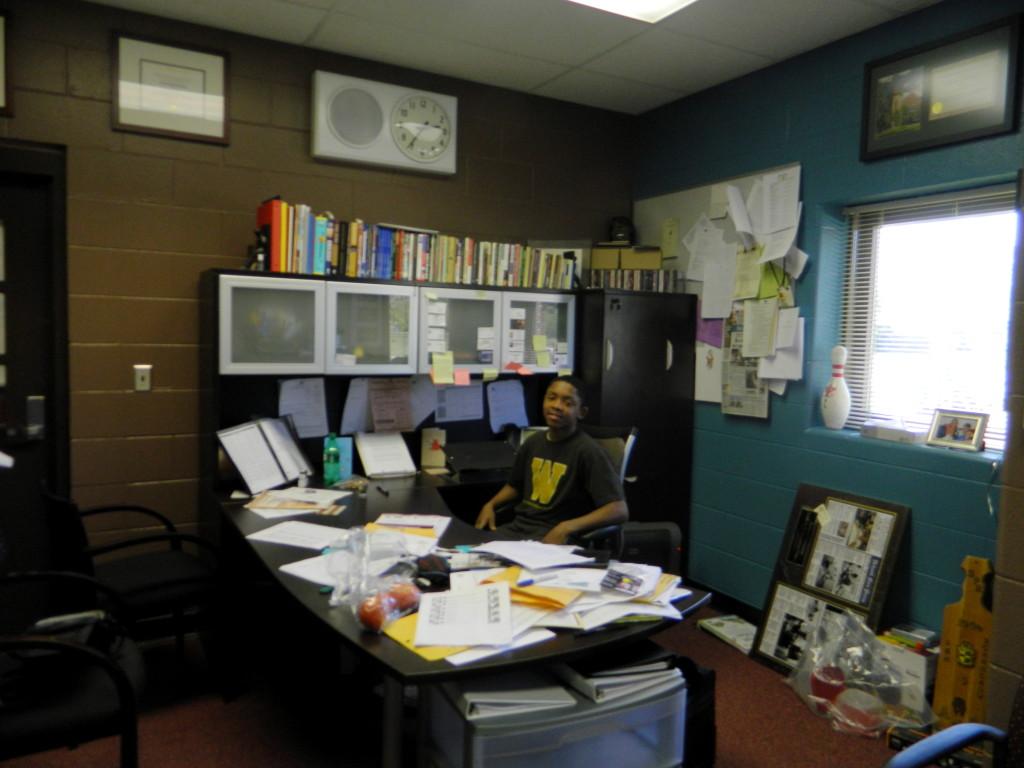 The Misconceptions
Despite the success of the program, misconceptions about Clemente's student population remain. However, Edmondson is quick to share the facts.
"We don't have fights here. We've had three fights in three years. But that's not what you hear. You hear 'Oh kids are fightin' over there.' Not at all. That's an environment that I created. I know that I don't value that."
Caddell recognizes these misconceptions, but believes there is little truth to them.
"So at the other schools we were the 'bad kids,' we were the kids who were dumb, can't learn, whatever they think. Since Dr. E has been here, the school has changed. The culture of the school has changed… A lot of the stereotypes come partially from the past and maybe how we used to act at the old schools and they don't recognize the change because they haven't been around us," said Caddell.
Poor standardized test scores also contribute to stereotypes about Clemente. Often used to measure and compare schools across the district and the state, test scores do not fully showcase the success of the Clemente program. Students arrive at Clemente after achieving low scores at other district schools. Once students' academics begin to improve, they are often sent back to their comprehensive high school. This cycle leaves Clemente with perpetually low test scores, even as students strengthen their skills and study habits.
Despite low measurable test scores, the Roberto Clemente program has continued to improve students' academic performance, and an increasing number of graduates are being accepted and going to college. "Last year we had 15 graduates, that's it… Out of 15, 14 got into college… I don't care if it is 15, or I have 8, they absolutely graduate, so it works," said Edmondson.
Clemente teachers have observed an increase in the number of students pursuing degrees after high school in the three years since Edmondson became principal. "There wasn't any talk of college when I was here maybe 10 years ago… Students have greater aspirations now and I attribute that to the principal… I attribute that to students just seeing and hearing from various speakers that we've had come to our rap sessions that there is a world outside of Clemente, or there is a world after high school, and it's been really motivating to the students," said Clemente English teacher Lexanna Lyons.
Listen to Jake Mercer, a 10th grader at Clemente, talk about his favorite teachers.
The Future
Despite these successes, while the program looks to have escaped the chopping block this year, its long-term future is not so certain. A proposal to consolidate Clemente's summer school program with the rest of the district is still on the table. It is possible that the program's independence may be up for debate in years to come. "Ever since I've been here, there's always, any time there's a budget issue… the thing that I've always heard is 'Close Roberto, close Roberto,'" said Edmondson.
Even without the consolidation of the Clemente program, there will still undoubtedly be painful cuts to AAPS programs. Because of the way state funding is allocated, school districts must return a portion of the state money in order to pay for teacher pensions. When this strategy was first implemented in 1994 5% of the state money was used for pensions. For next school year that number will rise to 27%. Because of this school districts are being forced to cut spending to stay in the black.
"We have to cut the expenditures to match our revenues. The only way this stops would be legislative action… This is not an Ann Arbor problem, this is a state of Michigan problem. They have to allocate enough funds to cover these rising costs, or we will continue to have these deficits each year," said Robert Allen, AAPS Deputy Superintendent for Operations.
Edmondson and his Clemente family members credit community support with helping to prevent the program from becoming a victim of the district's structural deficit, at least for now. "This year the tremendous support, it's been incredible. The tremendous support we've had throughout this community. Unreal. When you go to the board of education, the community is speaking, and they're saying 'Don't close it.' That's clear as day to me, and I'm shocked. I didn't think there would be all that kind of love," said Edmondson.