CET Brings 'Evita' to Community
Community Ensemble Theatre (CET) is by far the smallest theatre group out of all the Ann Arbor high schools. It is a black box theatre that seats just over 100 people. This gives Community High a unique challenge. They have to take everything and make it their own, but they can't do this in the same way that other schools can, so CET members have to think outside of the box and this is what makes CET unique. This coming show, 'Evita', may just be the hardest play they've done yet.
"I think this one is going to be a big one, I think it's going to be epic, and I think it's going to be a true reflection of our school and of CET," Quinn Strassel said after one day of directing.
Quinn Strassel is the director of CET and has been working at Community since 2010. Just like all of the plays done under his supervision, Strassel seems confident of this play succeeding. Evita is an entirely sung play about the life and death of a young Argentine woman named Eva Duarte. Eva was born into a poor family and becomes the wife of the president, Juan Peron. It was written by Andrew Lloyd Webber and premiered in 1980. The show was later made into a B-movie in 1996 with Eva Peron played by Madonna.
In CET there are a few major differences between the production of 'Evita' and other Community High shows. 'Evita' has two major roles that have been double cast. Eva and the mistress. This means they will be switching off actresses each show. "We double cast Eva for a couple of reasons. We have two dynamos, just two incredible female singers, who both deserved the part. The bigger reason really is that the show can be taxing on a young [girl's] voice," Strassel explained. Eva will be played by Alexandra Cubero-Matos and Hannah Hesseltine. Strassel gave the role of the mistress to Eve Kausch and Sarah McCurrach. "The idea of double casting the mistress is just to give two kids a chance."
Perhaps the hardest thing about 'Evita' is how little time CET has. "We normally have a lot of time to design, then plan, then build stuff, and implement, and get stuff ready, this time we're doing all of it so fast, the design phase is really merged with the
planning phase," said Brice O'Neal, the theatre's technical director. Normally the theatre has 10 to 11 weeks to put on a show, but CET only has 8 weeks to complete the play. In addition, the stage needs to be taken down by Election Day. The play is going to be back-to-back with the elections; the performance will take place from Nov. 2-4, after which on the 5 the stage will be taken down in a joint effort by the cast and crew. Normally CET will start most of the other shows slowly and they don't pick up until the end, but for this show, theatre members don't have a choice to start slowly. Both the cast and crew are already working nearly every day of the week.
Another change is that students have a much bigger role in the creative process. "This is probably the biggest time we've had kids…in charge of almost everything. It's not adults, it's really kids. Hands on and doing everything in leadership," O'Neal said. O'Neal believes that his job isn't to build a set, or tell kids what to do, but it's to help students do it themselves. His job is to teach kids what to do, how to do it, and to always have their back.
'Evita' has a lot to live up to. Strassel has sold out every show that he has directed at Community. It's going to be a lot of work, but Evita has a group of dedicated actors and crew members that can make it something awesome and unique. 'Evita' is going to be something new for CET, but Strassel, O'Neal and the students, are certain that the show is going to blow away the rest of Community.
"Students get really excited about how we can make it great within the limited confines of the black box theatre," said Strassel. "People have to really work hard to make something great happen here and they do."
Tickets go on sale October 12th and will sell out fast! Show dates are Nov. 1-4. There will be a 7:30 show Thursday, Friday, and Saturday, and a 1:00 show on Saturday and Sunday.
Student ticket prices: $8.00
Adult ticket prices: $12.00
You can buy tickets at Showtix4u.com
Photos by M Ruth Morris
About the Contributor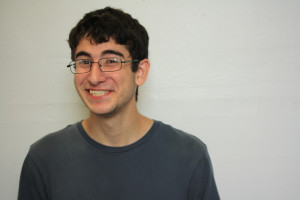 Nick Hagopian-Zirkel, Journalist
Nick is a senior at community. This is his second year on Communicator staff. Nick spends all of his free time breaking his back for Community Ensemble Theater. He has worked his way up to Student Tech Director.