Wines, Cheeses, Morgan and York
Morgan & York, formerly known as Big Ten Market, opened in 1940, and has been a local treasure ever since. Inside, the maple flooring marks the original dimensions of the "mom and pop" grocery store, which was opened by Brewers and the Sakstrups. In 1953, the store was sold to Eugene Towner and Edward Sharon, who got the liquor license that would help shape the store into the award winning wine and specialty food store it is today. When the opportunity to buy the party store arose, Matthew Morgan and Tom York were ready to take on the ownership position."[Owning a business] is something I grew up with. My grandparents had a hardware store in my hometown, and so by the time I was about seven or eight I worked at the hardware store, so I was used to working in a retail environment. Most of the men in my family have their own businesses so it seemed like a natural concept to me," said Morgan.
Working at a hardware store wasn't the only thing that helped Morgan gain the expertise needed to run such a sophisticated shop. After college, Morgan had a job at Espresso Royale, "I did a lot of quality control for Espresso Royale, many years ago. So I had to taste coffee, and know what different components were in it, and how the equipment affected the product," said Morgan. This helped him gain knowledge in coffee, one of the many products at Morgan & York. Morgan also met York working at Espresso Royale, which is where they first started talking about opening a business.
After working for Espresso Royale, Morgan got a job at Zingerman's. "I ran the retail department, which is not the sandwiches, and not the coffee house. I ran the part where they sold the cheeses and the breads and the olive oils. I learned a lot on the job there," said Morgan.
In 2001, Morgan and York bought the Big Ten Party Store. "Most of my time is spent on wine. Tommy [York] takes care of the cheese side of the business," explained Morgan, but as business owners, they are expected to take on many different roles. "A lot of the jobs I have as an owner of the business, and I think this is true for most small businesses, is you spend a lot of time doing things that don't have anything to do with waiting on customers, or dealing with buying or selling products. You have to deal with accountants, and the physical building needs to be maintained, you need to make the repairs that you can, or hire people to do the work for you, like contractors," said Morgan.
Morgan explained that his personal preferences are a big part of what influences what wines Morgan & York carry. "As a small business owner I need to be able to sell products to my customers that I believe in. I don't want to sell someone something just so that I make money on it. I'll sell something because I think it's a good product." said Morgan.
The products at Morgan & York are not specifically chosen based on their environmental impact. Instead, the products they carry are produced by traditional methods, which have a lower environmental impact than modern industrial processes. "The modern industrial processes are able to produce food cheaply, quickly, and in great quantities, often at the cost of things like flavor and the environment," explained Morgan. "Most of the winemakers that we deal with farm organically. We think it's the right thing to do: we pick those products primarily if they taste great, but it's really nice knowing that they have lower environmental impact." said Morgan.
In 2006, the Big Ten Party Store was renamed Morgan & York, adding individualization to this Ann Arbor treasure.
A small fraction of Morgan & York's wine collection
About the Contributor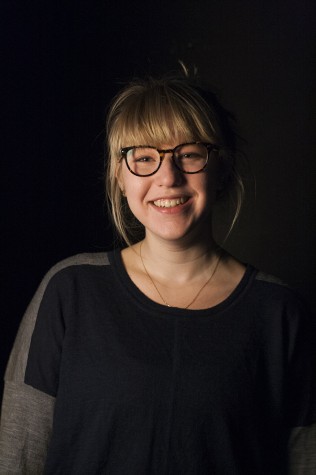 Ella Steiger, Co-Editor-In-Chief
Ella Steiger is a senior at Community entering her third year on the Communicator Staff. She is Co-Editor-In-Chief and currently spends 47% of her life doing work for Communicator. The other 53% of her life is evenly split between playing classical guitar, studying retinal organization and regeneration of Zebra fish, and marathoning Tarantino movies.