Distributing Local Food During the Cold Months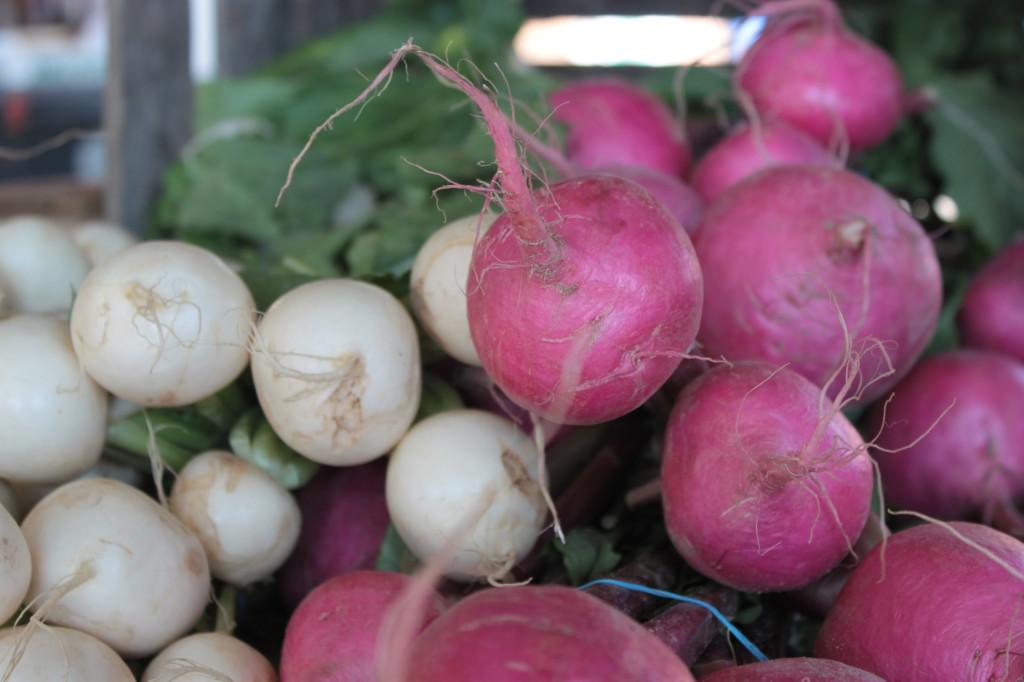 Lukas Trierweiler and Joris von Moltke
November 14, 2012
In recent years there has been a rise in demand for organic, locally grown food.  In the winter however, filling this demand can be difficult, since not many things can grow naturally in the cold. Local farmers are becoming more inventive in finding ways to prolong the growing season and store food as well as to distribute to their customers during the winter. With buildings such as hoop houses and greenhouses, the farmers are able to keep their soil warm enough for the vegetables to thrive.
One of the most basic ways that farmers continue to provide fresh vegetables to their consumer base in the colder months is by growing foods that survive well in the winter such as garlic, squash, potatoes, and rutabaga. Another type of cold hearty vegetables are  root vegetables because they grow underneath the ground, which acts as an insulator.
Sunseed Farms is the only year round community supported agriculture program in Ann Arbor. The CSA, run by Tom Becker and his wife, distribute food 48 weeks out of the year with one month of rest, but they have food growing on their farm throughout the whole year. The farm implements the use of hoop houses, passive solar greenhouses, to extend the growing season.
"[They're] basically big steel hoops with plastic pulled over them so they're about 100 feet long, 30 feet wide," Becker said. "With the use of that structure and additional covers within the hoops we are able to keep the soil warm enough so that the plants don't die. We can basically keep them alive throughout the entire winter."
Most of the plants that are being harvested during the winter are planted in August or October so that by the time winter comes, and plants can't grow due to lack of sun, they have reached maturity. Then come late January, early February, plants are ready to be grown again.
"Most of the work we do in the winter time is regulating the temperature in the hoop houses by venting out hot air when it gets sunny, or pulling internal covers when it gets really cold and then come early January, early February we can start planting outside," said Becker.
Sunseed does five big rounds of planting throughout the year.
"We do a big planting in the spring when the ground opens up and we do a big planting in the early part of the summer we do a big planting in the fall and then in the winter we do a big planting in the hoop houses and then another planting midwinter," Becker said.
During the midwinter planting they plant the cold tolerant vegetables such as cold hearty leafy greens, root vegetables and herbs. In addition to the crops being harvested at that time they are also pulling vegetables, such as potatoes, winter squash and cabbage, out of storage, harvested in the fall, to distribute to their shareholders in the winter.
Both Sunseed and Tantre Farms use storage to prolong their distribution season. Sunseed uses cold storage and has a large walk-in freezer where they keep the vegetables harvested in the fall.
Stephanie Willette of Tantre Farms said that for example, even though "there are more scientific ways to store crops we just put sweet potatoes in the barn and they last a while because the barn stays at a constant temperature as long as it's constant and not too humid. Some people will cure them, take them up to a certain temperature and then cool them down, and then they'll last a lot longer if they leave on their October skins."
People who regularly purchase locally grown food have also noticed changes due to cold weather. Community High School junior Olof Carlson and his family buy from local venders year round.
"Out of season crops have become harder to find and are more expensive," he said.
Carlson has also noticed that crop variety has changed over the past season.
"Lately most of places have only sold leafy greens and root vegetables and almost no fruit," said Carlson.
Locally grown and organic food has become harder to grow and purchase. The odd seasons and cold winters have caused farmers to change their methods, increase prices, and have less crop variety.