FutureStars Finals Rock Schreiber Stage
Select high schoolers from around the Ann Arbor Public Schools district performed to a sold out crowd on Saturday, Jan. 19 during FutureStars Finals. The annual talent competition held at Pioneer High School is open to students from any of the Ann Arbor public high schools. Contestants competed in four preliminary themed shows, this year including "Dance Fever", "British Beat", "50 Years of Soul" and "My Tunes". Winners are chosen by crowd reaction with a little help from a rotating panel of judges which may contain teachers, University of Michigan students or local celebrities. Winners are sent onto the FutureStars Finals show held the following week.
On finals night, the Guest Judges were radio host Matthew Altruda, local musician Dan Henig, Community High School and University of Michigan alum Ingrid Racine and Michigan Wolverines football players Devin Gardner and Jeremy Gallon. Judges are given the opportunity to comment after each performance, although more often than not, they're left speechless by the unbelievable talent brought to the stage. However, the audience handled their excitement a little differently.
The room was electric with the energy from each person sitting in the auditorium. All 1,600 seats were sold days in advance, and nobody took theirs for granted. Shouts, cheers and applause followed each act with enthusiasm, and preceded the next with anticipation. Positive vibes emanated from the rows of people, and the atmosphere was truly inspiring.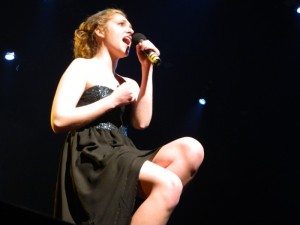 At the end of the night, the judges debated privately to come up with a list of five picks to be considered for receiving the official title of FutureStar 2013. The chosen acts were Andrew Krenz and Nick Barvinok dancing to "Bridge to Canada", Eliza Stein singing "Cry Me Out", Hank Miller singing "Dancing Shoes", Andrew Nazzaro singing "Ain't That Peculiar" and Sina Webster singing "1 + 1". Two of these finalists, Stein and Miller, are seniors from Community High School.
Audience applause was gauged for each of the finalists to calculate who would win the show. It was hard to distinguish which contestant got the loudest of the shouts and roaring applause, but in the end, Stein was declared the winner of FutureStars 2013. The room erupted into a haze of sparkles and streamers that fell from the ceiling, and Stein's short stature was engulfed the sea of fellow performers throwing out hugs and congratulations.
About the Contributor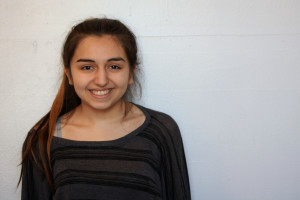 Sofia Kromis, Journalist
This is Sofia Kromis's second year writing for the Communicator Web. In addition to happenings on the Internet, she is involved in dance, theater, and poetry in Ann Arbor. In her limited free time, she likes sleeping, losing time in the internet, and drawing graphs.