A New Pizza Restaurant in Town
A new pizza restaurant on Williams St. is giving NYPD and Cottage Inn a run for their money and it's called NeoPapalis Makers of Pizza. On the ground floor of the new Zaragon West high-rise apartment building between East William and Thompson Streets and open from 11a.m. – midnight Sun-Thu and 30 minutes after midnight on Friday and Saturday, NeoPapalis is certainly the talk of the pizza business. Using ingredients right from the Ann Arbor area, this is the place to go for fresh pizza made in less than 5 minutes.
Much like Subway and Jimmy Johns, the setup of this downtown pizzeria lets you see the ingredients to pick and choose what you want on your personal pizza. Just to show that they use fresh ingredients, not just for toppings but also for the crust, owner Joe Sheena hand-makes each and every pizza crust right before your eyes. In addition, depending on which pizza base you choose, they use whole basil leaves and a fresh ball of mozzarella perfectly placed so you get an even layer of cheese.
The only word I can say after eating this pizza is delicious! The crust was crunchy, but not burnt, thanks to a stone oven and careful heating techniques, and it was still doughy enough that it bounces back when you poke it with a finger.The cheese was melted to the perfect consistency where it is stringy, but not too stringy, and it tasted different from the cheese on Dominos or Cottage Inn which was a nice surprise. Another plus is that the cheese doesn't fall off the pizza. Even after reheating a couple slices the pizza still tasted great.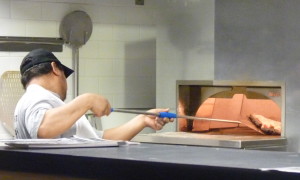 Don't like pizza? No worries, not only do they make pizza, but also sandwiches and salads. At first when you want to order either a salad or sandwich, it's not completely clear. Unlike ordering pizza where you pick and choose as the pizza goes down the line, you have to fill out a piece of paper with one of those mini golf pencils and choose the items you want on your salad or sandwich. For sandwich bread they use their own dough to create a pita bread-like pocket for the ingredients to sit in. Just like their pizzas, the ingredients and bread they use are both delicious.
Feel like dessert or a side with your pizza, sandwich, or salad? NeoPapalis has them. Under their extras column on their menu there are Sweet Potato French Fries, Ranch Parmesan Breadsticks, and Jumbo Cinnamon Sticks that are handmade. You are probably thinking what's so significant about cinnamon sticks? Well, unlike most cinnamon sticks, these have honey as an extra bonus and what I take to be homemade cinnamon butter on the side. And if you just can't bear to take another bite, they aren't stale or soggy after a day of sitting out.
Not only is their food great, but so is their service. Sheena didn't even think twice when I asked to videotape him, unlike most owners who would probably be a little hesitant. In addition a customer thought her order was wrong and Sheena offered to make her a new pizza to make up for the miscommunication.
Don't just take my word for it, Community High sophomore Keegan Mackin simply just said "It's fantastic!" Anna Raschke, another Community sophomore said this was her first time eating NeoPapalis pizza and that she was pleasantly surprised,"..the pizza was really good and it tasted homemade." When asked what they don't like Both Mackin and Raschke said that they wished their peppers were fresher and Mackin said she wished that the price was cheaper.
Of course, no restaurant is perfect. Though, in my opinion, NeoPapalis is fairly close to it. The people there are nice and helpful, the pizza is skillfully cooked, and the overall ambiance is friendly and casual. NeoPapalis is the "new kid" in town, but they are certainly making an impression on the pizza business.
About the Contributor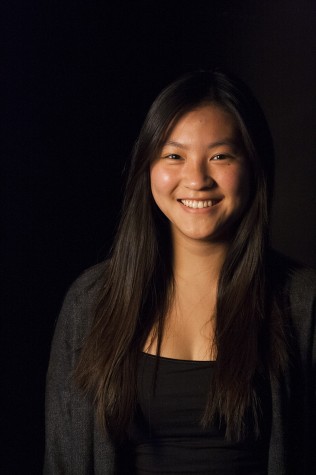 Natalie Potter, Co-Editor-In-Chief
Natalie is a senior at Community High School. This will be her third year on the Communicator and is excited to take on the role of co-editor in chief and travel editor. She still loves math, science, and Latin and is excited to go out into the world and tell the stories that need to be told.