Poetry Club: Upcoming Slams and Alice's Perspective
Alice Held was in fifth grade when she first started writing poetry, and has continued to develop her unique style and voice since then. She remembers first becoming interested in poetry when Jeff Kass, an English teacher from Pioneer High School, came to her classroom in elementary school to talk about literature. He was the first to ignite Held's interest in the writing that she loves and continues to do here at Community High School.
As a freshman, Held didn't know a lot about Community's clubs, but she became interested in Poetry Club from recommendation to her as well as her love to write poetry."I didn't really know what to expect at first, but when I got there I found it really great to have peers that I could share poetry," she said. Held continued to write her poems in the little club at Community, and found she really enjoyed sharing her work with a close group of other students. Held notes that the club is very much run by the youth rather than a teacher, even though it was started by a couple of Community teachers.
Ellen Stone is a teacher at Community and remembers wanting to start a poetry club after her class Writer's Way stopped being offered at the school. "Some of the students in that class said that there really wasn't a place in the school, where if they wanted to do creative writing on their own time they would have a place to do that," she recalled, so she went and talked to Brian Miller, a former Community English teacher, and got Poetry Club started.
Today, Ellen is trying to get more students to write poetry and support Community High students at the upcoming poetry slams. The regional slam "Louder Than A Bomb" will take place at a still undecided venue, where a team of Community High students will compete with other schools in Michigan. The event is set to take place March 1st and 2nd, and the poetry club and its members are looking for support from the rest of the school. Student poets at Community will also have a chance to compete in the upcoming city slam, in which will take place at The Neutral Zone on Thursday March 28th, and some students from Community will be selected to go and read there. The selection process will take place through our own Community High slam on Friday March 15th. For this one, even students who have never done poetry club or read poetry before are encouraged to come read their poems, and might even go onto the city slam.
Alice Held saud about reading her poetry out loud, "It just feels really great to share poetry because you get to express all these emotions inside of you and you just get to let them out and it sounds kinda cheesy but it's very true." Writing poetry has really helped her express herself through this kind of thinking and art that she gets to create with other students who feel this way as well in poetry club. She also enjoys writing poetry that she describes as, "[Poetry] that's really relatable, but also very individual, really independent and really expressing myself, but also people can relate to it as well." She also expresses her interest in writing poetry with themes that are very broad and relatable, as well as turning subject matter into unusual metaphors.
As someone who has observed young writers for a while, Ellen sees value in the self-expression of teens in their writing as well. When asked what she sees kids at Community get out of writing poetry, her answer was this; "Writing is kind of an avenue inside your soul, and if you can discover that in high school, you are blessed."
About the Contributor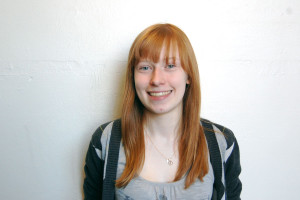 Lily York, Writer
Lily York is a sophomore who has just joined communicator web. She enjoys art, music, comic books and math. Lily also likes stacks of various animals, especially penguins.