Singing Valentines: A Long-Standing Tradition
Singing Valentines has been a tradition at Community High School since before most teachers can remember. During the week leading up to the event, the valentines, along with carnations and chocolates, are sold to students and faculty for $1. On Valentine's Day the songs are delivered by a group of singers that serenade the recipient. Occasionally this person is a crush, but more often than not the musical gifts are sent to embarrass friends.
Established by Community Ensemble Theatre (CET), Singing Valentines has become part of the annual celebration of Valentine's Day at Community High School. This year CHS Junior Louis Hochster took charge of Singing Valentines, organizing rehearsals, assembling the repertoire and recruiting participants. Hochster said the fundraiser raises some money for the organization, between $100 and $200 dollars, but it's mostly for awareness and the opportunity to get the school more involved with CET. "We mostly do it because it's fun," Hochster said.
Senior Gabby Thompson also enjoyed singing in the valentine deliveries this year. "It's a fun way to interact with people I don't really know…and it's really fun just seeing these people get so embarrassed."
For each lucky valentine the singers circle around their target and sing a portion of a pre-selected song, usually 30 to 50 seconds long. Some students turn shades of pink with embarrassment, while others' responses teeter on the spectrum from joyful to annoyed. Requests can also be made for "something extra" to be added to the performance. Science teacher Courtney Kiley takes advantage of this opportunity. "I like to give them to my colleagues to embarrass them, especially because I request hip motion while the singers sing."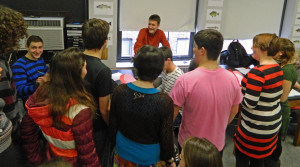 CET offers a selection of possible songs to be sent. The list includes "Can you Feel the Love Tonight", "Sexual Healing", "Kiss the Girl", "I Want it That way", "You're my Best Friend", "My Girl", and "A Girl Worth Fighting for". The most popular song bought by far is "Sexual Healing," with "My Girl" also making quite a few appearances. For the past few years the list of available songs hasn't strayed far from this selection, and some teachers and students comment that they wish there was more variety. Kiley mentions, "the songs have evolved, but not really so much in the past three years. I think they need to get some new songs, personally."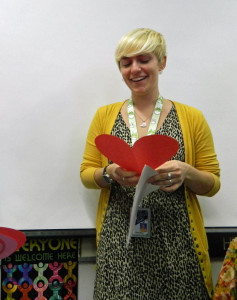 Some teachers have mixed feelings about Singing Valentines. Kiley is one such person. "I really like that they exist and that I teach at a school where they exist…but I do not like them when they come into my classroom." Singing Valentines are sometimes seen as disturbances, appearing at any given time and interrupting the entire class's learning. Other teachers have learned to prepare for the annual tradition and plan their lessons around the inevitable distraction. During any given block a classroom might receive zero valentines or up to seven or eight.
Even with all the flustered embarrassment that comes along with the Singing Valentine tradition, most people agree that it's a fun thing to have. The valentines are always in such high demand and are so unique to Community that they're likely to continue for years to come.
Listen to a Singing Valentines performance of "Every Time we Touch"
Listen to a Singing Valentines performance of  "Build me up Buttercup"
About the Contributors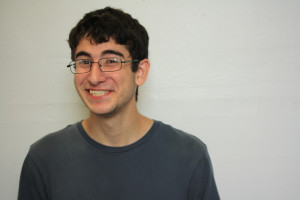 Nick Hagopian-Zirkel, Journalist
Nick is a senior at community. This is his second year on Communicator staff. Nick spends all of his free time breaking his back for Community Ensemble Theater. He has worked his way up to Student Tech Director.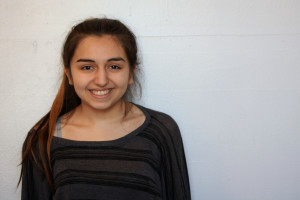 Sofia Kromis, Journalist
This is Sofia Kromis's second year writing for the Communicator Web. In addition to happenings on the Internet, she is involved in dance, theater, and poetry in Ann Arbor. In her limited free time, she likes sleeping, losing time in the internet, and drawing graphs.