Weird Winter Weather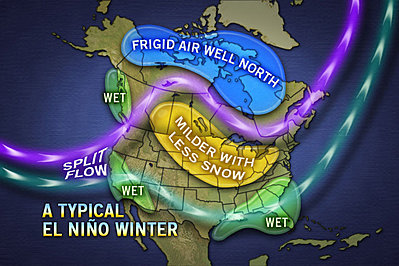 2012 was one of the warmest years on record, not just for the continental U.S. but for the world at large. In Michigan, the strange weather started with 60-degree highs in March, and temperatures continued to soar throughout a scorching summer, causing severe drought in many agriculture-heavy states. The only time the 2012-2013 winter cooled down to an ice- and snow-friendly range of temperatures was mid-January. These temperatures were followed by a blast of polar air that left people shivering in below-zero conditions. In early February, the east coast was battered by a storm that came out of nowhere to dump multiple feet of snow on the region. So what's causing these sudden changes and abnormal patterns in weather behavior?
This is an El Nino year, which means warmer than normal temperatures throughout the world's oceans and across the globe. The El Nino weather pattern also has an effect on the jet stream, a three-mile-wide path of wind that circles the poles and the subtropical region of the globe. The blast of arctic and polar air Michigan experienced was caused by the jet stream weaving up and down. But according to John Eise, a regional climate expert at the National Oceanic and Atmospheric Administration (NOAA), the snowfall and levels of precipitation this winter have been relatively normal. "The winter has been rather typical for temperatures and snowfall," Eise said. He went on to add, "A stronger jet stream has contributed to well above normal precipitation–rainfall plus melted snow–across the lower peninsula of Michigan."
With temperatures going from well above freezing to below zero in the space of a few days, there are definitely some unusual things going on with the weather. However, Eise said the strange occurrences are not abnormal when compared with NOAA's more than 130 years of climate data. "Long stretches of below zero readings are normal for Michigan during the winter months," said Eise. "For example, in Lansing there have been a number of times since 1948 when the low temperature was below zero for 4 or more days in a row, with a record 8-day stretch ending on January 21, 1984."
Eise was not overly concerned about the winter weather's behavior this year. "Sudden fluctuations are a natural occurrence during any season of the year and especially during the winter time," he said. "Cold air from the north and warm air from the south are in a continuous struggle to dominate the weather across Michigan." However, the freeze-thaw-freeze pattern that emerged last year caused a bad harvest in fruit trees across the state. The trees bloomed too early and the flowers froze when temperatures dipped back down, resulting in a bad year for fruit-growers. They had hoped this year would bring a more successful harvest, as trees were able to rest over the summer last year. However, if the weather continues to change rapidly, Michigan growers could be in for another small crop.
NOAA declined to offer a comment regarding whether the recent fluctuations are related to climate change.
About the Contributor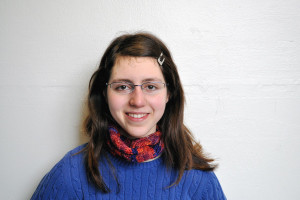 Susan LaMoreaux, Writer
Susan LaMoreaux is a duel-enrolled CHS senior, and takes many of her classes outside the building. She participated in Communicator during her junior year, and is thrilled to be back! When not doing schoolwork, Susan enjoys art, writing, cooking and baking, and walking her dog. She hopes to someday make quilts and write a graphic novel.