What Crepe? A New Restaurant in Town
Taking a twist on this classic dessert, the new restaurant What Crepe?, which opened this past February, is bringing savory crepes to Ann Arbor. Replacing the Squares Restaurant on East Liberty across from the downtown post office this restaurant is making its mark. With a red awning and huge question marks on the windows you can't help but notice this new addition to the street of desserts.
 With locations also in Downtown Royal Oak and Downtown Birmingham owner/founder/designer Paul Jenkins Jr. is not new to the food business. Jenkins was inspired to open What Crepe? after visiting Toronto and hopes to open many other What Crepe? restaurants in other parts of Michigan. As well as owning What Crepe? A world-renowned, award winning French crepe bistro at other locations, Jenkins is also the co-owner of The Black Pearl located in Downtown Ann Arbor, a nightclub in Chicago, and even helped launch a lounge in Miami Beach, Florida.
 Like his other locations the decor has stayed relatively the same. With red walls, black tables and chairs, and even chandeliers on the ceiling the vibe is elegant, mysterious and "eclectically euro" inspired. There are chandeliers from the ceiling and blackened wood acting as support beams to give it that vintage feeling. There was even a bookshelf with books and other objects which is right next to a window that looks into the kitchen where the crepe pans are located so customers can watch the chefs make the crepes. Although the napkins fit this style they have created, some might wonder whether black napkins are the way to go especially when there is white powdered sugar involved.
 Just like the unique decor the ambiance is not like other restaurants. At their bar instead of TV's with espn and other sports games, the restaurant's TVs were showing black and white movies such as "Casablanca". As well as their interesting selection of movies, owner Jenkins Jr.also selects the playlist that plays in each of his restaurants every month. This month some song selections include songs by Sting,Vikter Duplaix,and even Adele.
 Like many bars, What Crepe? offers a selection of beers, wines, and spirits (for those who are 21+). They not only serve sweet crepes, but savory ones too. In addition to their set menu, they also offer a build your own crepe selection. Not feeling like a crepe? but the rest of your family wants to visit, don't worry they also have salad choices and signature soups made fresh every day, just ask your server.
 Start off your meal with a selection of either sweet appetizer flight or savory appetizer flight, which are their crepes but crispier, and many other choices to begin your tasting travel.  If you start with a sweet appetizer flight the crispy crepes are accompanied by homemade vanilla cannoli cream, homemade jelly, and Nutella®. The crepe crispies are crunchy and mixed together with the condiments perfectly, but beware the powdered sugar will go all over the place if you're not careful. If you choose the savory choice the crispy crepes are accompanied with cheese on top of the crispies, salmon pate, artichoke dip,and their new queso dip.
On to the next course….The Obvious crepe one of their pre-set options is filled with pecans, caramelized apples, chicken, spinach, and feta cheese this choice was great for a first time savory crepe. With the crunch of the pecans, the sweetness from the apples and the savoriness from the chicken, this crepe will take your taste buds to a whole new place. The only problems with the crepe was that even though crepes are supposed to be thin, for the amount of ingredients the crepe was a little too thin and that the chicken pieces were a bit too big for this particular meal. Not a meat eater or are allergic to gluten, no worries, What Crepe? also offers a vegan friendly and gluten free option.
The cost of a dinner at What Crepe? is on the high end. The average price for a crepe is $10-$12 and prices can even go up to $16, just for one crepe. Add in an appetizer, maybe a drink and dessert, and the total price is going to be about $30 just for one person. Of course if you are with another person/people you could share an appetizer and dessert, but you're still looking at an expensive dinner. Even though the food is expensive it is certainly worth the extra money. Much like the Zingerman's Deli, you get what you pay for with these crepes.
Overall What Crepe? is an exotic yet intriguing restaurant that has descended upon Ann Arbor. Although the price is a little expensive with great service, food, and a unique style the future is looking bright for What Crepe?.
Want to know more? Check out their website here, facebook page here, and even a downloadable menu here.
About the Contributor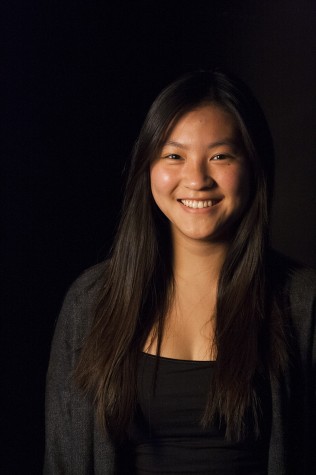 Natalie Potter, Co-Editor-In-Chief
Natalie is a senior at Community High School. This will be her third year on the Communicator and is excited to take on the role of co-editor in chief and travel editor. She still loves math, science, and Latin and is excited to go out into the world and tell the stories that need to be told.