Dance Body's 2013 Spring Concert
Photos by Sophia Camp
See the photo gallery on Flickr here

"You have three minutes—three minutes to breathe," reflected Sofia Kromis, a Dance Body student in relief at an afterglow celebration of Dance Body's 33rd annual Spring Concert. Kromis was referring to the hectic nature of a show, "You're in a dance and you have to give everything that you have because it's someone else's piece and someone else's vision." She explained, "You have to do it as well as you can and as [perfectly] as you can, and you get off stage and you have three minutes to put on a different costume and catch your breath." The Spring Concert took place on May 31, in the auditorium of Forsythe Middle School. Throughout the semester, dancers worked hard to produce a show consisting of numerous pieces to perform for parents, teachers, and classmates. The semester's show contained 16 pieces, 15 of which were choreographed by students.
Dance Body is the name of Community High's dance program that has endured since the 80s. It is currently directed by Michelle Briscoe. Although it is taken as a class for high school credit, members of Dance Body put in a level of commitment uncommon to the typical high school course. Students hoping to join Dance Body for the upcoming school year audition at the end of the prior year, and are selected based on experience and technical ability. Each member of the class choreographs his or her own piece, characteristic to their vision and the music they select. Outside of class, students teach their own dances every week, as well as attend rehearsals of the dances of their classmates that they are involved in.
Each dance tells a story. Sometimes the story comes from an interpretation of the lyrics, the nature of the music, or a personal experience. "I get my emotion from just real life circumstances . . . I just sort of dwell on it for a little while and let it move me . . . and eventually it all just comes together," member of Dance Body, Robert Stephens said about the emotional aspect of his choreography. Each choreographer has their own way of coming up with the movement. Some already have a vision and they match it with a song, others find a song and the choreography follows. "Whenever I listen to a song, I can sort of see where little movements go, and I had this vision for the very ending, so I chose that song," Dance Body member, Katie Taub said about her piece. Although her choreography was largely influenced by the music, her selection of music was based off of a real life experience. A close friend of Taub's brother was adopted, and led a tough life in the years previous to his adoption. After he went off to college, his family lost track of him. Taub explained, "He didn't come home all summer and it was really, really scary, and they didn't know if he was dead or not." Taub added, "The dance was more elaborating on how those things can ruin your life."
Adina Nadler, a senior in Dance Body wrote her college essay about being in Dance Body and how she grew from her experiences, "When I first started it was really scary and everyone was so good and I felt awful, and then I choreographed this dance and it ended up getting in the show." That dance was titled 'Awkward Turtle'. She added, "Then my last dance was called 'Socially Adept Turtle' because I was like, I'm graduating and I feel like I fit in in Dance Body."
The show was mostly student run but it also had a piece choreographed by Briscoe. It was titled, 'A Blues for the 13-Year-Old Me.' This piece of choreography was accompanied by live music performed by members of the Community High jazz program. In addition to helping with Briscoe's piece, the jazz band also played a role in keeping the show moving for the audience. Several times they performed during the blackouts between pieces, often so that dancers could quick change.
One thing that's special about Dance Body is that the class is less about learning technique and is more about the choreographic process. Briscoe often lets the dancers work on their piece without much supervision. She allows the students to have a lot of artistic freedom in their piece. "It's nice to be in an environment where everyone has their freedom to use their own processes," said Stephens. "[Briscoe] guides you, but the piece is yours; you can change whatever you want."
Although the show took place on May 31st, it took an entire semester of preparation to come out with the final product. "Audience members don't fully grasp the concept of all the work that goes into putting on a show," said Stephens. Similarly, Freshman Clara Keane remarked, "I just think that a lot of people don't realize how hard the whole process is . . . because they just see the final product, but there's a ton of work that goes into it."
The spring show was a great success. Taub reflected, "It got people excited and exuberant about what they were seeing—at least I felt that way. We put a lot of work into it, and so I'm happy with how that showed." Although there will always be the inevitable slip up, the show proceeded in a sophisticated manner, leaving most mistakes unnoticeable to the audience. "It had a very different feel this year, it felt a lot more professional, a lot more upbeat; this year it felt like people were really into the show." Stephens remarked. "We've really grown and worked on these pieces and . . . it showed in the choreography." He added, "We work together and we find a way to make it happen."
About the Contributors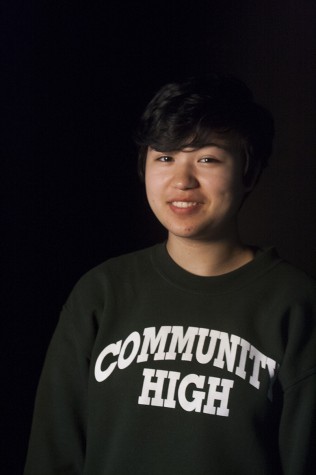 Sophia Camp, Co-Editor-In-Cheif
Sophia likes to write and take photos. She believes that every individual is as complex and multifaceted as herself, and she most likely would love to hear you talk about yourself.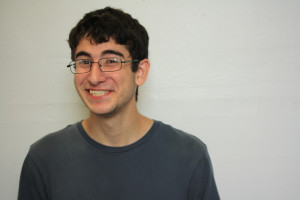 Nick Hagopian-Zirkel, Journalist
Nick is a senior at community. This is his second year on Communicator staff. Nick spends all of his free time breaking his back for Community Ensemble Theater. He has worked his way up to Student Tech Director.