Ann Arbor Skyline Crew Duo Earns First Place At Nationals
On May 25  Ella Bourland helped to chip away at the stereotype that Community High School is not a school of powerhouse athletes. Bourland and her boatmate Lindsay Davis-Brady placed first in the Women's Junior Varsity Double at the Scholastic Rowing Association of America's Regatta in Camden, New Jersey. This win was the culmination of the three years that Bourland and Davis-Brady have put into the sport they love. Crew is a physically demanding sport that goes year round. Bourland explained that the Fall is for long races, the winter is for dryland conditioning and the Spring is for sprint events such as the 1.5 Kilometer race that she and Davis-Brady won. Winning Nationals justified all the hard work that they had put in under the tutelage of Skyline Crew Coach Kit Bennett.
In order for a Varsity double  to qualify for Nationals, they must first place in the top two at Regionals. Bourland's double placed second at the Midwest Regional in the Women's Varsity division. Bennett petitioned to get the girls into the Junior Varsity race at Nationals so that they would have a better chance of doing well. Bourland also rowed in the Junior Varsity eight during regionals, but they were edged out by a fraction of a second and were unable to qualify for SRAA's.
This wasn't Bourland's first rodeo. " I also went [to nationals] last year in my four boat and we got seventh." Bourland has been rowing since freshman year and Davis-Brady and her have formed a cohesive relationship. "We like to say we complement each other," said Bourland. Their close relationship helps to keep practice fun according to Bourland. Crew is a time consuming sport that Bourland considers to be both challenging and rewarding. " I like the camaraderie between the team." Crew is a sport that requires many people to be working together insync although there are single boats as well.
As for next year's goal? Bourland and Davis-Brady look to be National Champions yet again, this time in the Women's Varsity division. Bourland doesn't like to make her goals so big and far in advanced "I like to have smaller goals and work my way up. So I guess my goal for next year is first place in the Varsity double at Midwest." Whether or not Bourland and Davis-Brady end up with a repeat victory next spring they will have harnessed a kind of dedication and sticktoitiveness that will last them a lifetime.
About the Contributor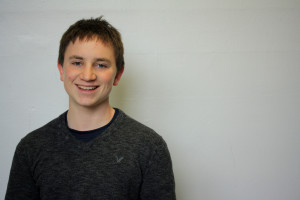 Jesse Rubin, Sports Journalist
Jesse is a junior and is beginning his second year on Communicator. He enjoys covering University of Michigan Basketball and writing Op-Eds about current issues in sports. He is a member of the Pioneer Men's Varsity Swim and Dive Team and often smells of chlorine. When he isn't in the pool or writing articles for Tracy he works at The Cherry Republic and enjoys playing pick-up basketball at the Y.