What Fourth Wall? Pioneer Theatre Guild Presents PIPPIN
PIPPIN, a Broadway musical with a comical, playful exterior, a "show-within-a-show" element, and a thoroughly creepy interior, is currently being presented by Pioneer Theatre Guild. Community High Schoolers were well-represented in PIPPIN's cast, with senior Oren Steiner playing none other than the young prince Pippin himself, and senior Hannah Hesseltine starring as the love interest, Catherine. To my untrained eyes and ears, the hours of intense rehearsal have more than paid off; with the exception of a few microphone glitches, PIPPIN was smooth sailing, with excellent performances from all the leads and a well-trained troupe.
As the cast dances onto the stage in the opening number, "Magic to Do," dressed in highly colorful and unusual outfits, it becomes clear that we, the audience, are experiencing some kind of circus show. Throughout PIPPIN, the Leading Player, (the ringleader or director of the show within the show who has no name but "the Leading Player") played by Emma McGlashen, breaks the fourth wall and addresses the audience directly. McGlashen promises that the show we are to experience will reveal "the true life story" of Pippin, a prince searching for his meaning in life.
Steiner nailed his role as Pippin, displaying a natural stage presence and a voice perfectly suited to Pippin's conversational, energetic songs. Hesseltine's performance was equally fantastic — I knew from CET's production of EVITA in 2012 that she has a beautiful and powerful voice, and her songs as Catherine allowed her to combine this power with nuance, poise, and playfulness.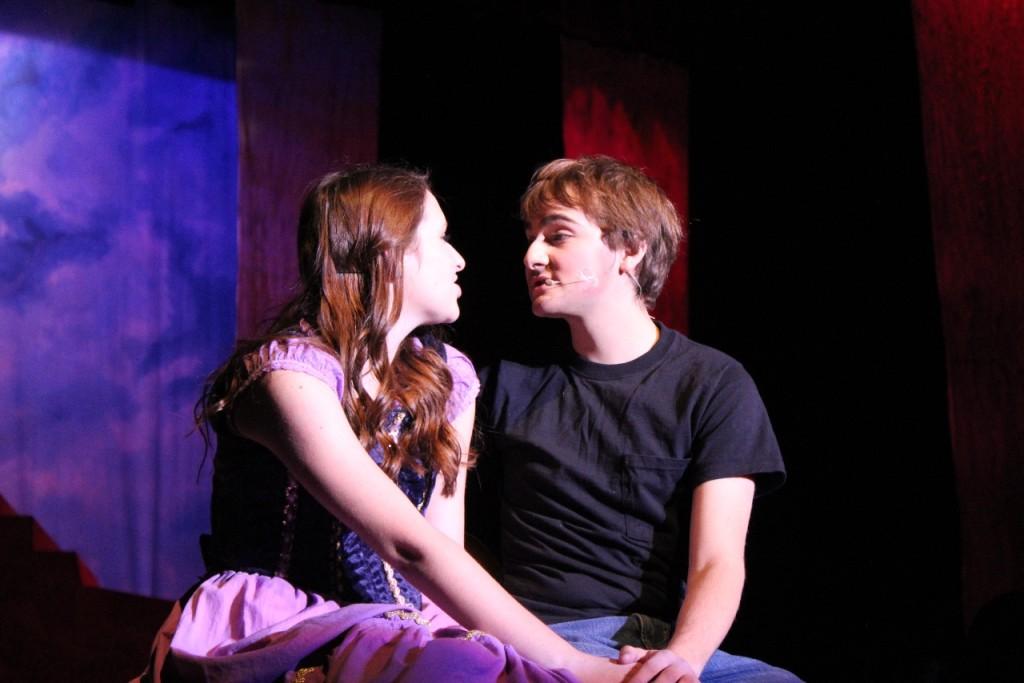 However, CHS students were not the only standouts; it was clear from the first verse that McGlashen had ample charisma and confidence, which was perfectly suited to the role of the Leading Player. The show within a show element is most evident when the Leading Player interrupts the action to quip at another actor when they mess up their "part".
Pippin appears after the opening performance. He has not yet found his purpose in life, as he expresses his solo, "Corner of the Sky." The chorus in this song ("Rivers belong where they can ramble/Eagles belong where they can fly/I've got to be where my spirit can run free/Gotta find my corner of the sky.") refers to Pippin's desire to find meaning in life, and reoccurs throughout the show. As Pippin sings for the first time, he is sprightly and excited to find his "corner of the sky." Yet one of the most interesting aspects of the show is how the challenges of life take their toll on Pippin. As he fails to find meaning in more and more events, he becomes increasingly beaten-down and pessimistic. This is one of the darker elements of PIPPIN; all the characters but himself give the sense that they expect him to lose motivation in life.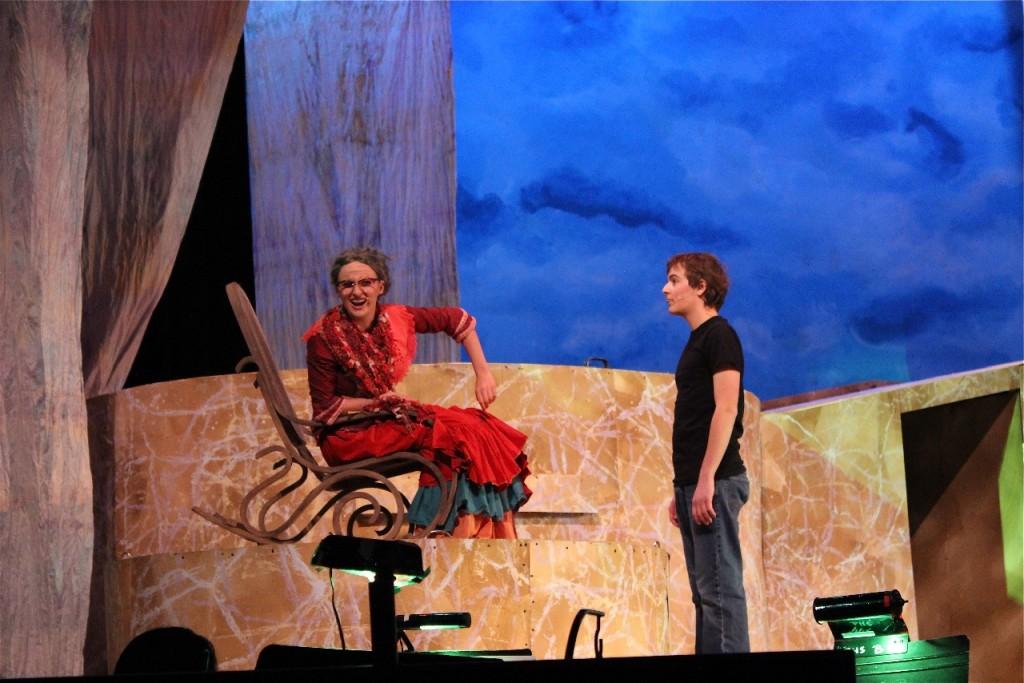 Pippin asks his father, the war-oriented but slightly dim-witted King Charlemagne, if he can join the army. He fights a first battle against the Visigoths, in which the troupe fights in slow-motion and young children strew fake limbs and heads across the stage. Unsatisfied by war, Pippin encounters many other characters, many of whom provide for good entertainment. The role of "awesome grandmother of the hero" is often predictable, but Emily Ulhmann as Berthe made the entire concept funny again. Uhlmann, who encourages Pippin to enjoy life since time is fleeting, did an excellent job with her upbeat, sing-along solo of "No Time at All." Also stellar was Hannah Cesnik as Pippin's stepmother Fastrada — described by Leading Player as "devious, crafty, cunning, untrustworthy … but a warm and wonderful mother." Cesnik proved a perfect fit for the role of Fastrada, and did an excellent job in both the vocal and performance elements of her solo, "Spread a Little Sunshine."
Hesseltine's role of Catherine enters the show at the beginning of the second act. It is clear that Catherine (not Hesseltine) plays her role in the show within the show very poorly. As the Leading Player yells, "Enter Catherine," a bed is rolled onto the stage without Catherine. Catherine appears behind the bed, apologizing, a few seconds later. Pippin is passed out on the stage upon her appearance, and she is struck by the arch of his foot. Catherine, a wealthy young widow, invites Pippin to work on her estate and live with her and her son, Theo.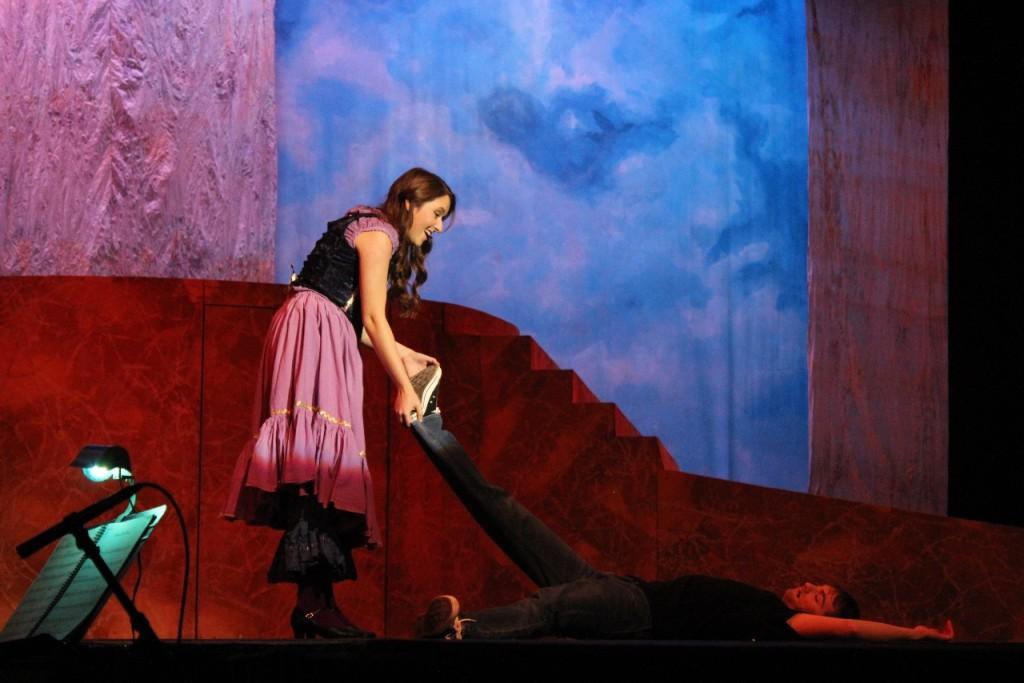 Hesseltine, who has performed with Pioneer Theatre Guild in six musicals, described Catherine as "a little muddled," though also fun and quirky. She added, "She's in the production, because PIPPIN is a show within the show. She's not necessarily very good at her part, but she realizes through the show that she has feelings for Pippin." Hesseltine enjoys playing Catherine, and stated, "I think my favorite element was that I could bring … my own goofiness to the role, but also my own seriousness as well."
Theo is played by young Ethan Steiner, who, despite his age, did not express any nerves on the stage. Ethan had no problem with running out onto the stage and telling Pippin to guess the name of his duck, nor with yelling "Bite me!" upon Pippin's refusal to do so. Steiner even managed to sing completely on pitch in an a cappella, solo chorus of "Corner of the Sky."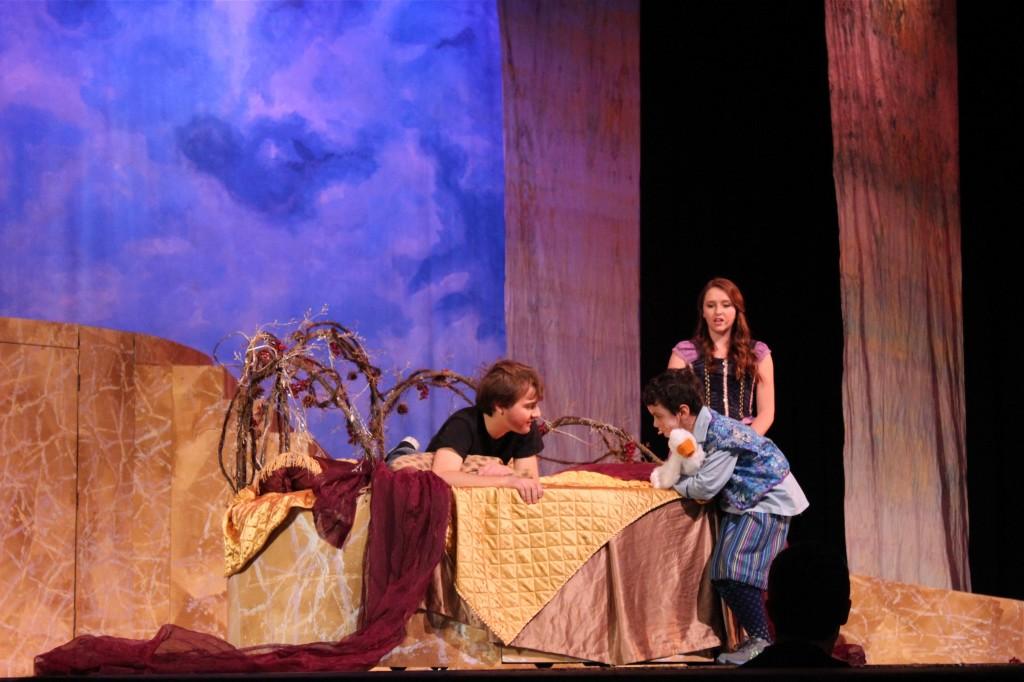 I was relieved that Ethan did not have to deal with microphone issues that could prompt stage fright; these worries were justified, seeing as just about the entire rest of the cast experienced such problems. Indeed, the only sense of anything going wrong with PIPPIN were incessant microphone problems (although no other technical problems were evident). Luckily, none of the other shows thus far have had any microphone problems, so this can be attributed to a random technical glitch. (Oren) Steiner saved the day in this aspect with a perfectly-placed ad-lib at the end of one of Pippin's declarations to Catherine: "Life is more than ducks that die, and leaking roofs, and quince pudding, and mics that don't work!" Needless to say, the audience was ecstatic.
Hesseltine said of Steiner's quick improvisation, "When [Steiner] ad-libbed that line, I did not know what to do." In the scene, Catherine was supposed to be upset, but Hesseltine found the line too funny to appear offended (this did not turn out to be a problem, as the audience was laughing too hard to notice). Generally, though, Hesseltine feels that microphone failures are a much more stressful occurrence. She reported that, upon an actor's microphone going out, the entire cast wonders, "'Does he know? Does the pit know? What's gonna happen? Do they know he has a song coming up?'"
Steiner indeed had to go through an entire song without his microphone. This gave my music-oriented brain a chance to judge the pit. I was impressed by the ability of the musicians to decrease the volume of the piece while still expressing an entire range of dynamics. Pit members felt prepared for such problems; CHS sophomore Aidan Cotner, who played guitar in the pit, simply stated, "We play really, really quietly so the audience can hear the singer." Cotner did note, though, that the microphone problems were "spontaneous," and that the pit did not practice for this scenario beforehand. The pit is not meant to be noticed, and is instead supposed to be inconspicuously competent. I hope, however, that the rest of the audience appreciated their quick thinking in a dire moment.
Overall, I was highly impressed with Pioneer Theatre Guild's production of PIPPIN. The vocals and performance were both excellent, and I would recommend it to anybody. PIPPIN is still showing on November 15th and 16th at 7:30 PM and November 17th at 2:00 PM. Tickets are available on showtix4u.com and at the door at Pioneer High School.
About the Contributor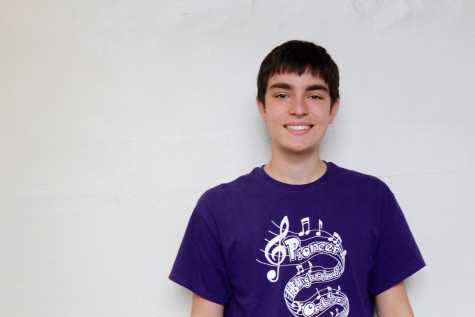 Matty Hack, Editor-in-Chief
Matty is a CHS senior and this is his third year on the Communicator Staff. He is a co-editor-in-chief and can often be found correcting pedantic punctuation errors. Matty also enjoys birds, playing violin and piano, science and petting his cats. He is pro-Oxford comma.